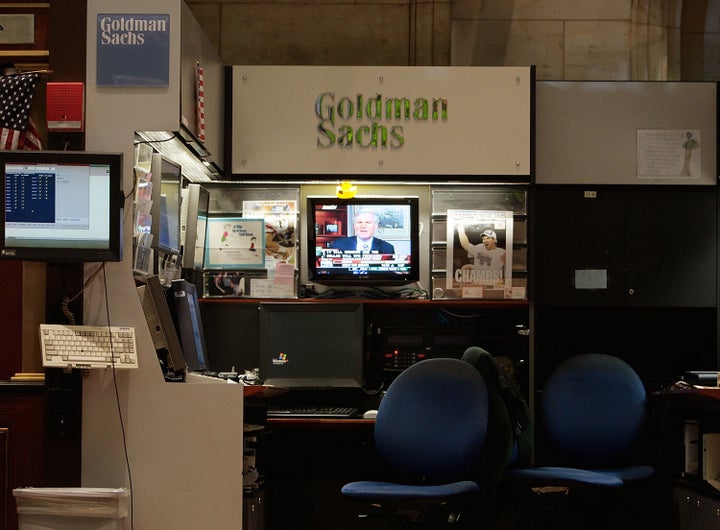 Scroll down to read the complaint
This story has been updated
In addition to generating some laughs and populist outrage during a contentious Senate hearing in April, Goldman Sachs's infamous "shitty deal" is also turning into a major headache for the embattled firm.
Today, Goldman was sued for securities fraud by an Australian hedge fund, which claims that it was suckered into buying $81 million of toxic subprime mortgage securities, which led to the collapse of the fund, according to a lawsuit obtained by Huffington Post.
Basis Yield Alpha Fund claims that Goldman engaged in a "series of fraudulent and deceitful acts or practices" and "put profits before integrity," according to its complaint filed in Manhattan federal court. The fund is seeking to recover more than $1 billion in total damages.
The Timberwolf deal is also the focus of a probe by the Manhattan U.S. Attorney's office, which has reached out to interview one of the fund's former outside directors, David Mapley, as first reported by Huffington Post. Mapley described Timberwolf as a "fraudulent concoction," saying that it was one of the most egregious cases in his decades working in finance.
The suit alleges that Timberwolf was part of Goldman's strategy of constructing and marketing "aggressively such securities to its clients while at the same time shorting the market." Further, that plan involved "'cleaning out left over positions,' that is, dumping its inventory of toxic securities on customers while simultaneously providing a vehicle for Goldman to profit from the decline in value of such securities."
The firm and the fund had been in settlement talks but they recently broke down, prompting the lawsuit, reports Reuters.
The Basis Yield fund suit also passes a harsh judgment on Goldman's role in the notorious Abacus CDO deal at the heart of the Securities and Exchange Commission's civil fraud case, which was filed in April. Goldman committed fraud by helping a short-selling hedge fund assemble a portfolio of subprime securities that it pitched to its clients, the Basis Yield fund suit alleges.
An executive with Goldman's Australian subsidiary Goldman JBWere, George Maltzeos, contacted the fund's John Murphy on April 23, 2007 about Timberwolf, assuring him in later conversations that Goldman executives Peter Ostrem and Daniel Sparks were "supportive to help structure something that should offer [BYAFM] an attractive risk-adjusted return on capital proposition," according to the complaint.
Because Sparks himself was considering making "significant downward adjustments" to the value of Goldman's CDO securities, Maltezos's statement was a "flat-out lie or at the very least was intentionally misleading," says the suit.
During a conference call on June 13, 2007, Goldman's David Lehman assured the fund that the firm was "expecting price stability going forward," according to the suit.
Timberwolf lost 80 percent of its value within five months of its issuance, according to the complaint. The Goldman trader responsible for managing the deal later described the day that Timberwolf was issued as "a day that will live in infamy."
A Goldman spokesman emailed the following comment to HuffPost:
The lawsuit is a misguided attempt by Basis, a hedge fund that was one of the world's most experienced CDO investors, to shift its investment losses to Goldman Sachs. At the time of the Timberwolf transaction, Basis specifically stated that it would not place any reliance on Goldman Sachs, and this decision formed part of the agreement Basis signed. Basis made its investment at market levels -- levels that it deemed attractive. These levels were substantially below the face value of the securities and consistent with where other investors were purchasing the same Timberwolf securities during the same time period. Basis is now trying to recoup its losses based on false allegations that it was misled about aspects of the transaction and market conditions. A material fact worth noting is that Goldman Sachs also had substantial exposure to Timberwolf securities and lost several hundred million dollars as a result. We believe the lawsuit is without merit.
Support HuffPost
The Stakes Have Never Been Higher
Related
Popular in the Community