Most of the world is mere hours away from the dawn of a new year, welcoming 2014 with a slew of fireworks, champagne toasts, resolutions and awkward renditions of Auld Lang Syne. Here on the Huff Post Arts&Culture page, we'd like to celebrate the passing of time the best way we know how -- with an art history listicle devoted to clocks, countdowns and Father Time himself.
You may immediately think of Christian Marclay, an artist who has received attention for his time-centric, marathon movie reel "The Clock," earning the Venice Biennale's Golden Lion award in 2011. But the tick-tock obsessed filmmaker certainly wasn't the first creative figure to surrender his art to the concept of time. In fact, visual artists from the Renaissance period all the way to Futurism and beyond have toyed with the passing of time as a major motif of their work.
Take a few minutes to scroll through the countdown list of artists who have created time-related artworks. As 2014 approaches, we know you've got time on your mind. Let us know which artsy time depictions soothe (or maybe just aggravate) your countdown worries in the comments section.
10. Salvador Dali's "Persistence of Memory"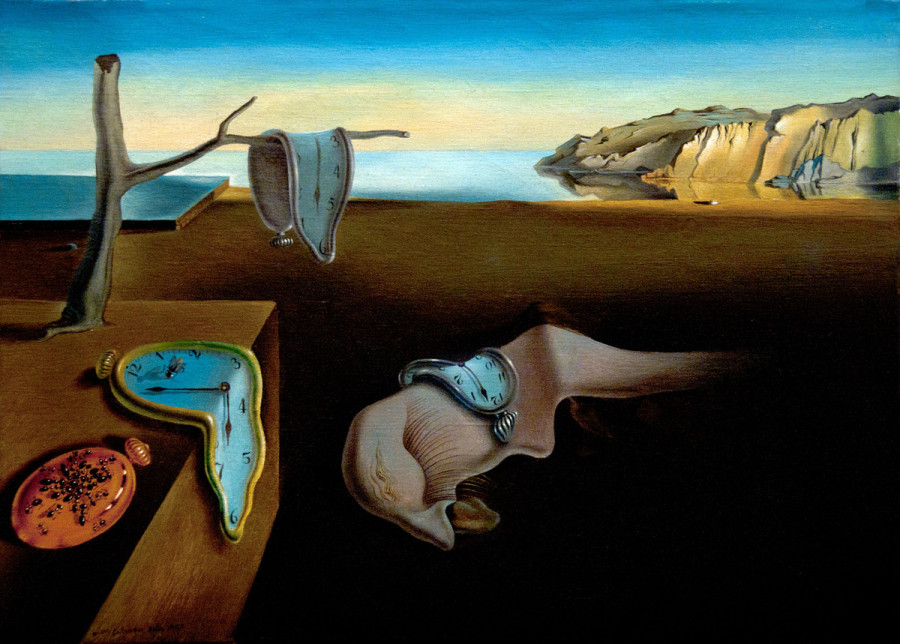 Salvador Dali, "Persistence of Memory," 1931, oil on canvas, 24 cm × 33 cm (9.5 in × 13 in), Museum of Modern Art, New York City.
The iconic melting pocket watch in Dali's masterpiece is meant to signify the artist's personal interpretation of time as "soft" or "hard." The mysterious figure that appears to be sleeping underneath one of the "soft" clocks is thought to symbolize the skewed passage of time that occurs in one's dreams.
9. Antonio de Pereda's "Allegory of Vanity"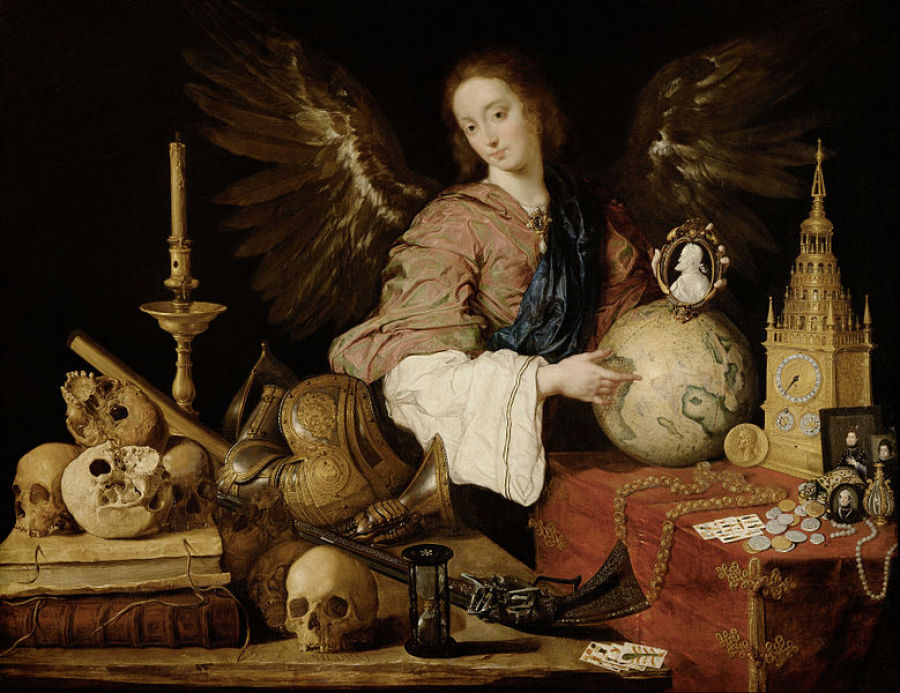 Antonio de Pereda, "Allegory of Vanity," c. 1632 - 1636, Kunsthistorisches Museum.
Perad's still-life and portrait painting depicts several representations of the passage of time, including a clock, an hourglass, old photographs, a blown out candle, skulls and a globe -- a nod to the very literal turning of the world.
8. Marcel Duchamp's "The Bride Stripped Bare By Her Bachelors, Even (The Large Glass)"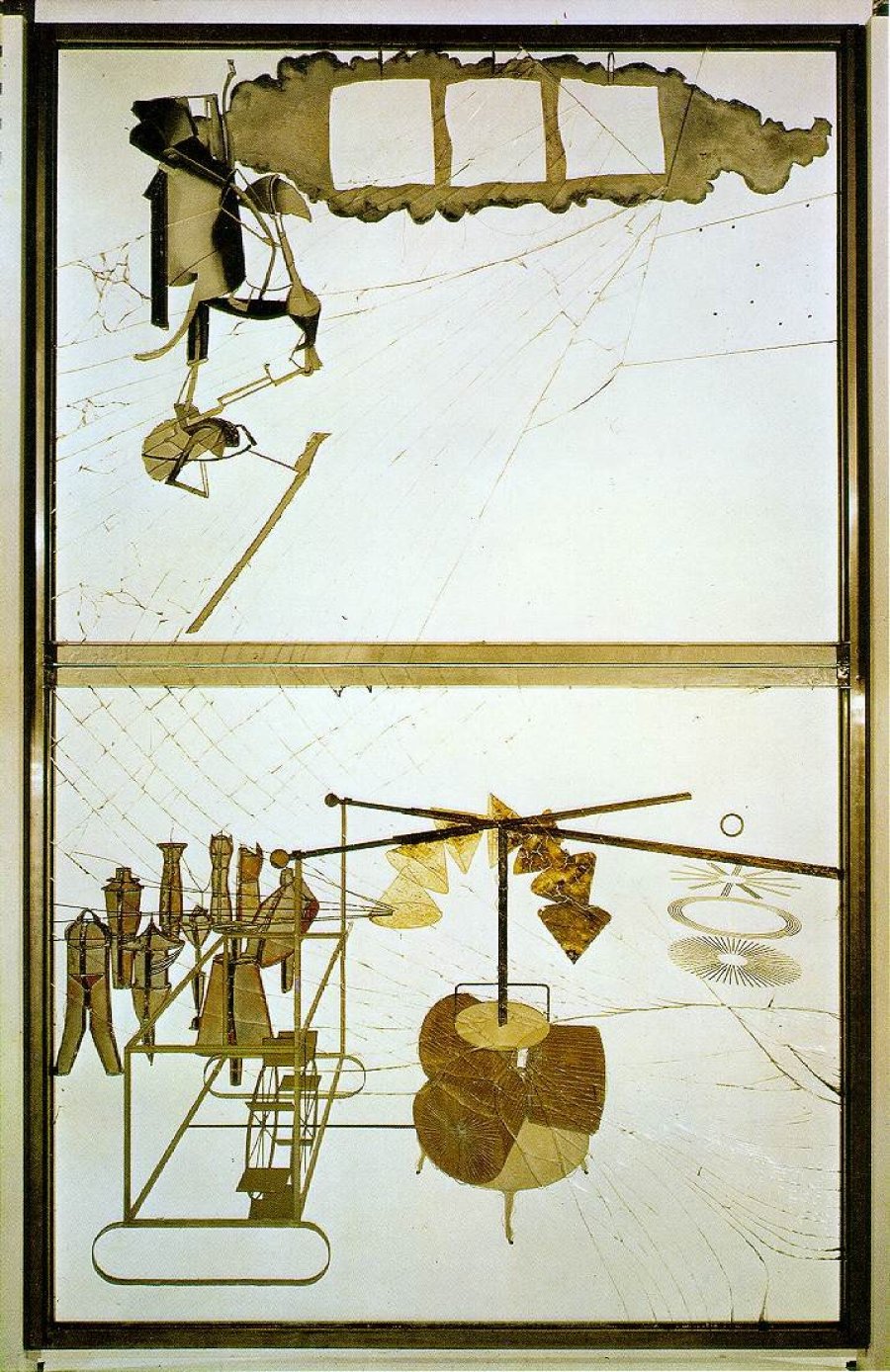 Marcel Duchamp, "The Bride Stripped Bare By Her Bachelors, Even (The Large Glass)," c. 1915-1923, oil, varnish, lead foil, lead wire, and dust on two glass panels, 277.5 cm × 175.9 cm (109.25 in × 69.25 in), Philadelphia Museum of Art, Philadelphia.
This complicated, multi-media installation, which is meant to depict an encounter between a bride and nine suitors, took Duchamp nearly eight years to complete, and the duration of the project seems to have left a mark on the piece. Several of the figures remain bumpy, smudged and dusty, deliberately pointing to the many moments in which the unfinished work laid untouched. Moreover, when on display in natural light, "The Large Glass" takes on wholly different appearances depending on the time of the day and the season.
7. Agnolo Bronzino's "Venus, Cupid, Folly and Time"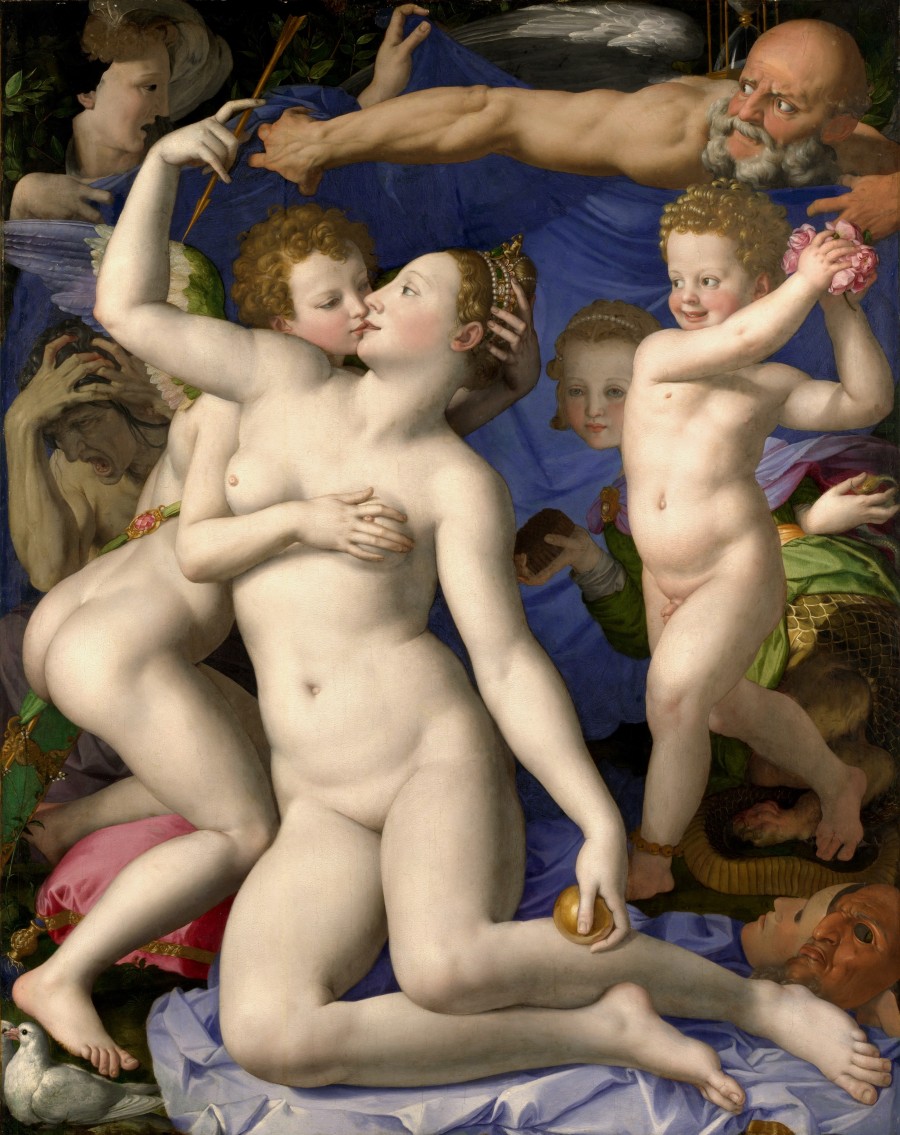 Agnolo Bronzino, "Venus, Cupid, Folly and Time," c. 1545, oil on wood, 146 cm × 116 cm (57 in × 46 in), National Gallery, London.
Time personified appears in this Agnolo Bronzino painting, appearing as a more dashing version of Father Time, silver beard and all.
6. Arthur Ganson's "Machine with Concrete"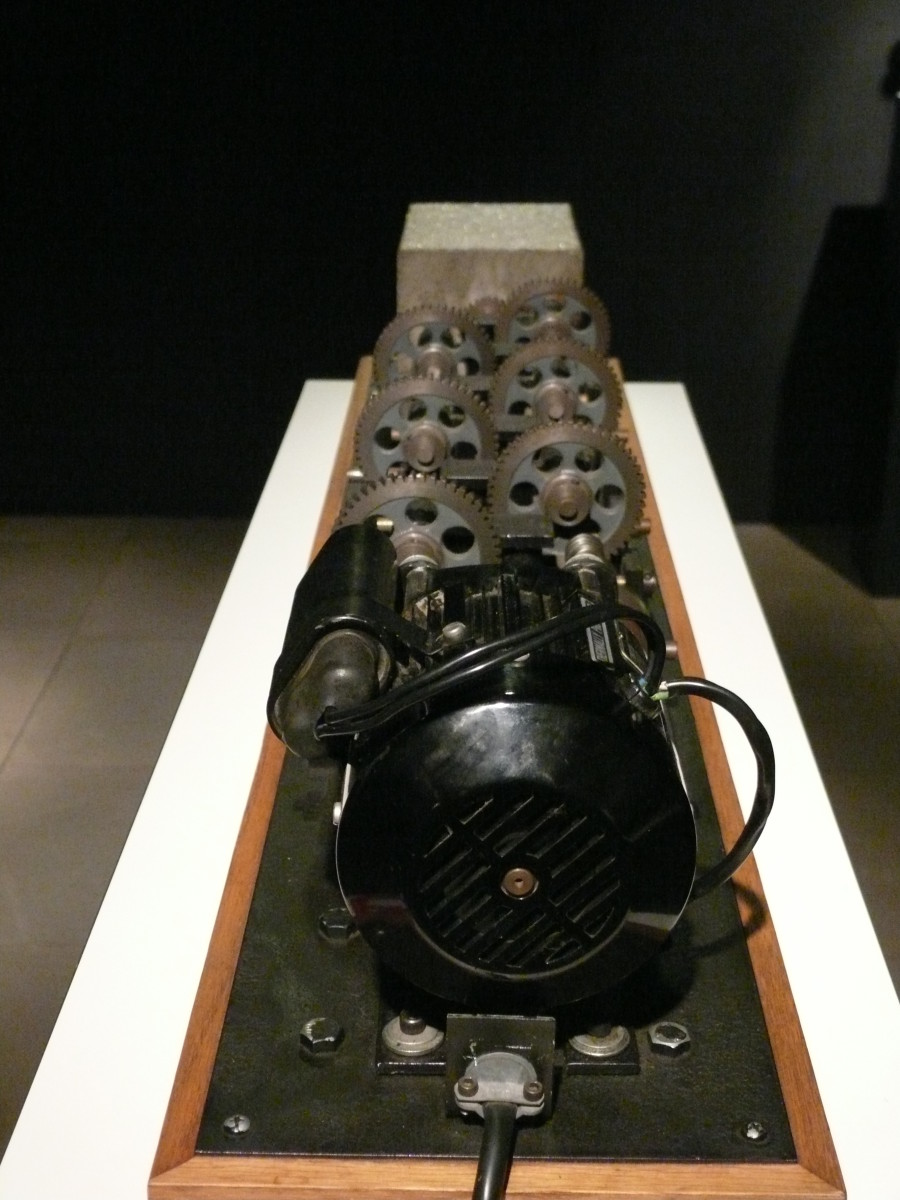 Arthur Ganson, "Machine with Concrete," 2009, Art Electronica Museum of Future.
Arthur Ganson is know for his kinetic sculptures and Rube Goldberg interpretations, and this particular piece, titled "Machine with Concrete," is especially time-sensitive. Set up with a specific gear reduction structure, it would take billions of years for the mechanism to prompt the final gear to turn. But the ultimate punchline of this work? The final gear is embedded in concrete.
5. Claude Monet's "La cathédrale de Rouen"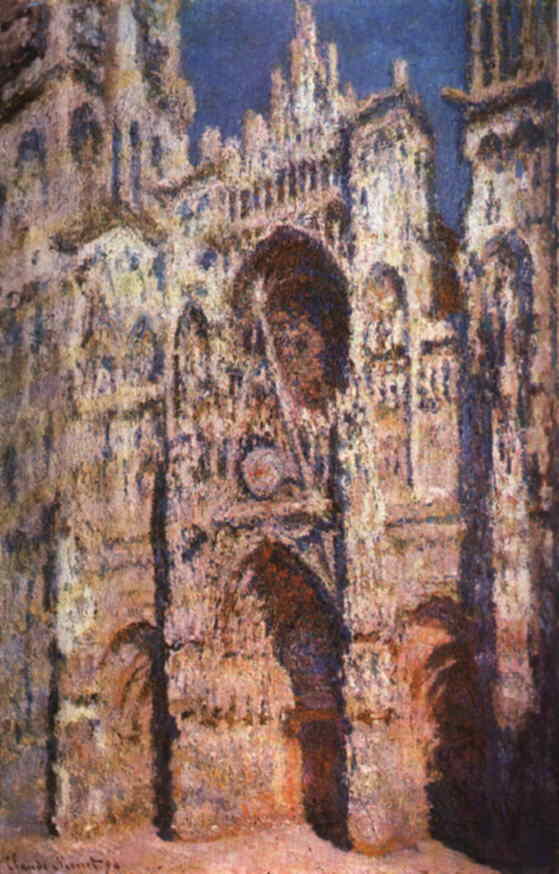 Claude Monet, "La cathédrale de Rouen," 1893, oil on canvas, 107 × 73.5 cm (42.1 × 28.9 in), Musée d'Orsay.
Monet devoted himself to the Rouen Cathedral, capturing the façade of the massive structure at different times of the day and year in a series of Impressionist paintings. The result is a rather dreamy tour through one inanimate object's lengthy existence.
4. Alighiero Boetti's "Gemelli"
Alighiero Boetti (Italian, 1940-1994). Gemelli (Twins). 1968. Photomontage 5 7/8 x 3 15/16" (15 x 10 cm). Collection Annemarie Sauzeau, Paris. © 2012 Estate of Alighiero Boetti / Artists Rights Society (ARS), New York / SIAE, Rome.
Boetti was known for his mild obsession with time and the concept of twinning, and in "Gemeli" he takes the two ideas very literally. The photograph is a double self-portrait of the artist, shown holding hands with himself at a different point in his life. Boetti became so fascinated with the fluidity of time and self that he officially changed his name to Alighiero e Boetti in 1973, solidifying his dual self.
3. Umberto Boccioni's "Dynamism of a Cyclist"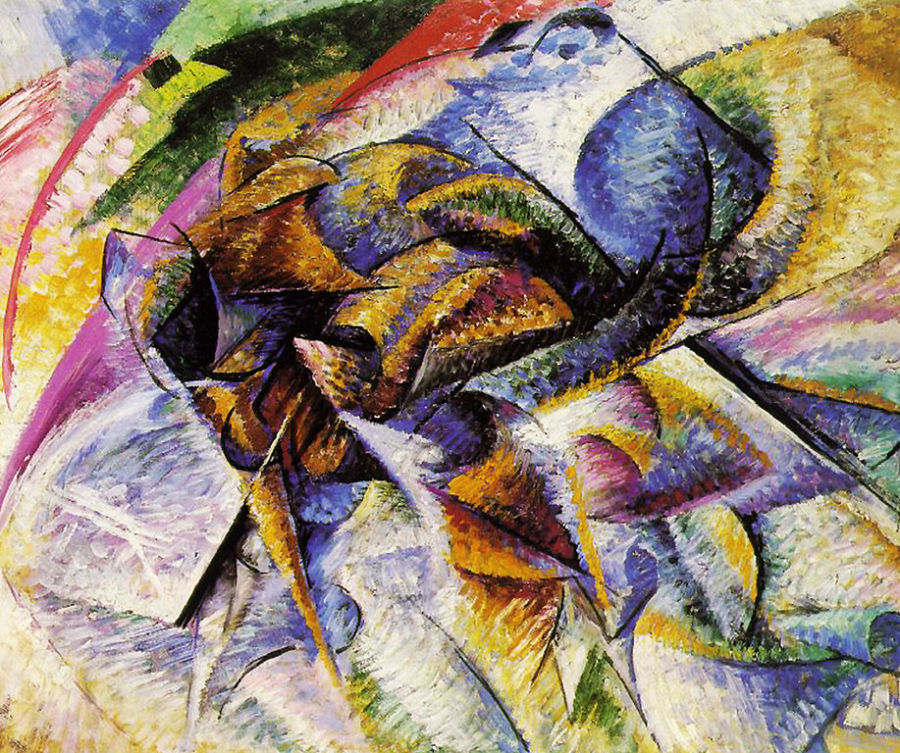 Umberto Boccioni, "Dynamism of a Cyclist," 1913.
The allure of Futurist painter Umberto Boccioni lay in his careful attention to the details of movement and dynamism. This painting for example, shows what we would expect to be the speed of a cyclist; however, the passage of time becomes locked into one frame, and the various movements of the individual and his mechanism are forced into one two-dimensional glance.
2. Felix Gonzalez-Torres's "Untitled (Perfect Lovers)"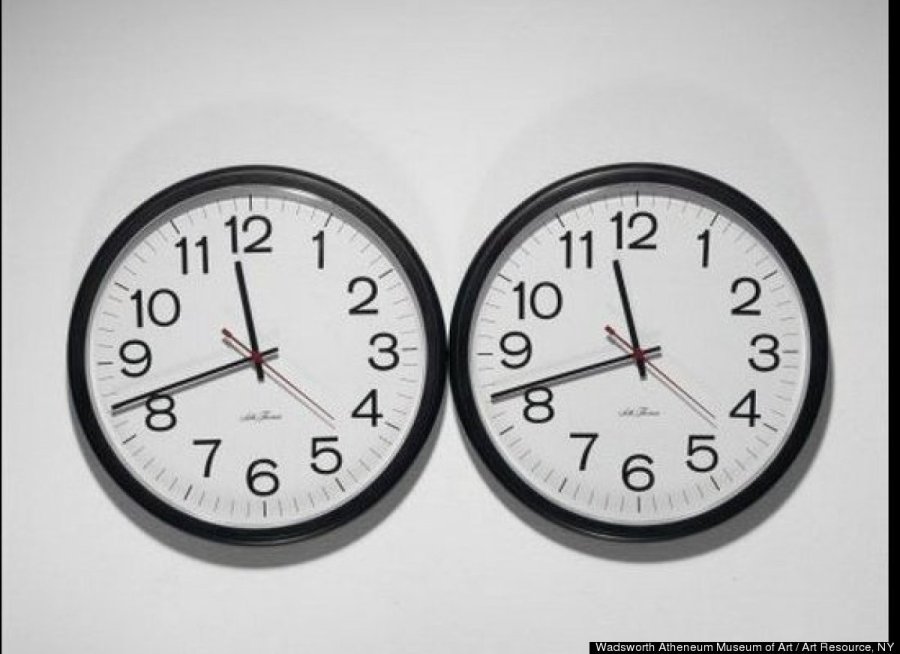 Felix Gonzalez-Torres, "Untitled" (Perfect Lovers), 1987-1990. Wadsworth Atheneum Museum of Art, Hartford, CT. Gift of the Norton Family Foundation. © The Felix Gonzalez-Torres Foundation. Photo: Wadsworth Atheneum Museum of Art / Art Resource, NY.
"Untitled" was dedicated to Gonzalez-Torres's deceased lover, Ross Laycock, who died of an AIDS-related illness in 1991. Here are the guidelines the artist supplied to MoMA when the museum set to display his clock-related work:
"When installed, the two clocks were to touch; the clocks could be replaced with white plastic commercial clocks of similar dimensions and design; the minute and second hands were to be set in sync, with the understanding that eventually they might go out of sync during the course of the exhibition; if one of the clocks needed the batteries replaced, it was to be done, and the clocks were to be reset accordingly; the clocks were to be displayed on a wall painted light blue."
1. Christian Marclay's "The Clock"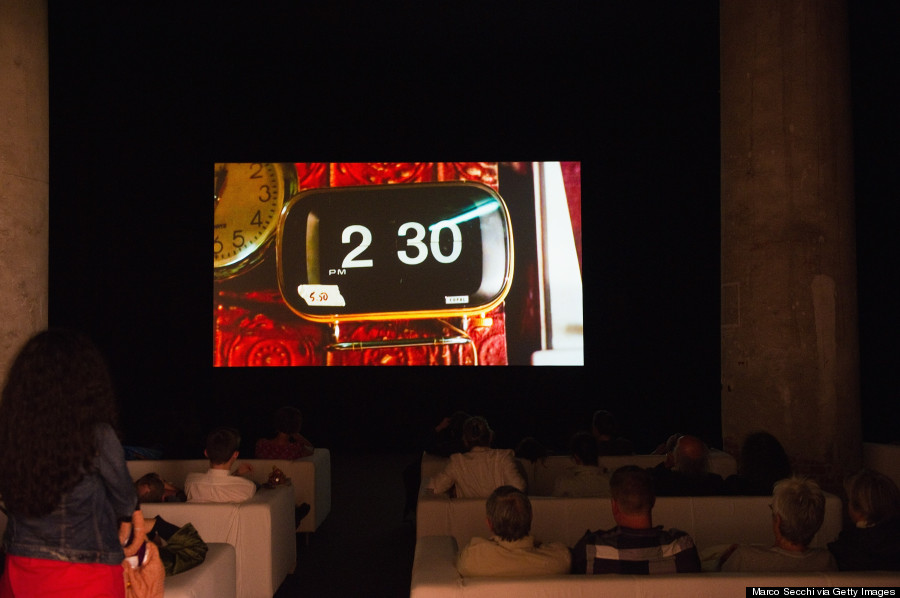 Visitors watch the video installation 'The Clock' by Christian Marclay winner of the Golden Lion for the Best Artist at ILLUMInation Exhibitionon June 7, 2011 in Venice, Italy. (Photo by Marco Secchi/Getty Images)
Related
Popular in the Community