I had a really terrific speech prepared for the keynote I was asked to give at last Saturday's library dedication in North Bend, Nebraska. Actually, I was quite proud of it. But I never gave it.
Instead, I followed my typical pattern of belaboring over a speech, rehearsing it, tape recording it, listening to it over and over again to make sure I've locked down the talking points, and then -- after being inspired by some unanticipated event -- nix it all in favor of speaking from my heart.
I spent the first thousand days of my life, give or take, in North Bend, Nebraska. It was a town of about 1,200 of the finest folks you'd ever want to meet. And it still is today. Located about 40 miles west of Omaha, just north of the Platte River, it's a town -- like so many small, Midwestern towns -- that's grounded in family, friendships and for many, faith.
My parents lived there during the first dozen or so years of their married life, back in the fifties and early sixties. This was the town they saw the birth of their five sons. This was the town where they made lifelong friendships. It was the place where my father's career actually took root -- thanks to the fatherly support of a man named Ray Watson. It was the town my parents gave to -- volunteering, cheering, organizing and chairing -- no matter what the cause or need. And regardless of their own time demands raising a basketball team of boys, they gave. Because this was a town that gave them so much.
So as I prepared for my talk the other day, I thought I'd weave a handful of stories from our family's North Bend past and discuss how they influenced my life and the life of my four older brothers. Get it? Stories from the past. Books and stories in the library. I was going to make some clever association about the importance all of our respective "stories" have on our life.
Corny. Predictable. I know.
But something happened on the way to the keynote.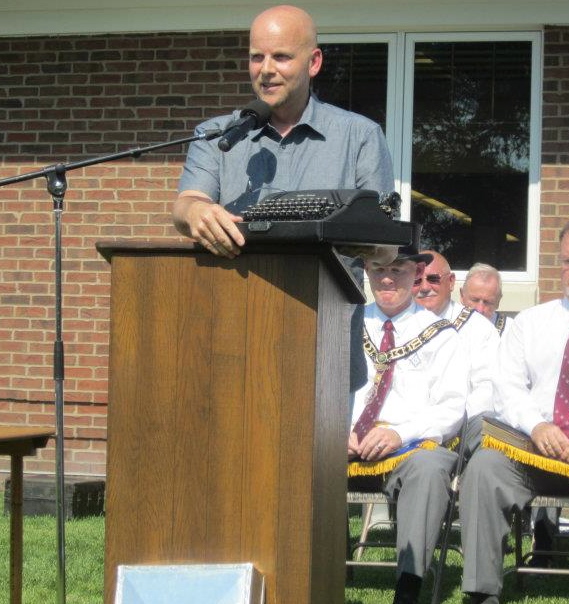 A ceremony was held right before I was scheduled to speak during which the contents of a time capsule which was to be placed behind the building's new cornerstone was revealed. I found myself mesmerized as the list of contents -- various newspaper articles, photographs and programs -- was read to the crowd of town residents proudly gathered under a tent in the basking Nebraska sun. I realized at that moment, as they continued through the list -- "...a story from the Fremont Tribune about the library, a photograph of the children's names written on the wall behind the donor plaques..." the powerful messages that were being preserved for future generations.
And it was then I also realized that I wanted to share a different message of my own to this community of folks who I care deeply about.
I wanted to talk about time capsules.
Not real ones. But time capsules that are passed on from generation to generation.
And from parent to child.
I wanted them to know that that, in spite of the fact that my own parents have been gone for many years, they still influence my daily life because they each contributed to the time capsule -- of sorts -- that I carry with me every day. It's a time capsule filled with messages, memories and experiences passed on to me as I watched them live their lives. The contents of my time capsule have taught me how to wake up to a new day, face adversity, greet a stranger, help others, laugh and cope. They've helped me understand the importance of gratitude.
And so many of those time capsule contents from my mom and dad are there because of places like North Bend, Nebraska.
Parenting takes on a different perspective when you think of yourself as filling a time capsule of lessons and memories for your children. Don't you think?
It was nearly fifty years ago that I lived in that little town on the banks of the Platte River. Unless I'm a very lucky man, I won't likely be here in another fifty years.
But hopefully, I've got plenty of time to complete three time capsules for my own children. I've been thinking about that quite a bit the last couple of days.
And I've been thinking that one of the things they all need in their time capsule is a library card.
From North Bend, Nebraska.
Popular in the Community