 I's time to dismantle traditional methods of employment.
Imagine if we removed the word 'NO' from recruitment.
Imagine if we created a method where a candidate could learn, benefit and improve on their existing skillset, whether they got the job or not.
What if we created a process that removes the innate structure of rejection as seen in traditional recruitment and instead gives every applicant powerful development opportunities, regardless of whether they get the job? A system of UnRecruitment; moving from a process of elimination to one of inclusion -- where the Head of Recruitment stops being what they really are: the Head of Rejection, and starts being the Head of Opportunity?
At the last count, there were around 80 applicants for every one graduate position. This means, inevitably, almost every applicant goes away dejected, demotivated, without taking anything positive from the process. Surely, there's a better way to develop the boundless talent out there?
It's my belief that we need to shift the current model of singular achievement against mass dejection to one where there is mutual benefit and added value on both sides of the desk. Companies have to begin thinking about how their services and opportunities can help every candidates applying to them; what training, help and advice they can provide in order to create incentivized, enthusiastic and self-empowered potential employees.
I believe that in drawing the focus away from singular employment and towards an inclusive system of Unrecruitment, we can produce a more motivated, skilled and empowered work force that will result in better quality hires, an improved acceptance rate of offers, a stronger employer brand and far better communication between companies and potential talent.
In a world with 75 million unemployed young people, it's time to break the cycle of recruitment, to change the employment game to one where the rules are actually fair.
Together, we can create systems of training, insight and feedback that ensure every candidate that applies for a position gains value from it, and that every employer has access to brilliant, ever-improving talent.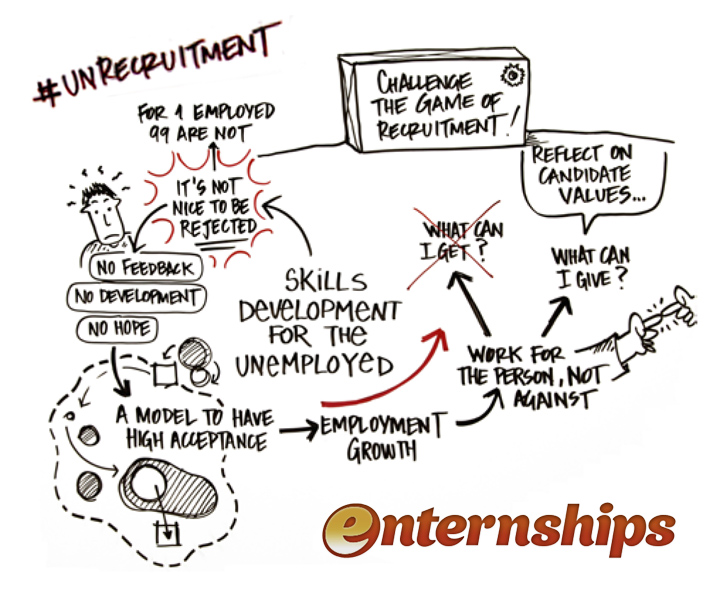 Rajeeb Dey is an award-winning entrepreneur and a 2012 World Economic Forum Young Global Leader. He is the founder of Enternships - a platform for students and graduates to find internships and jobs in startups and SMEs. He is also a co-founder of Start Up Britain; the national campaign to inspire, celebrate and accelerate entrepreneurship in Britain run by and for entrepreneurs and supported by HM Government. @rajdey @enternships
Related
Popular in the Community