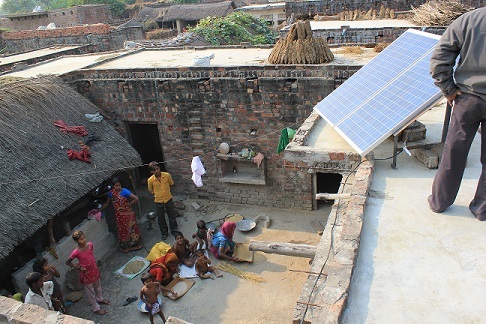 When it comes to demanding policies and investments that benefit our industry we have been silent - that needs to change.
As any industry grows and matures it is forced to lobby for its interests. Nothing comes easily in this world after all, and as an industry we have failed to collectively lobby, especially when it comes to potentially catalytic financing from multilateral banks. It's time to change.
Historically, development banks have acted like conservative private equity players instead of catalytic funding agents dedicated to solving poverty in terms of supporting distributed energy solutions. It's so bad that the Sierra Club gave each and every top development bank an "F" grade when it came to judging their investments in energy access. Across the board, percent of capital budgeted to distributed energy solutions that include micro-grids, retail solar and bio-mass was minuscule or non-existent over a three year period from 2011-2013.
"When it comes to investing in this rapidly growing space big multi laterals like the World Bank are missing in action," says Justin Guay Associate Director of the Sierra Club's International Climate Program. "But of course they've got these companies efforts plastered all over their marketing materials. It's time they put their money where their marketing is."
Instead of injecting capital in high growth beyond the grid companies, development banks have deferred to philanthropy and private equity to de-risk models while they wait and watch. This approach is most glaring in the World Bank Group's co-venture with IFC for Lighting Global programs (Africa, Asia etc). While Lighting Africa is overall a decent program, I cannot help but point out that it is funded by donors and not the WBG's core budget. In addition, IFC insists that participating beyond the grid members pay steep fee's to benefit from the programming. I call into question the practice of the World Bank Group charging scrappy start-ups high fees in what is arguably not aligned to the approach of a development bank.
The role of a development bank is to invest in the basic infrastructure requirements (roads, power, water) of a developing country to reduce poverty and pave the way for economic growth, commercial and private equity investments. Globally, about 3 Billion people live either with limited or no access to energy, that's close to 40% of the population of the planet. Right now we have distributed solutions to combat energy poverty and they are inexpensive, easily deployed and can help take hundreds of millions of people out of poverty today. An obvious tool if your mission is to combat poverty.
So why is it that multilaterals get to sit on the sidelines while the beyond the grid industry posts record private equity investments of over $64 MN USD last year, and as of 2015 first five weeks has already closed over $42 MN USD?
It is of concern and not clear internally why development banks are not aggressively including distributed energy solutions as a marque feature in their access to energy budgets. The only sign of change is this weeks Off Grid Electric deal with IFC for $4.5MN USD, a very welcomed change to business as usual. Justin Guay and Vrinda Manglik of the Sierra Club with Off Grid Electric CEO Xavier Helgesen explain:

"The role of the IFC in this most recent investment cannot be underestimated. As Off Grid Electric's co-founder and CEO Xavier Helgesen explained in an interview, IFC's investment was "incredibly catalytic." IFC took the risk as the first major debt provider for Off Grid Electric and are therefore de-risking investment for the private investors that will follow."
One of the core external reasons development banks have got off with skirting investments is the lack of a unified, aggregated voice from beyond the grid players holding the banks accountable to their mission. Stakeholders across the industry including entrepreneurs, donors, corporates, governments and think tanks need to build a global coalition to defeat hesitation and bureaucratic log jams with a strong industry association lobby. This means streamlined key messages and talking points that get everyone on the same page with a common understanding. A good initial outcome can be incremental, where players successfully lobby for "small" (the access to energy budget for WBG FY 13' was $571MN) amounts of development finance to target key areas of growth and R&D, track successes and expand spending in the future.
Development banks need to step up and take distributed power investing seriously. I'd argue it's the only way they can actually hope to achieve their 2030 goals of resolving energy poverty. Beyond the Grid players need to stop waiting for handouts, and start demanding in a unified voice the investment they need to achieve those goals. It's time to hold the banks accountable and get the capital we need to get the job done.
Follow Daniel Tomlinson on Twitter: www.twitter.com/D_Tomlinson
Calling all HuffPost superfans!
Sign up for membership to become a founding member and help shape HuffPost's next chapter