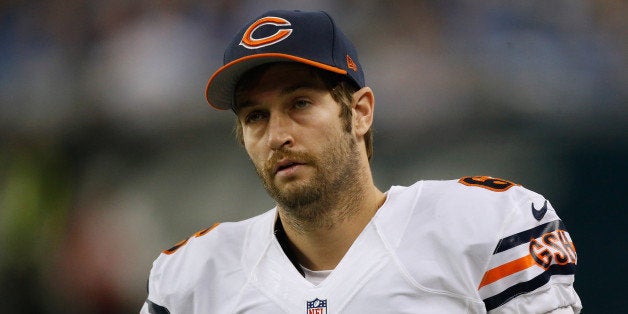 Giving Bears quarterback Jay Cutler chances in Chicago is like Sylvester Stallone making Rocky movies. They're never ending, and no matter how bad the previous performance, the next one is just around the corner.
On Wednesday new Bears head coach John Fox and new GM Ryan Pace were repeatedly asked about the elephant in the room, but they remained non-committal to Cutler during their press conference.
One thing is clear. After six years of failure, it's time the Bears' organization commits to getting a new quarterback.
"We're not up against a deadline," Fox said. "My experience has always been that you need to gather the information, and in turn, you usually make better decisions. We're in that process, and we'll keep you posted."

Pace added, "There's certain things that were happening last year that might have been tough for him, and so we're going to analyze that and go further. The quarterback position is the hardest position to evaluate, so I think the more games we can look at, the more evidence, the more accurate we can be with our decisions."
Those vague statements are a clear indication Pace and Fox are still trying to evaluate trade options versus the cost of eating Cutler's guaranteed $15.5 million next year to sign a free agent replacement.
The Bears have until March 12 to decide Cutler's immediate future because if he's still on the roster on that date, $10 million of his 2016 salary becomes guaranteed.
It's a critical first decision for a new regime that's brought credibility to the front office after last year's debacle exposed a lack of leadership and competence.
A trade for the embattled quarterback will be difficult, but there are several teams who believe they're a quarterback away from the playoffs, like the Buffalo Bills.
Josh McCown
Michael Vick
Mark Sanchez
Christian Ponder
Tavaris Jackson
Matt Flynn
Ryan Mallet
Jake Locker
With options for replacing Cutler ranging from average to awful, a common theme about what to do has emerged in Chicago. It goes something like this: yeah, it would be nice to get rid of Cutler, but there's just nobody out there to replace him with.
As bad as the best of the quarterback free agent list is, the answer to replacing Cutler isn't nobody from that list, it's anybody.
Cutler had the most turnovers in the league and was the highest-paid player, so no matter which quarterback the Bears sign it can't be a worse return on investment than they had last year. Yeah, it was that bad.
Don't get me wrong, none of the free agent quarterbacks available will get the Bears anywhere next year, but that's the case with Cutler too. So how much longer should the Bears pay premium dollar to fail?
It's long past time for the Bears to answer that question correctly.
The freedom of a fresh start outweighs the costs of replacing Cutler.
But if the new regime makes the same mistakes as the old one, then no lessons were learned, and I can't imagine anything uglier than that come next winter.
Well, the movie Creed (another Rocky film) is supposed to come out in November, so maybe I'll be proven wrong on that.
Calling all HuffPost superfans!
Sign up for membership to become a founding member and help shape HuffPost's next chapter