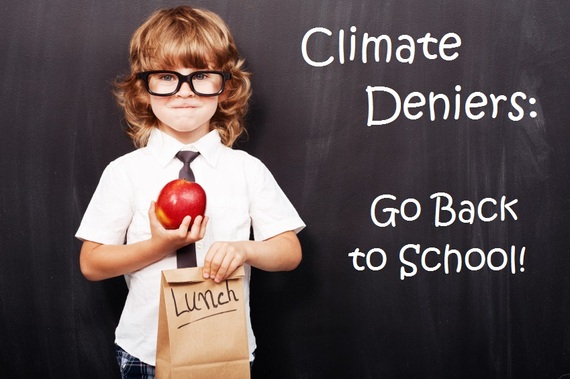 Labor Day has come and gone, and from grade school to college, students are settling into another year of school.
More than 97 percent of climate scientists agree that global warming is happening now; that it is largely caused by human activities; and that it poses significant -- and potentially irreversible -- risks to our health and our well-being, and that of future generations.
Yet too many elected officials appear determined to either ignore or refute the facts when it comes to climate change -- even where global warming is already hurting their communities and their constituents.
The streets of Miami already flood often at high tide, with storm drains no longer capable of emptying water into the ocean. If we do not reduce our global warming pollution, the planet may warm enough to cause seas to rise between two and six feet by the end of the century, prompting us to bid Miami and the rest of South Florida adieu. Yet Sen. Marco Rubio told the media he didn't believe that human activity was causing dramatic changes to our climate.
In Washington State, firefighters are still working to contain the worst wildfire in state history. According to the head of the U.S. Forest Service, global warming has already lengthened the fire season by two months and made it easier for large fires to spread more quickly and be more destructive. Without change to current climate policies, annual acreage lost to wildfires may double by 2043. Yet Washington Rep. Cathy McMorris Rodgers claimed the science on climate is "inconclusive at best."

The rising frequency and severity of heat waves and droughts is reducing crop yields across the Midwest. For example, in 2012, a catastrophic drought, exacerbated by near-record heat, withered crops across the country; economists estimated losses at $77 billion. Yet Iowa Rep. Steve King called climate scientists "frauds" practicing a "modern version of the rain dance."
Last year, devastating floods swept through cities and towns across Colorado, causing an estimated $2 billion in damages and killing at least eight people. This too is one of the impacts of global warming, since more heat increases evaporation and allows the air to hold more water; increasingly, when it rains, it pours. Yet Colorado Rep. Cory Gardner told his local newspaper, "I don't believe humans are causing that change to the extent that's been in the news."

This isn't just talk. Congress famously failed to adopt legislation cutting carbon in 2009. The current U.S. House has voted to block action on climate change 58 times. And localized efforts like New England's Regional Greenhouse Gas Initiative are imperiled when skeptics like Gov. Chris Christie refuse to go along.

In spite of the deniers, there is real action afoot. California is poised to put 1 million electric vehicles on the road within the next decade, dramatically curbing emissions. A coalition of more than 1,000 businesses, unions, faith groups, and more will hold the largest climate march in history later this month, followed by an historic gathering of world leaders at the United Nations Climate Summit. And President Obama has proposed a Clean Power Plan to limit carbon pollution from power plants for the first time ever - the largest single step any nation has taken ever to cut greenhouse gasses.

But all these steps are just the beginning. To have a shot at mitigating the most severe impacts of global warming- from crop loss, to rising seas, to wildfires, to flooding -- we're going to need a lot less denial, and a lot more leadership. One of the first steps to leading is learning. And that's why it should be back-to-school for climate deniers.
Popular in the Community