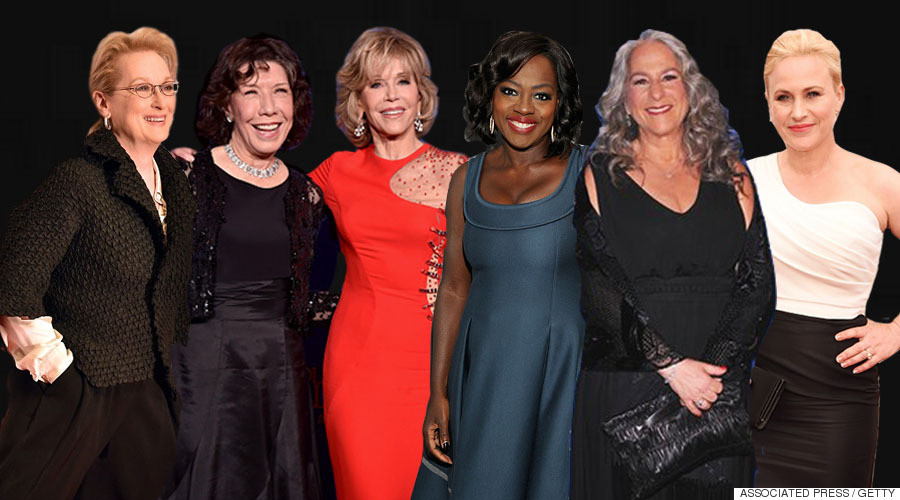 Marta Kauffman was at lunch with the head of Skydance Productions when she found out that Jane Fonda and Lily Tomlin were interested in working in television. She thought the two wanted to work together, and her misunderstanding reunited the "9 to 5" actresses by happy accident. "I called my agent and said, 'Is it true Jane and Lily want to work together?'" Kauffman told The Huffington Post. "She calls me back, I guess 20 minutes later, and said, 'They do now.'" And so, "Grace And Frankie" was born.
Ten or 15 years ago, moving to TV would have been seen as a setback, especially for Fonda. But, as headlines would have us believe, we've entered a sort of TV golden age. Beyond that, there's just not a lot of work for women of a certain age anywhere in the industry.
"How many jobs are there -- full-time jobs -- out there for woman of their age?" Kauffman asked. "Especially in our business. There's just not a lot out there for them."
The discussion around ageism in Hollywood rose up again this week around yet another brilliant "Inside Amy Schumer" sketch. Alongside Tina Fey and Patricia Arquette, Schumer celebrates Julia Louis-Dreyfus' "last f--kable day."
"In every actress's life, the media decides when you finally reach the point that you're not believably f--kable anymore," she explains, over a picnic with cake and wine.
The sketch is mocking in its absurdity -- including a viking funeral -- but hits close to the unfunny reality that women are essentially two ages in Hollywood: young and f--kable or old and not f--kable.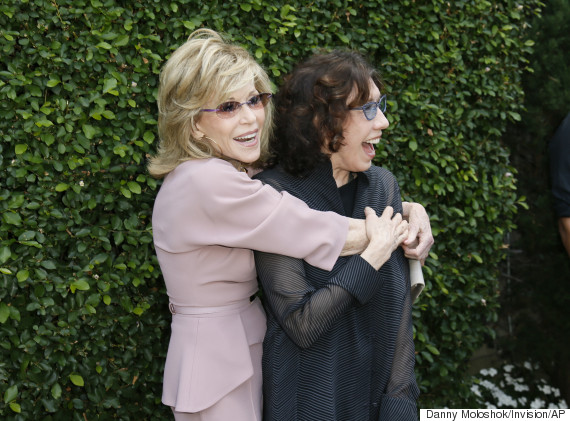 At 58, Kauffman is well aware of this reality. "Even when there are female-led shows, I think they don't get quite the same respect as shows with male leads get," she said. "Look, they won't even make a film if it's about a woman unless you guarantee you get Sandra Bullock or Meryl Streep or whoever. You know, they wouldn't even make it!"
Streep is now funding a screenwriting lab for women over 40, to combat the lack of their presence in the industry. The program, supervised by the New York Women In Film and Television (NYWIFT) , includes Gina Prince-Bythewood ("Beyond the Lights"), Caroline Kaplan ("Boyhood"), Kristen Smith ("Legally Blonde") and Jessica Bendinger ("Bring It On") among its mentors for the eight screenwriters accepted into the Writer's Lab.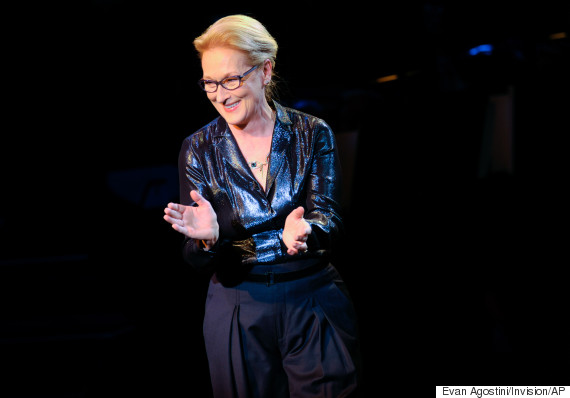 Sketches like Schumer's and comments like Theron's are powerful. Yet, change really comes from powerful women (like Streep) working to make a difference.
As Viola Davis said in her SAG Awards acceptance speech: "It starts from the top up." She continued to thank Shonda Rhimes and other heads of "How to Get Away with Murder" "for thinking that a sexualized, messy, mysterious woman, could be a 49-year-old, dark-skinned African American woman, who looks like me." The visibility of Davis' leading lady is important, but Annalise Keating wouldn't exist without Rhimes' constant push on the boundaries of network television.
In working on "Grace and Frankie," Kauffman went out of her way to look for female directors and writers. She knows we need to both see more women in lead roles and have more women telling their stories.
"You know, we definitely need more behind the scenes," she said. "When we were looking for lists of directors, there were so few directors that were women, compared to how many men there are. With showrunners too, there are a lot more than there were, but we're still underrepresented."
Kauffman's comments are confirmed by condemning statistics. The New York Film Academy's look at gender inequality found that only 9 percent of directors are women and there is a startling five to one ratio of men to women working behind the scenes overall.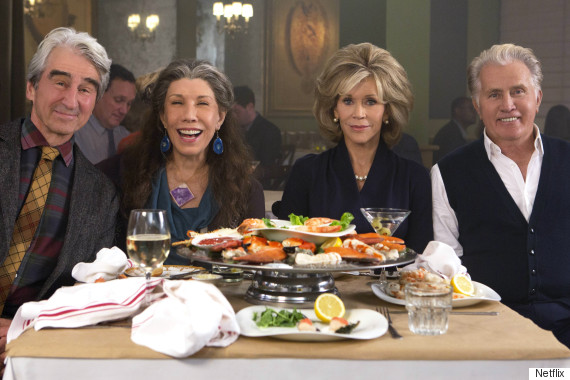 After creating the ubiquitous cult juggernaut that is "Friends," Kauffman felt a lot of pressure and set out to redefine herself with "Grace and Frankie." She wanted something more complex, that had more than 20-minutes to explore character development. "I knew I could never top what I did," she said. "Both in terms of its success and how much fun it was to do, so I decided I wasn't gonna try. In thinking about I wanted to do next, I decided I wanted to go deeper."
Perhaps counter-intuitively, Kauffman said she doesn't think of herself as a "joke person." She can write one if she has to, of course, but what has been most important to her in her writing is crafting relationships. With "Grace and Frankie," she hopes to delve into the sisterhood of these two women, who ultimately refuse to be defined by their age.
The premise, which Kauffman concocted specifically for Fonda and Tomlin, centers around the titular characters developing an unusual bond after they discover their husbands (Martin Sheen and Sam Waterston) leave them for each other. The two women find strength in their differences, with the uptight, martini-swilling Grace (Fonda) learning to open her heart a bit and caftan-wearing pushover Frankie (Tomlin) figuring out how to stand up for herself.
"We wanted to feel that this show could be aspirational for people who may have to start their lives over or for the belief that you can do things at any point in your life, " she said. "You don't have to stop."
To tell the story, Kauffman compiled a diverse room of writers, who could provide all the necessary perspectives for her story. "We have have a lot of amazing women writers on the show," she said. "Our age range in our room is from close to 60 to late 20s. We have straight women, gay women, straight men, gay men. It's a really interesting group of people." Although, those numbers pale in comparison to the ages of her leads: of the four of them, the youngest two are 74.
"I'm a feminist," Kauffman said. "I won't stand for misogyny in my room, on my set, among my actors or writers ... So, I'm trying to make changes in my life and in my work that will have an effect on people. I don't think of it as a burden. As a woman in the industry, this is just what I do. And I wouldn't do it any other way."
Season 1 of "Grace and Frankie" premieres May 8 on Netflix.
Before You Go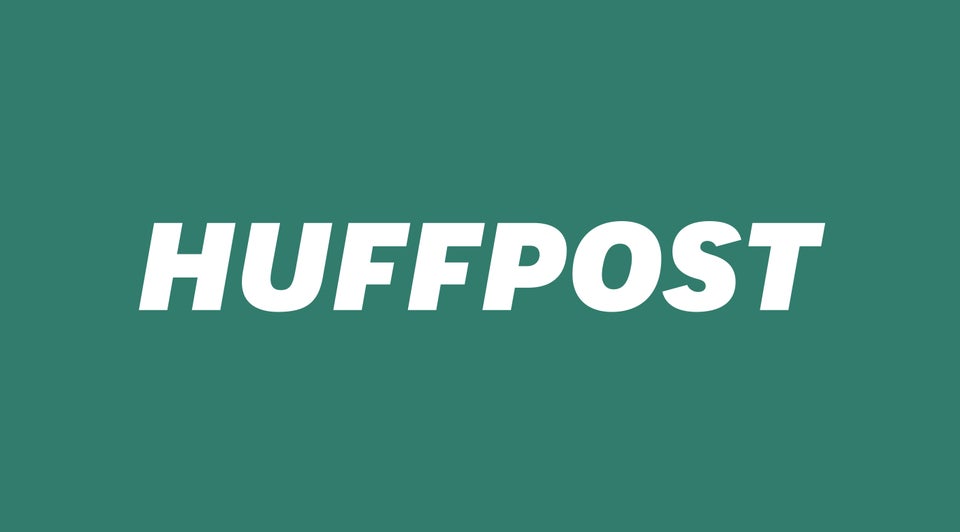 The Multiple Facets Of Modern Feminism
Popular in the Community