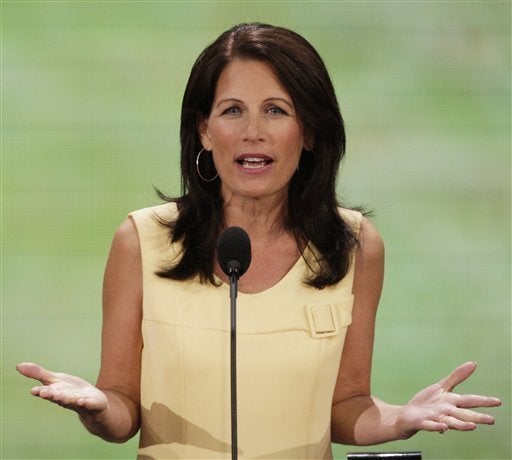 At what point does the uptick in incidences of Michele Bachmann saying crazypants nonsense in front of reporters graduate from political-cultural oddity to area of concern? How about today, Tuesday, April 7, 2009, at approximately 9:22 a.m., maybe?
That's when Contessa Brewer and Erin Billings dug into the latest Bachmann frenzy -- her contention that the national service organization AmeriCorps was a dangerous front for youth "re-education camps." What followed was an almost unbearably polite discussion of Bachmann. We are told that she has a knack for saying "certain things that incite attention." We hear that she appeals to a "right flank" of the Republican party that is "enamored" of her. Attention is given to disputing the idea that she is a "darling of the Republican party," probably because people in the Republican party -- who don't exactly go out of their way to repudiate Bachmann's nonsense -- will do the bare minimum of going to people like Erin Billings of Roll Call and telling her: "You know, this is off the record, but Michele Bachmann doesn't really represent the Republican party."
It's all so lovely and polite in the way it pirouettes around the larger point, but the larger point remains the same: TODAY AT 9:22 a.m., MSNBC BEGAN A SEGMENT ON CRAZY MICHELE BACHMANN WITH THE FOLLOWING SENTENCE:
"Can helping your community be a bad thing?"
This was accompanied by a graphic on screen that showed the AmeriCorps logo with text that read: "Government 'Re-Education Camps?'"
Seriously! Does MSNBC need to answer the question, "Can helping your community be a bad thing?" Unless they have taken complete leave of their goddamned senses, the answer is no. Is there any extant potential, whatsoever, for a stunning expose on AmeriCorps running re-education camps? Again, the answer is no. AmeriCorps is widely known to be a perfectly benign national service organization that does a lot of good and is quite rightly and naturally supported by both parties. So there's no need to even put that question mark up there on the screen, unless they are festooning Bachmann's visage with them.
Frankly, Bachmann has arrived at the place where she has earned the interrobang -- "?!" -- perhaps accompanied by some "WTFs." That's because if there is any story to be had here, it is this:
AMERICA! SOMEHOW THIS UTTERLY INSANE LADY NAMED MICHELE BACHMANN WHO BELIEVES EVERY CRACKPOT THEORY ON THE INTERNET HAS DRAWN NEAR TO THE LEVERS OF POWER!
This whole segment is just completely out of whack. Americorps should be thunderously defended against this stupidity, but instead, this nonsense becomes the springboard for one more polite discussion of Bachmann as a political curiosity. Would a madwoman at the helm of a plane be treated in this manner, or is Minnesota's 6th District just that expendable?
<0--764--hh>0--764--hh>
Calling all HuffPost superfans!
Sign up for membership to become a founding member and help shape HuffPost's next chapter