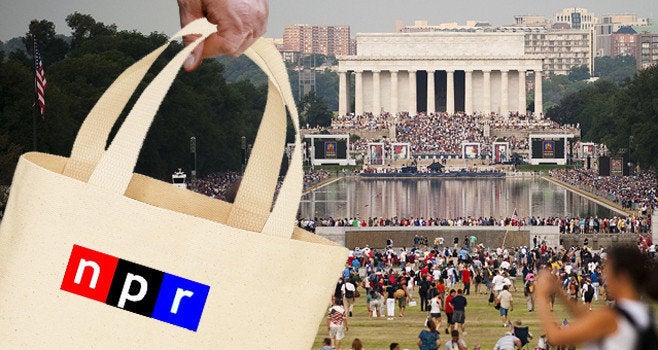 MoveOn.org, CREDO Action and Free Press delivered more than 1 million letters on Capitol Hill today to demonstrate to Congress that any effort to defund NPR, PBS and other public media goes against the will of the American people.
Earlier this month, a public opinion poll found that 69 percent of the public, including more than half the Republican faithful, oppose attempts to gut federal funding for public media.
Yet we're still at a dangerous moment for public media. There are bills in both the House and Senate to cut all federal funding for the Corporation for Public Broadcasting -- putting thousands of local stations and tens of thousands of local jobs at risk.
Members of MoveOn.org, CREDO Action and Free Press have spoken out against this attack on local media and our local communities.
They join the millions more mobilized through 170MillionAmericans.org by the public broadcasting institutions themselves, including American Public Media and more than 400 local stations. Listeners have been flooding Congress with messages and phone calls in support of their local stations.
It's time Congress got the message.
The good news is that we do have some true champions of public broadcasting and the public interest on Capitol Hill like Reps. Ed Markey and Earl Blumenauer. Alongside 90 other members of Congress who signed a letter supporting public media, they see this assault on public media for what it really is: a cynical campaign to destroy serious journalism in America and to silence a source of news and programming that the vast majority of American taxpayers says is well worth the cost.
And not every member of Congress buys into the false partisan frames being peddled to damage PBS and NPR. Just today, Georgia Sen. Saxby Chambliss spoke out against cutting funds for NPR for the same reason so many of us do: because "it provides a very valuable service."
The hundreds of millions of people who watch and listen to PBS and NPR didn't make public media a partisan issue; a few political operatives attacking public media made it a partisan issue.
Further support for NPR and PBS goes well beyond these leaders and the million people who signed these letters. The Communication Workers of America -- which includes the Broadcast Engineers (NABET) and the Newspaper Guild -- are rallying support for public media jobs. So are the Writers Guild of America and the American Federation of Television and Radio Artists.
All these petitions, and all the calls and letters that have flooded the Capitol in recent weeks, show the public are fed up with the people in Washington who play politics with public broadcasting.
An overwhelming majority of Americans -- Republicans and Democrats alike -- supports public funding for public broadcasting. Other surveys show they think it's the best use of their tax dollars besides anything but the national defense.
And it's important to remember that this attack isn't just against the national networks. It's against the thousands of local stations -- many in rural underserved parts of the country -- that wouldn't be on the air without federal support
It isn't just about the actions of a few executives in Washington. It's about keeping more than 20,000 local jobs -- the engineers, the writers, the reporters who make public media.
Saving public media is about working journalists working local stories and pounding the pavement to pursue what's actually happening in our communities and uncovering the stories the commercial media too often won't touch.
Unfortunately, there are those out there, even inside public media's institutions, who tell organizations like MoveOn.org and Free Press to keep it down. They would rather we stayed below the radar. They seem to think they can appease their attackers by lying low or even offering up a few "scalps" (to quote one insider involved in the dismissal of NPR's Vivian Schiller). They persist in this doomed strategy even though every time they back down, the attacks and the nasty rhetoric from the other side heats up.
PBS and NPR have been kicked in the teeth for decades -- now it's time for them to start biting back.
This is not the end of efforts by Free Press and our allies to rally public support for our media. This is just the start. Our members are going to be standing up and standing strong, here in Washington and in local communities across the country.
We beat back these attacks in 1995 and 2005, but it's time for public broadcasting to end its abusive relationship with Congress. That means not just pushing back to restore these funding cuts and denounce the dirty tricks being used by public media's opponents, but finding ways to ensure long-term support for PBS, NPR and, most importantly, those local community stations that is free from the political whims in Washington.
REAL LIFE. REAL NEWS. REAL VOICES.
Help us tell more of the stories that matter from voices that too often remain unheard.