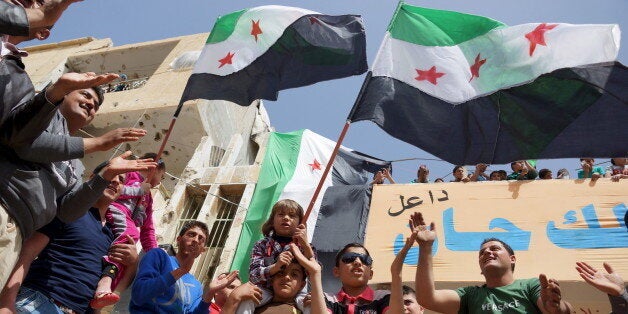 News that the United States and Russia have set an August deadline for a new draft Syrian constitution suddenly makes the prospect of a new post conflict politics a reality.
August is also the deadline for an agreement on a political transition process between the regime and opposition figures participating in talks supervised by UN Special Envoy on Syria Staffan de Mistura. The talks are currently on a break, but are due to resume next month. Washington and Moscow are pressing negotiators on both sides to hold "direct talks" rather than continuing the indirect arrangement, and to move toward "a transitional governance structure."
Now's the time for Syrian civil society to intensify its conversations about what it wants in a new constitution. Discussions have been under way for a while despite the overwhelming conflict, but human rights activists shouldn't let politicians or the superpowers shape the new constitution. It's vital that a new constitution reflects the demand for national and local democracy, the demand for a non-sectarian future.
What Syria's new constitution looks like should in large part be up to its civil society.
In 1988, I interviewed a prominent anti-apartheid activist and South African lawyer Albie Sachs for the Toronto Star.
He was then recovering from an assassination attempt a couple of months before, a car bomb attack in which he lost an arm and sight in one eye. He told me he was using his convalescence to work on "new guidelines for a constitution in post-apartheid South Africa," and that while any constitution would have to be properly worked out in full consultation with the people of South Africa if apartheid ever fell, he was proposing some draft ideas including on "the freedom of press and religion, an independent judiciary and a multiparty state," guaranteed by a bill of rights.
It seemed optimistic, even fanciful, at the time, with the apartheid regime firmly backed by the Reagan Administration, Prime Minister Thatcher's government and other powerful western allies. But within two years apartheid had fallen, and in 1994 Nelson Mandela appointed Sachs to the Constitutional Court of South Africa. The bill of rights, incorporated into the country's new constitution, was based on the guidelines Sachs had worked out during his recovery from the bomb.
There's no one way to achieve a written constitution (the UK doesn't have one at all) but the more civil society input and public debate the greater the chances of its success.
Given the right process civil society figures, including human rights activists, can directly shape a new politics. Tunisian civil society, through the national dialogue quartet, heavily influenced its country's new constitution.
The Russian news agency TASS reported last week that "Representatives of the Syrian opposition movements, religious organizations and military units suggest establishing a group, which will offer a draft constitution to be further discussed by the nation." These groups aren't broad enough - religious, military and political voices need to be included but so do many others, including those trying to fight corruption at a local level, human rights group, humanitarian organizations, women's groups, Syrians who are currently displaced or refugees, and everyone else with a stake in the future of their country.
A new constitution in Syria won't solve the country's problems by itself, however brilliant its articles. But now is the time for all of Syria, and not just its politicians, to try to have a national conversation about what rights should be constitutionally protected.
Shaping a new constitution, defining a new relationship between its government and its people, is a job too important to be left to its political elite.
Related
Popular in the Community