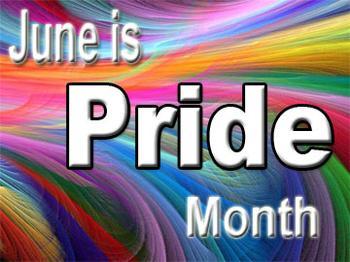 June is Gay (LGBTQ) Pride Month and millions of LGBTQ people and allies will come out to celebrate, march and participate and cheer on festivities which commemorate the historic trials and tribulations of the global LGBT community while celebrating equality rights, sexual diversity, and gender variance.
Global Pride events vary in size and scope. Whether small, large, solemn, or carnivalesque, people from all sexual/gender backgrounds unite under the rainbow flag for a month of Pride bashes.
One of the most exciting cities to celebrate LGBT Pride in 2017 is Washington, D.C. America's capital city boasts massive Pride parties like Capital Pride. This year, inspired by January's Women's march to protest the election of serial misogynist Donald Trump and his radical homophobic and transphobic Vice President Mike Pence, an Equality March was created in response.
The "Equality March for Unity & Pride" scheduled for June 11 is a grassroots movement which will mobilize the diverse LGBTQ+ communities to peacefully and clearly address concerns about the current political landscapes and how it is contributing to the persecution and discrimination of LGBTQ+ individuals.
Progress has been made over the past decade, and especially in the last 8 years under the Obama Administration in the ongoing fight for LGBTQ+ inclusion, access, and justice, (yes there's still so much more to be done) — but now that is threatened by increased hostile rhetoric, discriminatory policies and laws, and violence perpetrated against our most vulnerable, in our communities.
As with the Women's Marches, sister events are planned throughout the Country to give voice to our concerns and attention to our neglected and ignored.
Transgender people, perhaps the most vulnerable and at risk, will be out and about and taking positive activism a step further. The National Center for Transgender Equality (NCTE) is the national organization created to advance trans inclusive policies, and fight anti-transgender legislation across the country. It is the first organization I "go to" to review or help write any state legislation which may affect trans people. Each year they hold a Lobby Day with a day of training and education, normally in May, for trans people and our allies to share our stories with members of Congress and influence the decision making process. This year they are having their Lobby Days June 8th and 9th in anticipation of a larger than usual turnout for the Equality March. Educating yourself and using that education along with your own experiences can be very empowering and you can influence legislators and staff. Sometimes the reaction can be immediate and other times long term. Sometimes it's just saying "thank you" to a supportive Congressperson or Senator. It all helps you . . . us!
Texas is arguably the one state with the most transphobic elected officials. Following North Carolina's lead, Texas Republicans in January unveiled the so-called "bathroom bill" to regulate bathroom use and keep transgender Texans from using bathrooms that align with their gender identity.
What would ladies' room Jesus do?
Senate Bill 6, one of Lt. Gov. Dan Patrick's legislative priorities, would require transgender people to use bathrooms in public schools, government buildings and public universities based on "biological sex." The measure would also pre-empt local nondiscrimination ordinances that allow transgender Texans to use the bathroom that corresponds with their gender identity.
Scarborough and Perkins have called members of the transgender community "confused" and "sinful" people who can be cured through religious intervention — reject the very existence of transgender people!
Transgender Texans have been fighting back! On June 9th and 10th they will be holding their 9th Annual Texas Transgender Nondiscrimination Summit (TXTNS) at Stephen F. Austin State University in Nagodouches, Texas. TXTNS is a grassroots effort to look at strategic approaches to the issues of social justice and policy implementation in regards to the concepts of gender identity and gender expression and is committed to ensure no person or group on any educational campus stands alone in their fight for social justice. Led by Executive Director Josephine Tittsworth a nationally recognized social worker and transgender activist and supported by the legendary "Phyllabuster" Judge Phyliss Frye, we will be pushing back and moving forward! I will be speaking there. We must step up, show up, be smart and fight back!
I remind folks that Woody Allen once said, "80% of success in life is just showing up" Show up!
Calling all HuffPost superfans!
Sign up for membership to become a founding member and help shape HuffPost's next chapter
This post was published on the now-closed HuffPost Contributor platform. Contributors control their own work and posted freely to our site. If you need to flag this entry as abusive,
send us an email
.