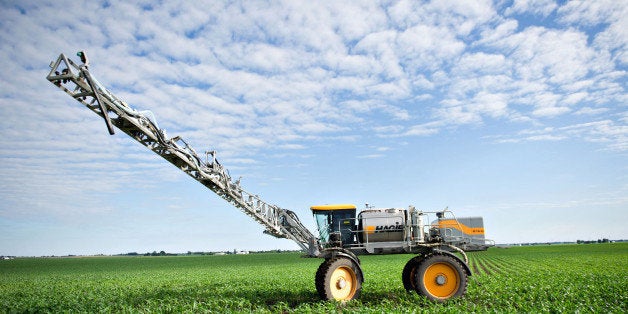 Plans by the Food and Drug Administration (FDA), the nation's chief food safety regulator, to start testing food for residues of the world's most widely used weed killer come at a pivotal point for both the American consumer and U.S. agribusiness as safety concerns rise over use of the herbicide called glyphosate, more commonly known as Roundup.
Until now, the federal government has steadfastly resisted testing foods for residues of glyphosate, even though regulators annually test thousands of food samples for hundreds of other less commonly used pesticides. This resolve against looking for potentially harmful residues has held fast despite the fact that multiple scientific studies in recent years have linked glyphosate to cancer and a range of other health and environmental concerns. Last year, the World Health Organization's cancer experts declared glyphosate to be a probable human carcinogen after examining many of those studies.
Glyphosate use has been on the rise since Monsanto Co., which patented the herbicide in the 1970s, introduced "Roundup Ready" crops in the mid-1990s. These crops are genetically engineered to be immune to glyphosate - meaning farmers can spray the pesticide directly over their crops. Corn, soybeans, canola and sugar beets are among such Roundup Ready crops, but there are also many non-GMO crops, including wheat, that are sprayed directly with glyphosate before being harvested to help dry them out. Monsanto's patent on glyphosate has expired but the company still makes roughly $5 billion annually off glyphosate herbicide sales. Other large agrichemical companies, including Dow Chemical and Syngenta AG, also sell glyphosate herbicides.
Farmers and homeowners alike have embraced Roundup for the ease with which it knocks out troublesome weeds. But just how much of the pesticide is making its way into our food supply has been hard to determine, thanks largely to a U.S. regulatory community that has repeatedly said it's a waste of time and money to test for residues of a pesticide that the agrichemical industry says is proven safe. Monsanto says that trace amounts of glyphosate in food aren't harmful, and points to 40 years of toxicological studies the company says show glyphosate poses no "unreasonable risk" to people or the environment.
The FDA now says it plans to start some limited testing in fiscal 2016 to measure glyphosate residues in soybeans, corn, milk and eggs. But the agency has declined to answer questions about the scope and the methodology it intends to deploy. This is particularly concerning because at times the FDA, Environmental Protection Agency, and the U.S. Department of Agriculture -- agencies whose job it is to help protect people and the environment -- have been criticized for supporting corporate interests over consumer interests.
The EPA, which regulates pesticides, has appeared to be particularly eager to aid industry. In 2013, the EPA raised the legally allowed amount of glyphosate residues on food considered safe to levels far higher than in other countries. The move came at the request of Monsanto. Then, three days after the March 20, 2015 WHO declaration linking glyphosate to cancer, Monsanto called and emailed the EPA to suggest "talking points" and seek EPA's help in reassuring the market of glyphosate's safety, according to information obtained through a Freedom of Information request. Three months later, the EPA issued a memorandum supporting safety claims.
On Feb. 17, a group of scientists and academics said enough is enough. The group, which includes medical and biological science experts from the U.S., Canada and Europe, published a "consensus statement" in the open access journal Environmental Health sounding an alarm over the parallel tracks of mounting use of glyphosate and mounting evidence of problems linked to the popular pesticide. The group is calling on regulators to reassess the toxicity of glyphosate, better monitor glyphosate residues in water and food and in the human body, and to take steps to protect people from exposures to the pesticide, which U.S. government studies have shown to be pervasive in air and water sampling. Testing by private organizations has shown glyphosate residues in a range of food products, as well as in human breast milk and urine.
"Animal and epidemiology studies published in the last decade... point to the need for a fresh look at glyphosate toxicity," the group states in its report. "Regulatory estimates of tolerable daily intakes for glyphosate in the United States and European Union are based on outdated science."
The scientists argue in their report that more studies need to be done, particularly to look for endocrine-disrupting effects. Endocrine disruption has been linked to some cancers, birth defects, and developmental problems in children.
Still, the only residue testing for glyphosate done in recent years was conducted by the USDA in 2011 as a limited "special project." The USDA tested 300 soybean samples for glyphosate, and found 271 of the samples had residues. The agency said all fell within the range deemed safe by the EPA further testing was not a high priority.
Whatever the new FDA testing shows promises to be a political hot potato as Congress and many U.S. states debate whether or not to label foods made with GMO crops, the majority of which are engineered to be sprayed with glyphosate. Glyphosate residue concerns helped drive Vermont to pass a law mandating labeling of GMO foods, which is set to take effect July 1.
Many large food industry players, including agribusinesses, are trying to block the Vermont law, and want a federal bill that would nullify Vermont's law or any other mandatory labeling action.
But politics should not trump public safety, and the FDA's move to measure residues in the American diet provides some measure of hope that regulators are at least listening to consumer concerns. How much weed killer is carried from the farm field into our food supply is information the public deserves to know.
Popular in the Community