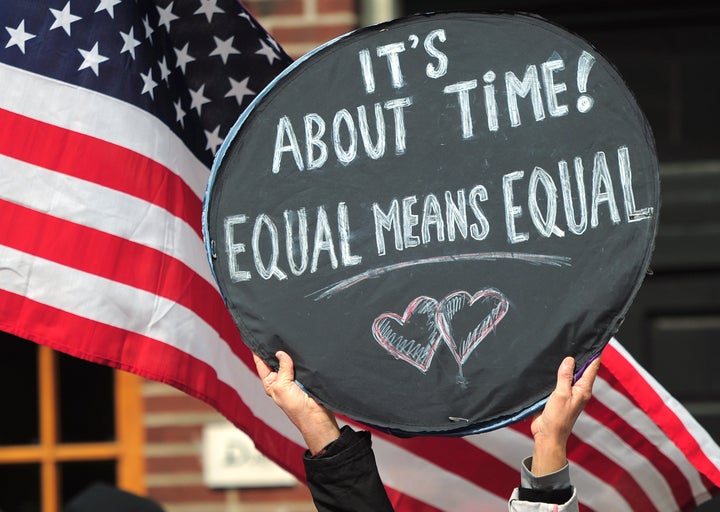 Yes, we know sensationalism sells magazines but with this week's release of TIME magazine's gay-themed covers, I ask at whose expense?
For decades, our allies and those of us within the gay and transgender community have tried desperately to move the conversation about LGBT equality out of the bedroom and instead towards the everyday life experiences of LGBT people. TIME had many options available to showcase the gay community -- a wedding photo, folks holding hands, two people staring lovingly into each other's eyes, etc. Yet they chose two lip-locking white couples instead. Sure, this is the same magazine that brought us the woman breastfeeding her toddler on the cover, but my God, can we show no diversity of experience -- let alone race?
The gay and transgender community has long had a race problem, meaning that the only people until recently we have seen as "talking heads" for the community have largely been white men and a few women. To continue to promote this idea through images on the cover of TIME magazine is not just insensitive, it's also irresponsible. Once again the media is perpetuating who they think gay people are -- young, white, hipsters and not the reality of our rainbow.
In the Pinterest, Instagram and Facebook world in which we live, images are more important than ever -- they speak volumes about our politics and our culture.
CNN made good this week while discussing the Supreme Court marriage equality showdown by showcasing a black lesbian couple during their coverage. The couple, one a police officer and the other in the military, discussed not only the love they share as pictures of their beautiful wedding were shown, but also the hardships they face. Not only did their story showcase the racial diversity of the gay and transgender community, but the economic diversity as well -- not all of us are rich or white or men like sitcoms and news broadcasts alike would have America believe.
As we continue on what seems like an endless merry-go-round of equal rights, we need to tell the whole story and show a multitude of images that will be truly representative of the LGBT community at large -- not just the hyper-sexualized and homogenous ones the media deems relevant. We have come too far to just relegate the gay and transgender experience to sex; we are full and complex people worthy of more than two tawdry images to tell the breadth and depth our story.
Calling all HuffPost superfans!
Sign up for membership to become a founding member and help shape HuffPost's next chapter