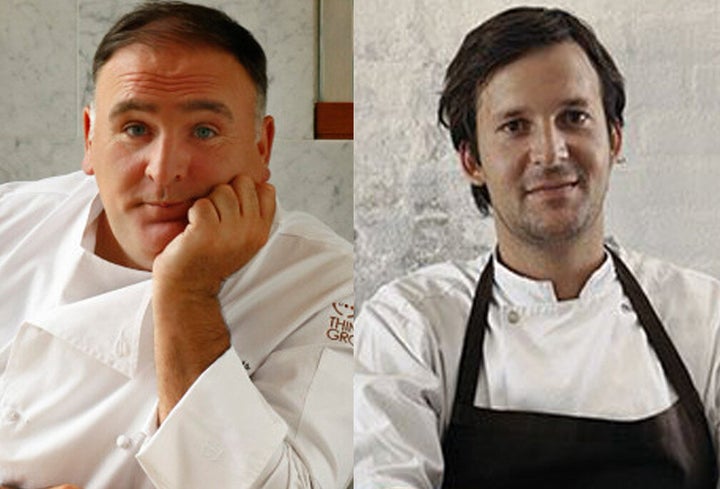 Time magazine today releases its annual list, "The 100 Most Influential People in the World", and there are two chef standouts in the mix: Spanish-born and inspired small plates pioneer turned empire-builder José Andrés and new Nordic virtuoso René Redzepi.
Though the two are clearly similar in when it comes passion -- both have successfully served as evangelists for their respective cuisines -- the two perhaps contrast most strikingly in their intended reach.
That this gift of Spain to the U.S. is best known as a great chef with a portfolio of extraordinary restaurants in Washington, Los Angeles and Las Vegas is almost beside the point. He's bigger and more important than that. No one kitchen — or 10 — can contain him. He is advocate, promoter, entrepreneur, philanthropist, artist. Keep up with him at your peril.
Redzepi, on the other hand, is more singular in his focus. His Time profile, written by Catalan toque and former head of El Bulli, Ferran Adrià (who actually served as Andrés' mentor), describes Redzepi's devotion to his one restaurant, Noma in Copenhagen:
He has placed Copenhagen and the Nordic countries on the global map of gastronomy. Today he is at the apex of the culinary world. We often talk about the best chef in the world when in reality, cuisine -- like other activities -- cannot be measured, quantified or calculated. There is no such thing as the best. But it is possible to point out something much more important: the chef who is the most influential, the one who establishes the way forward. René occupies this position.
Check out the full list of Time's 100 most influential people here.