With the film release of "A Wrinkle In Time" just a few months away, the cast appears on the cover of Time's most recent issue.
"Change is coming. Stay tuned," Witherspoon captioned a photo of the cover on her Instagram account. Kaling wrote, "Watch out 2018."
Reid, who is 14, dedicated the powerful cover to her grandmother, writing, "This one is for my grandma in heaven Hazel Lorraine Richmond R.I.P. You were always a rebel and a true warrior."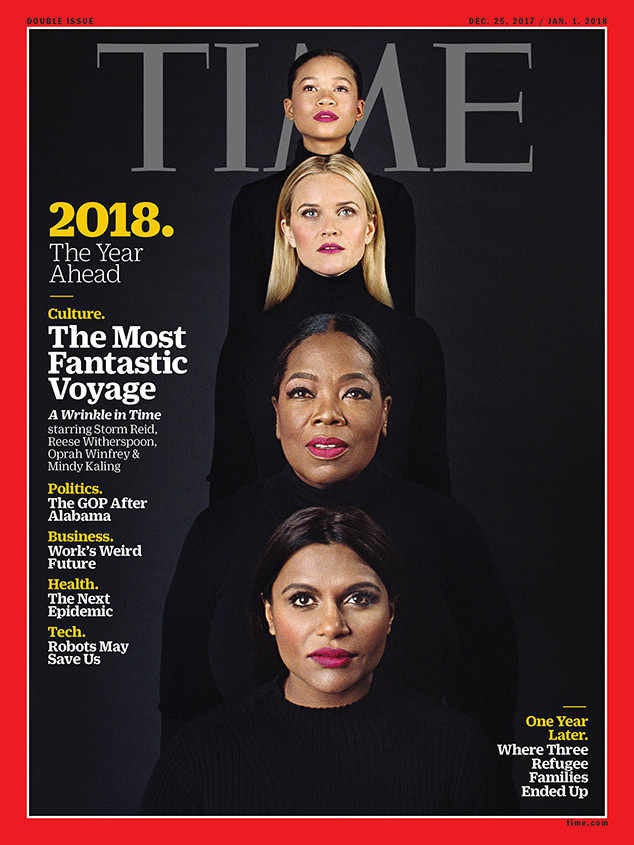 "I wasn't just casting for actresses. I was casting for leaders — icons," she said. "Reese is the hottest producer in town. Oprah's the most prolific, venerable legend of television and an artist and entrepreneur. And Mindy's one of the few women running a show with her name, about her. When I think about the three of them together as a unit of celestial beings, it feels right."
Diversity in skin color, size, faith and age was also a major casting focus, DuVernay told Time. The director said she wanted Mrs. Which, Mrs. Whatsit and Mrs. Who ― played by Winfrey, Witherspoon and Kaling, respectively ― to be "black, white and someone who wasn't either," and Meg ― the main character, played by Reid ― "to have brown skin."
In a interview with Entertainment Weekly earlier this year, DuVernay said she wanted "to place a brown girl in that role of Meg, a girl traveling to different planets and encountering beings and situations that I'd never seen a girl of color in."
DuVernay's casting decisions had an effect on Witherspoon, who told Time she'd "never seen somebody demand inclusiveness like that."
"It's just a different perspective, and you don't get that unless we start to have powerful filmmakers of different colors, different genders," she said. "You're just gonna have the same 20 dudes making the same 20 movies over and over and over again. I looked at [DuVernay] in her jeans and sneakers and those dreads out there calling it. It's just the coolest damn thing to watch her with those big-ass machines. It just feels like, OK, next generation: There you are."
"A Wrinkle In Time" hits theaters March 9.
Popular in the Community