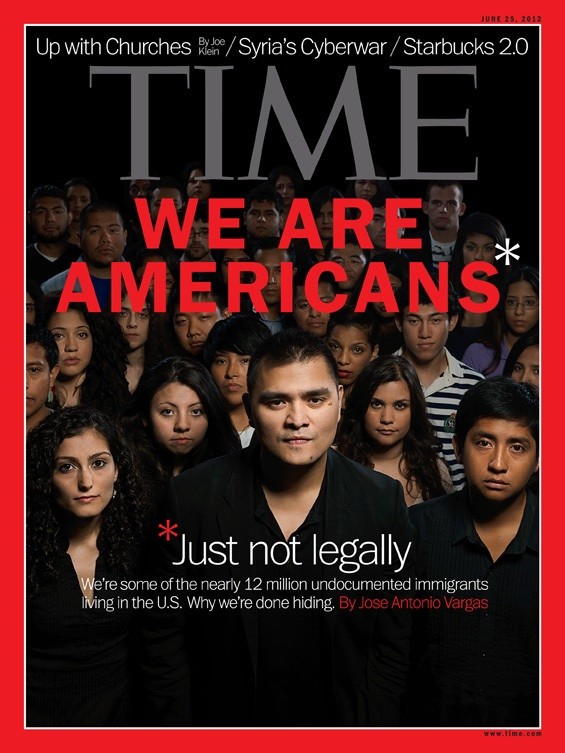 One year ago, Pulitzer Prize-winning journalist and former HuffPost editor Jose Antonio Vargas "came out" to the world as an undocumented immigrant. In this week's TIME Magazine cover story, the Filipino writer and activist describes his year as a public figure without legal status and argues that he too is an American.
Featured on the magazine's cover between the phrases "We Are Americans*" and "*Just not legally," Vargas is joined by other undocumented immigrants from around the world. The men and women pictured along with Vargas also recently came out of the shadows and revealed their immigration status publicly.
In the cover story's introduction, Vargas argues that the immigration system is fundamentally broken and that it prevents deserving candidates, many of whom identify as American, from residing in the country legally. Vargas also discusses his new campaign, Define American:
"I founded a campaign called Define American, to document the lives of the undocumented and harness the support of our allies around this very controversial and misunderstood issue," Vargas writes. "There are an estimated 11.5 million people like me in this country, human beings with stories as varied as America itself, yet lacking a legal claim to exist here," Vargas adds.

An aunt and family friend brought Vargas to the United States illegally at the age of 12 with a fake passport, Vargas wrote in The New York Times Magazine last year. He discovered the truth about his immigration status at 16, when he attempted to obtain a driver's permit and was told his documents were fake.
For Vargas and many other Filipinos, the wait for a visa to the United States can span decades. Those who marry an American citizen or have professional skills and training needed in the United States may be able to migrate more rapidly. However, U.S. immigration officials are in the process of issuing visas to Filipinos who requested permission to immigrate in 1989, but did not meet the criteria for more rapid entry, according to federal data. Mexican immigrants also face similar wait times.
"It's been almost a year since I published my 'coming out' essay in The New York Times and created, with the help of friends, Define American," Vargas said in an email to the Huffington Post Wednesday. "From the very beginning, our goal at Define American was to elevate how we talk about immigration in America. The moment is now, especially given the upcoming Supreme Court decision on Arizona and the presidential election. More and more undocumented Americans and the American citizens who support us -- the people who make up our underground railroad -- are coming out, challenging the way politicians and the media frame the issue. We need more honest conversations."
This week's TIME cover story comes at a moment when immigration policy and the debate about reform appears likely to serve as a key election issue and topic of national debate. The Supreme Court is expected to decide on the legality of Arizona's state-level immigration enforcement law, SB1070, this summer. The Department of Justice is working to reign in immigration hardliner Sheriff Joe Arpaio. Arpaio faces a lawsuit brought by the nation's top law enforcement agency for alleged discrimination against Latinos. Furthermore, possible Republican Vice Presidential nominee Sen. Marco Rubio continues to defend his DREAM Act-like proposal that, although not yet introduced as a formal bill, has faced criticism from both sides of the aisle.
Vargas' TIME story also comes just months after the same publication ran another cover story which argued that the Latino vote would be the deciding factor in the presidential election, based on population growth in key states. The February issue also included an editorial by Univision anchor Jorge Ramos and an interview with Marco Rubio, addressing the heated topic.
"Across the country, every day, more and more undocumented Americans and the people who support us are speaking out," Vargas writes, "challenging how our politicians, the media and the Supreme Court (in its expected decision on Arizona's immigration law) frame the issue."
Watch the undocumented immigrants in TIME Magazine's cover story discuss their experiences:
Calling all HuffPost superfans!
Sign up for membership to become a founding member and help shape HuffPost's next chapter
BEFORE YOU GO
PHOTO GALLERY
DREAMers Taking A Stand