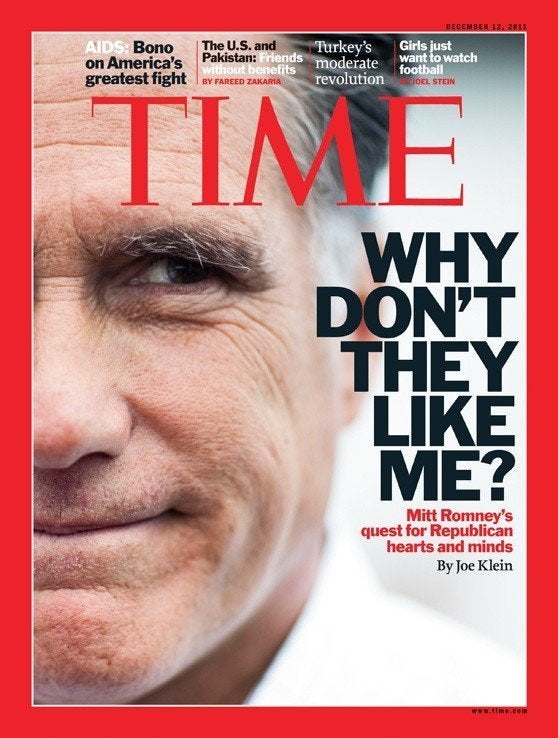 NEW YORK -- Although Newt Gingrich may be surging lately, it's Mitt Romney who's stealing magazine covers this week. The former Massachusetts Governor graces the current issue of Time and will appear on the covers of The New York Times Magazine and Parade this weekend.
Despite all the high-profile pieces, Romney hasn't been spending too much time chatting up magazine writers. In fact, he only sat down with Parade, a move that reflects the 2012 campaign's strategy to limit national media exposure and the type of lengthy sit-downs that were more commonplace during his 2008 run. In October, the Washington Post's Karen Tumulty told The Huffington Post that Romney was "quite accessible" during the last election cycle and offered her plenty of access for substantive pieces that she wrote for Time.
This time around, however, Time wasn't as lucky. Joe Klein, who wrote this issue's cover story, didn't get to fly around with Romney while working on it. Klein had tough words for how the campaign is handling media access.
"It's an idiotic strategy," Klein said. "Because usually what politicians do is to do big profile-y sort of interviews at the front end of a campaign and then close off access at the end."
Klein said that Romney gave him "great access when pushing universal health care in Massachusetts," a subject he wrote a column about at the time. Klein said he expected Romney to talk to him for this piece, especially since "he and I had not a bad relationship in the past and I thought he's the smartest, most mainstream of these Republican candidates, and Time is a pretty mainstream publication."
Romney hasn't done interviews with the major newsweeklies yet this year, and he hasn't appeared on a Sunday morning show since 2010. Romney recently had a contentious interview with Fox News' Bret Baier, which Klein pointed to as evidence the campaign should have been more willing to put their candidate out in front of a national audience, earlier on in the primary race. "If he made himself accessible to Fox News a year ago, he could have taken care of a lot of the flip-flop questions," Klein said. "They've delayed it until now."
The Romney campaign shot back following Klein's critique.
"Mitt Romney does plenty of interviews," said adviser Eric Fehrnstrom in an email. "The fact he didn't do one with Joe Klein is what has Joe Klein upset."
"We just did major spreads with Parade and People magazine where both Mitt and Ann sat for interviews," he continued. "We'll do more as we go forward, both on TV and in print."
By giving access to Parade and People, the campaign may be hoping to highlight Romney's softer side -- more human than "Romney-bot," as the New York Times Magazine headline described the candidate. The interviews also allow Romney to speak about faith and family, while getting a few softball questions lobbed his way that would be less likely to come from more politically oriented publications.
Robert Draper, who wrote the Times Magazine cover story and who was also not granted a sit-down, seems to accept that the campaign will run its press operation as it sees fit.
"It's his prerogative to speak or not speak to whomever he wants," Draper said over email. "I don't take it personally and I've got to write the story regardless of whether he participates in it."
Correction: This post originally misstated the date of Romney's last Sunday show appearance.
Related
Popular in the Community