Time magazine named "The Silence Breakers" its 2017 Person of the Year on Wednesday, saying the term referred to "individuals who set off a national reckoning over the prevalence of sexual harassment."
The cover features Ashley Judd, Taylor Swift and former Uber engineer Susan Fowler, who have all spoken out about various forms of sexual misconduct, as well as a couple of less familiar faces: Isabel Pascual (who used a pseudonym to protect her identity), a woman from Mexico who works picking strawberries, and Adama Iwu, a corporate lobbyist in Sacramento, California.
It also features the elbow of another woman whose face is not visible.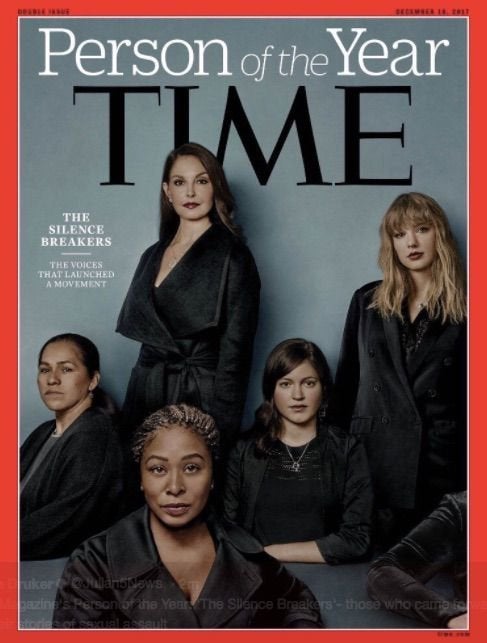 "The image you see partially on the cover is of a woman we talked to, a hospital worker from the middle of the country, who doesn't feel that she can come forward without threatening her livelihood," Time editor-in-chief Edward Felsenthal said Wednesday on "Today."
The anonymous woman's arm also represents the many women and men who are afraid to come forward with their own stories, Felsenthal said.
The anonymous woman, 28, shared her harrowing experience with the magazine, and captured how many people feel after being assaulted or harassed.
"I thought, 'What just happened? Why didn't I react?'" she said, noting that she can still feel the heat of her harassers' hands on her body. "I kept thinking, 'Did I do something, did I say something, did I look a certain way to make him think that was OK?'"
Charlotte Alter, Time's national correspondent, also told BuzzFeed that the inclusion of the elbow was "very intentional."
"A huge part of this story is that as much as the stigma around this has been removed this year because of the 'Me Too' movement, it's still really difficult for a lot of people to come forward," she told the outlet. Alter also noted that it's difficult for some people to share their stories because they don't have the "resources to weather what would happen if they lost their jobs or they couldn't support their families."
"So we wanted to include people that reference the risk these women are taking by speaking out about this," she said.