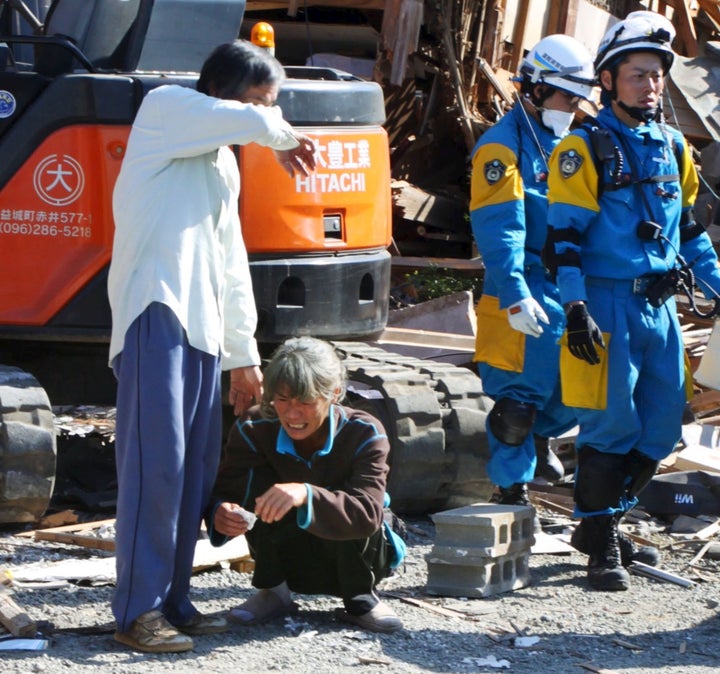 Japanese rescue teams on Sunday scoured the splintered remains of buildings destroyed by a series of deadly earthquakes in southern Japan as time ran out for finding survivors and as major Japanese manufacturers face production losses from supply chain disruptions.
A 7.3 magnitude tremor struck early on Saturday, killing at least 32 people, injuring about a thousand and causing widespread damage to houses, roads and bridges, with at least one mountain highway severed in two, concrete tumbling into the valley below.
In the village of Minamiaso, 11 people were "out of contact", said public broadcaster NHK. Rescuers pulled 10 students out of a collapsed university apartment in the same settlement on Saturday.
"In Minamiaso, where the damage is concentrated, there may still be people trapped under collapsed buildings, so we are focusing our attention and rescue and search efforts in this area," Chief Cabinet Secretary Yoshihide Suga told reporters.
It was the second major quake to hit Kumamoto province on the island of Kyushu in just over 24 hours. The first, late on Thursday, killed nine people. Of more than 470 quakes hitting Kyushu since Thursday, 78 have been at least a four on Japan's intensity scale, strong enough to shake buildings.
Quakes are common in Japan, part of the seismically active "Ring of Fire" which sweeps from the South Pacific islands, up through Indonesia, Japan, across to Alaska and down the west coast of the United States and Central and South America.
At the other end of the ring this weekend, Ecuador's biggest earthquake in decades killed at least 77 people, caused devastation in coastal towns and left an unknown number trapped in ruins. A 6.1 magnitude quake also struck southeast of the Pacific island nation of Tonga, with no immediate reports of damage.
Three nuclear plants in the southern Japanese region were unaffected by the second quake, but the Nuclear Regulation Authority said it will hold an extraordinary meeting on Monday to discuss the disaster.
A massive 9 magnitude quake and tsunami in northern Japan in March 2011 caused the worst nuclear crisis since Chernobyl in 1986, shutting down the nuclear industry for safety checks and sending radiation spewing across the countryside. The first reactor to restart was Kyushu Electric's Sendai No. 1, which is at one of the plants in the region hit on Saturday.
Nearly 20,000 people were killed in the 2011 tsunami.
The Kumamoto region is an important manufacturing hub.
Calling all HuffPost superfans!
Sign up for membership to become a founding member and help shape HuffPost's next chapter