I've always luved Laura Linney.
Ever since she starred as Mary Ann Singleton (BabyCakes) in Armistead Maupin's quirky "Tales Of The City" (1993),"More Tales..." (1998) & "Further Tales..." (2001), I've followed her quietly illustrious career, and was delighted to see her recently be awarded a Golden Globe for her complex performance in Showtime's memorable "The Big C".
This week, I was delighted to witness her excellent performance in Time Stands Still the riveting theater piece written by Donald Margulies and directed by Daniel Sullivan. In the show closing all-too-soon at the end of this month, Linney stars as Sarah Goodwin, a photojournalist and foreign correspondent, along with Brian D'Arcy, as the "SO" (Significant Other), Eric Bogosian, and Christina Ricci. YES! Rush to see it!!!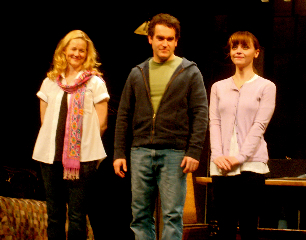 As a professional photographer, I thought this production aptly commented on rarely discussed, profound questions, pertaining to our art -- certainly deserving of applause.
When one photographs, time does seemingly stand still. Encapsulated...
However, as Marshall McLuhan stated in his prophetic 1964 book Understanding Media, "The medium is the message!"
At one point in the play the supposed lite-weight Mandy Bloom (Christina Ricci) tearfully recounts a tale of the filming of a lost baby elephant desperately searching for his mother whose care is necessary for his very survival. Mama is just beyond a nearby hill. Mandy plaintively, desperately argues that if the film crew had but just stopped filming, they could have saved that helpless babe.
"That's not my job!", exclaims the dedicated Sarah. And therein lies the question. What is the point where immediate real action to alleviate suffering and save lives, supersedes our photographic "job"?
Surely Sarah's risk-taking photographs of human casualties and the bloodied devastation of war-torn Iraq will have an effect on the greater populace, perhaps even inspire solutions -- most hopefully, peace. However, when is the moment to put camera aside and move forward to do something un-photographic about the specific situation -- to save that elephant, to pull a wounded victim aside to administer first-aid?
In one telling scene, Richard Ehrlich (Eric Bogosian) gives Sarah the gift of a photography book by Robert Capa, the renowned Hungarian war Photographer who covered five wars and nobly died in WW II while doing his "job".
My dear late mentor Cornell Capa (Robert's brother) founded the International Center of Photography in honor of his brother. I recall walking the halls of the old Upper East Side's Audubon Society -- where the first ICP was to be housed -- with Cornell and Jackie O, while he mournfully spoke of Robert. I also learned that Robert was the cofounder of Magnum, the first Paris-based coop representing fine photographers. Later on, I was honored to be selected as a member of the first faculty at ICP.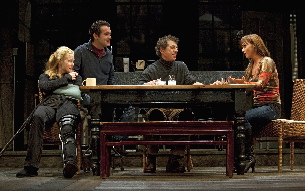 If photographers were to stop and intervene would we have some of the great images of the world?
Would Eddie Adams' terrifying 1968 photo of a soldier holding a gun to the head of a Vietnamese man exist? Or Malcolm Browne's photo of the burning -- self immolation -- of a protesting Vietnamese Buddhist monk? Or the beautiful head-shot of a young Afghan woman by Shabat Gula that inspired a search to save the subject? Or the WPA Photographers -- notably Dorothea Lange and Walker Evans -- who depicted the extreme poverty of the depression years in America? Or the Danish-American social documentary photographer Jacob Riss who used his talents -- both photographically, and as an organizer -- to expose harsh slum conditions, developing "model tenements" and implementing child labor laws?
When I was but a child, my mother, a social worker, introduced me to Jacob Riss. As an activist, she revered him. And to the credit of both my parents, as an adolescent, they took me to see the celebrated, critical photographic exhibition "The Family of Man" at the Museum of Modern Art. I was so overwhelmed by the power of that work, that it influenced yours truly to become a photographer -- along with LIFE magazine, which my Father, a camera-buff, always prominently positioned on the coffee table.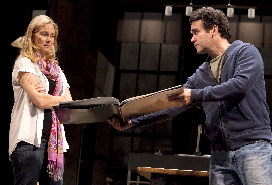 Unlike Sarah or Robert, I have chosen to focus my photography and life on the positive, on the beautiful. I would neither have the heart nor courage to do their important, dangerous work - and especially to make those wrenching choices. Yet I hope that my photography brings hope and inspiration, serving as a reminder of the wonderful in life. During the Vietnam war I did contemplate being a war photographer, but I had a young child to raise, and she was my priority.

I was distressed by that war. Besides protesting, I attempted to work out my emotions by drawing scenes from New York Times photographs. One of these drawings -- some have said my best -- was that of an anonymous woman leaning over a dying one. The image radiated sorrow and compassion.
Several years on, I became Director of Photography Programs at the Women's Interart Center where I taught, designed programs, hired lecturers and workshop leaders and curated exhibitions. I had issued an Open Call for Photographers for a show I entitled "Photo-Flow."
Among the many photographers who applied for inclusion was a young woman named Barbara Treaster, a photojournalist who had recently returned from Vietnam. When she opened her portfolio the very first photo I saw was that of the compassionate woman I had studiously drawn...
Photos courtesy of Jill Lynne and Joan Marcus
To purchase Photographs, plz email JillLynne1@MAC.com
www.JillLynne.com
Calling all HuffPost superfans!
Sign up for membership to become a founding member and help shape HuffPost's next chapter