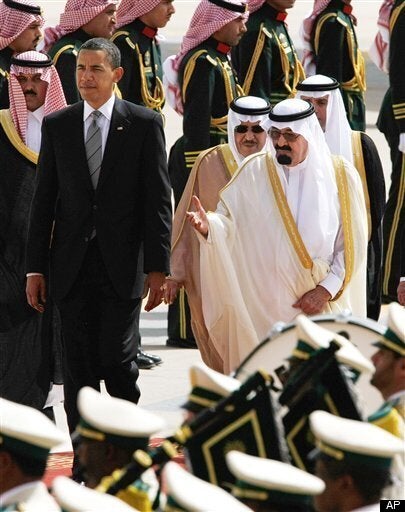 During the presidential campaign, Barack Obama was attacked by concerted campaigns to label him a secret-Muslim, anti-Israel, and worse, in attempts to play upon the fears of American Jews who care deeply about the security of the State of Israel and the US-Israel relationship.
Despite the smear campaign, 78 percent of American Jews voted for Obama. The Jewish community did not believe the lies and distortions then---and they should not now.
Leading up to and following the President's speech today in Cairo, some in the American Jewish community - and the far-right wing in Israel - have outrageously denounced President Obama as anti-Israel and even anti-Semitic as a result of his dedication to Mideast diplomacy, to pursuing a two-state solution to the Israeli-Palestinian conflict, and to holding both Israel and the Palestinians accountable to their respective obligations.
Recognizing this growing trend, earlier this month, Israel Policy Forum took out a full-page ad in the New York Times telling the President, "Yes, You Can" achieve a two-state solution to the Israeli-Palestinian conflict.
As part of our message we asked the president to push for Mideast leaders to achieve five steps forward:
1. RE-START NEGOTIATIONS. US-mediated talks toward the establishment of a Palestinian state alongside Israel must be re-launched without delay.

2. STRENGTHEN SECURITY. Weapons smuggling into Gaza and Palestinian terror attacks on Israelis must stop. The number of American-trained Palestinian security forces in the West Bank must be increased and their role in preventing violence strengthened.

3. IMPROVE THE FACTS ON THE GROUND. West Bank settlement construction and the demolition of Palestinian houses in East Jerusalem must be stopped. Illegal outposts, superfluous checkpoints and unnecessary roadblocks in the West Bank must be removed.

4. FOCUS ON GAZA.The Gaza Strip must be reconstructed with a focus on civilian needs and the local economy.

5. PROMOTE REGIONAL PEACE. The Arab Peace Initiative must be embraced and used as a basis for negotiations for a comprehensive peace between Israel and its neighbors, including Syria.
Since our ad, at various points President Obama has stressed the importance of each of these steps, with a particular focus on stressing Israel's need to stop settlement construction. He did so again in his speech today.
On the surface, this is not particularly new. Numerous American presidents have pointed to settlement construction as an "obstacle to peace" in the region. Yet, despite these repeated calls, settlements have continued to grow. At the start of the Oslo peace process, there were about 100,000 settlers in the West Bank. Today there are about 300,000 and growing.
The difference between President Obama's statements and those of his predecessors is the perception that he is serious about making sure the growth does not continue.
As a result, the right-wing of the Jewish community and in Israel is in frenzy. For example, yesterday, a group of right-wingers in Israel turned IPF's ad in the New York Times on its head, protesting at the U.S. consulate in Jerusalem with the rallying slogan "No, you can't."
Undoubtedly, President Obama's continued determination to achieve progress toward a two-state solution will further inflame these voices. Make no mistake - a new smear campaign has begun. In the weeks and months ahead, we are likely to hear louder and louder voices claiming that President Obama is 'bad for Israel' or is placing Israel's security in jeopardy. All of this because he is playing the role of honest broker that Israelis and Palestinians will need in order to diffuse and ultimately resolve their conflict.
That is why our voice - the voice of those recognize that a two-state solution is in the shared interests of Israel the Palestinians, the US and the entire international community -- must be louder than those of the detractors.
The United States must have diplomatic tools and credibility in order to lead the Middle East toward a more peaceful, secure and stable future. Few American foreign policy objectives are as urgent.
To achieve these goals and overcome this latest smear campaign, President Obama will need the vocal support of the vast majority of American Jews - and Americans - who support his continued diplomatic efforts.
Simply put, we cannot allow rejectionists to hijack the debate and denounce our president as he seeks to advance the shared interests of the United States and the State of Israel.
We must continue to tell President Obama: "Yes, you can." Thankfully, so far President Obama is getting our message.
Support HuffPost
The Stakes Have Never Been Higher
Related
Popular in the Community