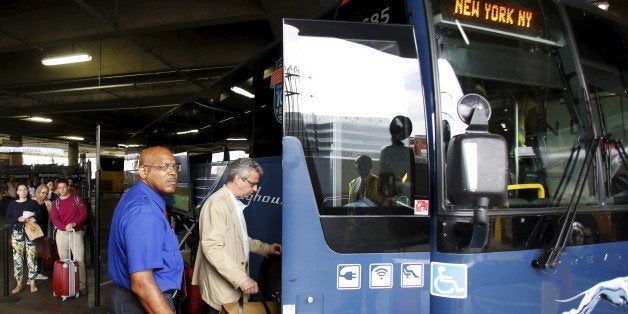 The 40-hour work week? Check.
A federal minimum wage? Yup.
Ensuring our kids aren't slaving away in dangerous factories? That, too.
Standards that working Americans have come to expect — and that have given millions a chance at better wages and working conditions — can be traced back to historic legislation enacted 78 years ago this month: The Fair Labor Standards Act (FLSA).
It is fitting that we mark the anniversary of the FLSA — few laws have done more to help establish a floor for working standards in America. And recent updates by the Obama Administration to extend the Act's overtime protections to four million workers who were denied coverage because of outdated regulations are historic in their own right, and a cause for celebration.
But this anniversary also marks another year that motorcoach drivers are exempt from overtime protections thanks to an indefensible — and in this case, unsafe — loophole in the law.
Unlike 85 percent of the American workforce, intercity bus drivers are exempt from provisions in the FLSA, meaning they aren't guaranteed time-and-a-half pay when they work more than 40 hours in a single week.
There are more than 3,700 commercial motor coach and van companies in the United States — thanks to deregulation of the industry during the 1980s. This number of operators far surpasses what an under-resourced Federal Motor Safety Administration can monitor for compliance with federal rules, despite the agency's best attempts to do so.
While these companies advertise cheap fares, free Wi-Fi, live TV, comfortable seats and other so-called luxuries, what about their safety record? And what about their drivers' experience, pay and hours on the road? These carriers notoriously pay their drivers appallingly low wages, which forces their employees to rely on second and third jobs just to pay their bills and put food on the table.
How can drivers be expected to show up to work well rested and alert if they're working around the clock? It's not a trick question. The answer is simple: they can't.
For these drivers, closing the overtime loophole isn't just about achieving fairness — in some cases, it's a matter of life and death. The National Transportation Safety Board (NTSB) reports that 36 percent of intercity bus crash fatalities are caused by driver fatigue. It is estimated that 1,000 innocent passengers die in bus accidents each year. Over the last decade, three times as many people have been killed in intercity bus accidents than in commercial airline crashes. And when an intercity bus crashes, there is a high likelihood that the driver was fatigued or fell asleep behind the wheel.
This is a huge problem to be sure, but closing the FLSA loophole can help mitigate driver fatigue by ensuring motorcoach drivers are fairly compensated for their time behind the wheel. This will help prevent the need for drivers to pursue second and third sources of income, and instead use that time to get the rest they need, making the industry safer for the traveling public. The benefits don't stop there. Ensuring all bus drivers have access to overtime protections will help raise the floor of industry pay, forcing fly-by-night carriers to begin paying drivers the living wages they deserve.
Not surprisingly, the bus industry is fond of this loophole in the law and even has the audacity to claim that extending overtime protection will likely "decrease driver pay" and "force many drivers to seek additional employment." How paying bus drivers more will actually lower their pay is anyone's guess —the bus lobby must be relying on Donald Trump's accounting principles.
Over-the-top predictions of economic upheaval is nothing new for opponents of basic workplace standards. When the FLSA was first enacted, the National Association of Manufacturers said the law was a step in the direction of "Bolshevism and Nazism." One lawmaker at the time said it would "destroy small industry." We just checked: Democracy, capitalism and American businesses have survived the FLSA, so bus companies should be just fine.
We do have critical allies in this debate. The U.S. Senate's next Democratic leader, Sen. Chuck Schumer (D-NY), has pushed legislation that would amend the FLSA and correct this motorcoach driver loophole. A similar bill is being introduced in the U.S. House. Hopefully the fall elections will bring us a climate more friendly to working people, and inspire Congress and the next President to advance FLSA reform legislation.
For nearly 90 years, the FLSA has protected millions of working people from unfair treatment and exploitation. But due to perversions in how this law is applied, we've allowed too many bus companies to run sweatshops on wheels that push drivers to exhaustion while ducking the obligation to pay overtime. This low-road business model endangers the traveling public by forcing drivers to work too many hours in excess of their physical capability.
It is time for Congress to end the motorcoach driver carve-out in the FLSA that has produced the deadly combination of low pay and driver fatigue on our highways.
Larry Hanley is president of the Amalgamated Transit Union. Edward Wytkind is president of the Transportation Trades Department, AFL-CIO. Learn more at www.atu.org and www.ttd.org.
Popular in the Community