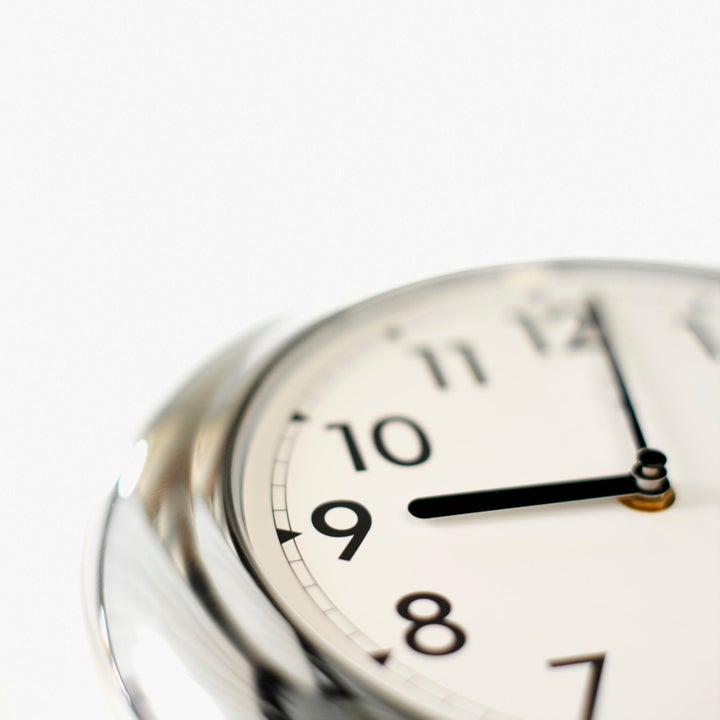 Friends often wonder why I get up so early to meditate. "What's the point?" they ask. "The commute is easier," I say. I can make it to the zendo in seven minutes at that hour, and on weekends, the traffic lights flash instead of running their usual ponderous cycles from green to yellow to red.

But seriously, though I don't really know why the first meditator sat down before daylight, I do know from experience why it's a desirable time for practice. At that hour, there's a distinct lack of buzz, of rushing to and fro, of noise of any color. Not that meditation is about creating ideal conditions -- Suzuki Roshi, author of "Zen Mind, Beginner's Mind", said the screech of the blue jay outside the window is only a problem if you separate yourself from the sound. But meditation is hard enough. It helps to start with supportive conditions -- like improving the soil before you plant a seedling.
Morning meditation at the zendo ends around 7 a.m. I have my whole day ahead, and much of the world around me hasn't had coffee. I love this feeling, this perception of a vast space full of daylight and potential. It's not just that I'm getting a jump on things -- though I admit that's part of it. It's more about having an experience of time that isn't so much an arrow between birth and death as it is all existence unfolding in each moment -- if I pay attention.

Time can feel like a burden, an obstacle or a runaway train. Sometimes I push against it, shrug it off, stretch its seams. But time can't be bossed around. As 13th century Zen ancestor Eihei Dogen pointed out, "Time itself is being, and all being is time." Discord with time creates discord with life itself.

Meditation corrects this discord by training a practitioner to sit completely inside time, not ahead of it or behind it. The ticking of the clock, the wind-blown loops of the mind, the corridors of breath and flickers of birdsong: The moment contains all of it and is all of it. In meditation, there's expansion and dropping away, a recalibration of the self's relationship to the self, and thus, to time. For 40 minutes -- the length of the periods where I sit -- I am no one. I have no name or responsibilities except to maintain an upright posture, breathe and let go.
Meditation practice centers are time-conscious places. Someone rings the bell when it's time to sit down for meditation, to get up, work, eat or sleep. Students are supposed to follow the schedule completely, taking off their watches and listening instead for the timekeeper's cues. Ironically, the tight schedule doesn't feel tight. Following the schedule frees up energy that would normally go into entertaining preferences and exercising choice. The schedule becomes a strict but empathic teacher, revealing time's flowing and easy nature when we harmonize with it.

I once heard someone ask my teacher, a student of Suzuki Roshi's, "Can a Buddha be in a hurry?" He paused briefly, then answered: "Be in time. Not in front of it or behind it." I've experienced meditation periods where I couldn't rest, when I wanted the bell to ring, signaling the period's end. And I've experienced periods where I felt something like sadness when the bell sounded -- I wanted the pleasant state of settled stillness to continue. In both cases, meditation shows me that even if time does not appear to be on my side, it is inside me. And I am inside of it.

Now, when I feel myself push against time or pull it toward me, I stop what I am doing and imagine not the small, strict circles of a watch dial, but the enormous, planetary circling of the earth around the sun.
Anyone can do this.

You don't have to call it meditation. You don't have to go somewhere special or sit down on a cushion cross-legged. It doesn't have to be 5 a.m. At any moment, wherever you are, if you feel like time is a barking dog nipping at your heels, just pause, close your eyes if it helps and breathe.

Let time find you, like an ocean finds a shore, washing up treasures at your feet.
Colleen Morton Busch's nonfiction, poetry and fiction have appeared in a wide range of publications, from literary magazines to the San Francisco Chronicle, Tricycle, and Yoga Journal, where she was a senior editor. A Zen student since 2000, she is the author of "Fire Monks: Zen Mind Meets Wildfire at the Gates of Tassajara." For more information, visit http://fire-monks.com.
Related