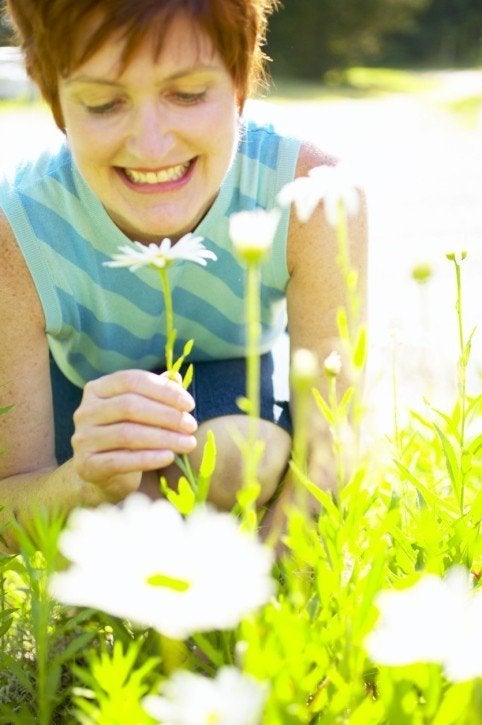 Sometime, usually between about 45 and 55 years of age, we lose our monthly blood and hormonal balance. Menopause marks the termination of our participation in the bottom-line, bigger-than-we-are, biological imperative of our species. Our reproductive potential is now no longer an option. Whether or not we chose to use it when we had it is not the point. What is crucial is feeling that our choices have narrowed.
Women of the '60s generation were the first to enjoy an unprecedented access to a variety of birth control methods. It was also largely the women of those politicized times who demanded, and ultimately won, the right to legally decide the destiny of our own bodies. Once in possession of this precious, personal choice of whether or not to become and/or stay pregnant, we have chosen, on the whole, to have fewer babies and at a more advanced age than ever before in history. Freed of what we considered to be biological tyranny and possessed of sophisticated ecological concern, fully one fifth of us chose not to have children at all.
As the tenure of our Mother Time ends, it causes many of us to reevaluate the choices that we have made about fertility, decisions that have defined our life for the past few decades. The finality of menopause really rankles. Some women who had never wanted babies now suddenly become nostalgic for what might have, could have, been.
Thirty-three years after writing a groundbreaking piece in Look magazine about not wanting to have children, the writer Betty Rollin admitted on the pages of Modern Maturity that she was "one of those old-time 'career girls' who forgot to have children. At the age of 60," she continued, "I began to mourn for the children I never had." Others, upon consideration, are secure and still satisfied with their earlier choice to remain childless, or what many in that category prefer to call child-free.
Many of us with children now face the future with an empty nest, our family grown and our kids off creating lives of their own, which leaves us with huge amounts of unaccustomed time to use as we please. This would be extremely liberating if it didn't also make us feel so lonely and insecure. I can't tell you how many times I have heard women exclaim in jubilation as their mothering days run out, "And now, it is my turn!" -- the mantra of middle age. Then they stop in their tracks, dumbstruck as they realize that now, free to pursue their deferred dreams, they have no idea any more of what it is that they want for themselves.
After a couple of decades of serving the needs and desires of others, we have lost sight of our own. Our early aspirations were sacrificed on the altar of nurturing others, murdered by self-denial, dashed by adversity and starved by neglect. Not only do we "lose" our children at this stage of life, we also lose our sense of self. As Jacqueline Kennedy Onassis poignantly put it, "What is sad for women of my generation is that they weren't supposed to work if they had families. What were they going to do when the children are grown -- watch the raindrops coming down the window pane?"
For the 20 percent of us who are not biological mothers, it is still extremely important to acknowledge that we have, in fact, been mothers in the archetypal sense. We have been birthing careers, mothering social causes, nurturing creative endeavors, tending businesses, mentoring students and co-workers. If, as it has been said, "some people give birth to children and some give birth to culture," then we were the culture mothers, the mothers of necessity, the mothers of invention.
When our era of selfless mothering of others comes to an end, we must begin to direct our ministering attentions toward our own care and feeding, our own growth and comfort, our own self-healing. Now is the time to lavish upon ourselves that same unconditional lovingkindness, encouragement, support and solace that we have always given so freely to others. Now we become our own mothers. And we get to be the mom that we always wanted!