For decades, LGBTQ nonprofit organizations have been our advocates and our guardians, our voices and our champions, our safe spaces to gather and create community and so much more. In fact, it'd be hard to find an LGBTQ person who hasn't, as one time or another, turned to an LGBTQ nonprofit.
Many groups are so much a part of our community landscapes that it's not hard to take what they do for granted. But none of them works by magic (though what many manage to do can come close). They need support to open their doors, to litigate and advocate and organize, to keep dedicated staff, to help people from every part of our spectacularly diverse community -- and, yes, to pay the rent and keep the lights on. In short, they need money. And for that, they need us -- all of us.
Yet here's the truth: Horizons Foundation's research shows that not even 5% of LGBT people give direct financial support to LGBTQ organizations. That's just 1 in 20.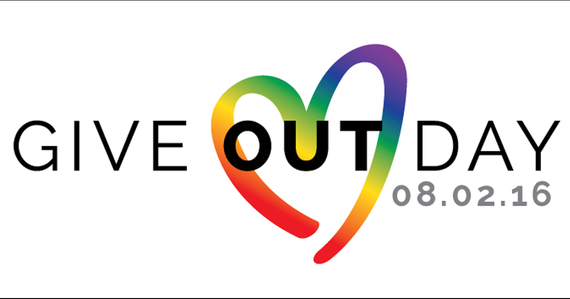 We can do better -- a lot better. One very simple, tangible way is to be part of Give OUT Day on August 2, 2016. It's your chance to be part of something much bigger than any one of us. A nationwide, 24-hour on-line event that's all about giving to support LGBTQ nonprofits, Give OUT Day has raised more than $2 million in past years.
There are many ways for all of us -- and our allies -- to give every day, but Give OUT Day is a once-a-year chance to give together, all across the country. There's nothing else like it, which is why Horizons Foundation, as an LGBTQ community foundation, was thrilled to become the event's new home this year, as well as for 2017 and 2018.
The spirit of giving OUT
This is the spirit of Give OUT Day: it's about celebrating all those who give -- whatever the size of the gift. Whether you give $10 or $1,000, every bit makes a huge difference in the lives of living, breathing, dreaming, and sometimes struggling LGBTQ people -- your friends, your neighbors, the people around you every day, and thousands whom you (and I) don't know but who are every bit as much part of this community as we are.
The spirit of Give OUT Day is about our nonprofits, too. The great majority don't have million-dollar budgets. They don't have elaborate fundraising operations. They don't have big donors. They couldn't flood mailboxes with donation appeals even if they wanted to. And yet they're on the front lines every day, in every way, for whoever needs them.
Give OUT Day offers these nonprofits a ready-made on-line platform to share their stories with the world -- and with prospective donors. You can see hundreds of those stories at www.giveoutday.org. Then share it with your friends on social media, because sharing is what can turn one 24-hour period -- 12:00 a.m. to 11:59 p.m. on August 2 (East Coast time) -- into something much greater than any of us alone.
The power of 10
Imagine for a moment if every one of the 8 million+ LGBTQ people in the United States woke up on Give OUT Day and gave $10 -- just $10 -- to one of the hundreds of organizations taking part. That would mean $80 million going to groups that our elders depend on. Millions for organizations leading the fight for full equality for all of us. Millions to make sure that queer youth can navigate this still-tough world, and millions to take care of all those dealing with medical and mental health issues, substance use, violence, poverty, discrimination, and dozens of other challenges.
After the unspeakable horror in Orlando, it was absolutely critical that LGBTQ nonprofits like the LGBT Center of Central Florida, Equality Florida, the Zebra Coalition, and many others were there to help devastated families and communities to respond. Every day, it's nonprofits like these -- across the country -- that give our communities strength, resilience, and pride.
The aftermath of Orlando showed us something else, too: the power of people opening their hearts and their wallets. Millions of dollars poured in to help. Sure, a few individuals and foundations wrote really big checks. But most came from people who couldn't put many zeroes on their gifts. And every last one of those gifts mattered.
That's true of every gift to LGBTQ nonprofit organizations. Every one of them matters.
Please join thousands of us -- in every state across the country -- on August 2. Your support makes a difference.
REAL LIFE. REAL NEWS. REAL VOICES.
Help us tell more of the stories that matter from voices that too often remain unheard.