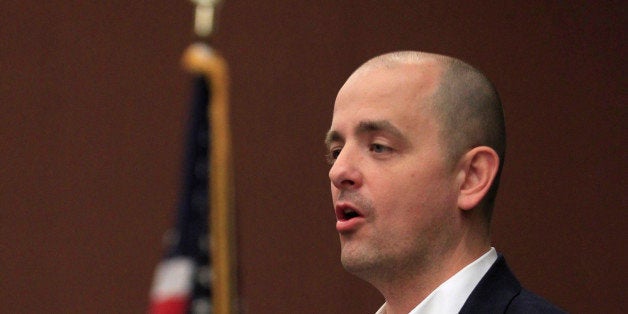 This election season, there has rightfully been widespread condemnation of the vile stream of bigoted comments directed at Muslims, Latinos, Blacks, and women by the Trump campaign's operatives and supporters. The same goes for vicious anti-Semitic attacks, including those directed at me personally because of my office's legal pursuits of Trump University and the Trump Foundation. Last week, Jonathan Greenblatt of the Anti-Defamation League put it best stating,"This needs to stop."
Unfortunately, the liberal defenders of religious liberty seem to have left one group undefended in the onslaught of intolerance: the members of the Church of Jesus Christ of the Latter Day Saints (LDS), or Mormons. Maybe it's because many in the media got much of their information about the LDS community from a Broadway musical.
The Trumpist assault on Mormons appears to be motivated by the success of Evan McMullin, a Mormon former CIA agent running a surprisingly strong campaign to beat both Trump and Hillary Clinton in Utah. While Mormons traditionally vote Republican, McMullin is drawing the support of many Mormons who are turned off by Trump's attacks on other religious groups. Recent polls have McMullin in striking distance of an unprecedented victory.

Most Americans are unaware of the shameful history of violence against Mormons in the United States.

As McMullin has gained traction, so, too, have the bigoted attacks against him. McMullin has been called a member of the "Mormon Mafia" and, in a horrifying development, some have even called for a "Mormocaust" - or a Mormon Holocaust - if McMullin wins. One prominent Trump supporter actually tweeted, "America hasn't boasted a popular movement favoring genocide of Mormons for well over a century but @Evan_McMullin is working to change that."
Most Americans are unaware of the shameful history of violence against Mormons in the United States. They were driven from western New York, where the religion's founder Joseph Smith lived, to Utah, facing state-sanctioned violence in many states along the way. In 1838, the governor of Missouri issued an executive order legalizing the extermination of Mormons. Days later, 17 Mormons and one friendly non-Mormon were massacred by members of the Missouri militia in what has come to be called "The Haun's Mill Massacre."
As Bethany Mandel of The Federalist put it, "The media and the public has been sensitive to Team Trump's attacks against one religious group, but has barely batted an eye at another." She's right: Prejudice against all religions is pernicious, and those who would be defenders of religious liberty must apply one standard to all faiths.
When I became Attorney General in 2011, I was surprised to find that there was no unit in my office focused specifically on protecting New Yorkers who were discriminated against because of their religious practices. So, I created one. My office's Religious Rights Initiative works to ensure that every New Yorker has the right to worship as they wish, without fear of attack or persecution.
As we set up this new initiative, my office reached out to and developed relationships with members of many different faiths and congregations, including New York's vibrant community of Latter Day Saints. Over time, I've had the opportunity to learn about not just the Mormon faith, but also about the history of anti-Mormon discrimination and violence.
Joseph Smith, the New York-raised founder of the Church of Latter Day Saints, warned of the consequences if society doesn't stand up for marginalized religions. "The same principle which would trample upon the rights of the Latter Day Saints," Smith said, "would trample upon the rights of the Roman Catholics, or of any other denomination who may be unpopular and too weak to defend themselves."
As the voices of intolerance and hatred grow, Smith's words should echo across the nation.
While some have chosen to exploit fear and anger by targeting religious minorities, I want to emphasize in the strongest possible terms that my office--and all those who stand with me in the fight to protect religious liberty--can and must make it clear that there are no acceptable targets for religious demagoguery.
Eric Schneiderman is the Attorney General of the State of New York

Calling all HuffPost superfans!
Sign up for membership to become a founding member and help shape HuffPost's next chapter