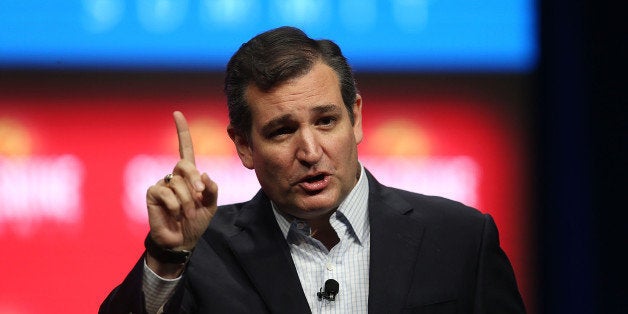 When Donald Trump said he would not rule out special identification cards for Muslims, I got the chills. It took me back to when I was a child, and I learned that Jews were forced by the Nazis to wear the Star of David on their clothing.
And it isn't just Donald Trump. Ben Carson compared some Syrian refugees to "rabid" dogs. Chris Christie said he wouldn't let "even three-year-old orphans" into his state. Ted Cruz and Jeb Bush said they support a religious test that would keep Muslim refugees out of the United States.
When are we going to learn that this type of hateful targeting is a stain upon us all?
When are we going to learn that every time Americans have targeted people because of who they are, we come to deeply regret it?
We all know about the darkest moments in our nation's history: the horrors of slavery; the turning away of the rescue ship, the St. Louis, in 1939 with European Jews crying out for kindness and begging for their lives; and the incarcerating of patriotic and loyal Japanese Americans in internment camps during World War II.
Now is the time to finally say: STOP! We are a better country than that.
We can protect our security while upholding the values that make us the greatest country in the world.
We have in place a rigorous screening process for refugees, especially those from Syria.
These refugees are subjected to the highest level of security checks before ever setting foot on U.S. soil. This multi-step process takes an average of eighteen to twenty-four months, and includes screening by the National Counterterrorism Center, the FBI's Terrorist Screening Center, the Department of Homeland Security, the Department of State and the Department of Defense.
Our protocol is among the most rigorous in the world, and the Administration has assured us that they are making it even more effective every day.
Our country has so far taken in 2,034 refugees from Syria and plans to take in 10,000 over the next year - despite Donald Trump's stunningly false claim that the President would admit 250,000 Syrian refugees.
Many of us in the U.S. Senate are looking at ways to improve the Visa Waiver Program to ensure that dangerous individuals cannot enter our country. Ironically, the House never even considered strengthening this program and certainly didn't seek to close the loophole that allows people on the terrorist watch list to legally purchase guns in this country. The GOP's goal was not to make improvements, but instead to further stoke the fear-mongering.
Let's not forget who these refugees are - they are the very people escaping the horrors of the terrorists. They are people escaping danger, tyranny and death.
They are, for example, a family of three - a shopkeeper, his wife and their 4-year-old son - who fled Syria in 2011 and began applying for refugee status in the United States.
They arrived this week after an extensive, years-long vetting process and because of this wave of fear-mongering, they were turned away from what was to be their new home in Indiana.
Fortunately, the Governor of Connecticut welcomed them with open arms.
This is who we are as Americans - and we must remain a country that is both secure and moral.
We cannot go back to the worst chapters in our history, to the horrific targeting and hateful rhetoric of the past that will only end up helping our enemies, which in this case is ISIS.
We cannot ignore the hateful comments we are hearing from the GOP today. We must drown them out.
We must heed the lessons of the past.
We must refuse to ever be silent again.
Popular in the Community