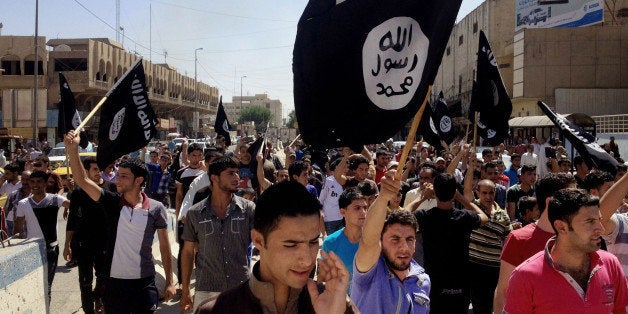 Nearly two months after President Obama first vowed to eradicate the Islamic State terrorist group in its Levantine stronghold, this internationally-diagnosed cancer is spreading in North Africa. From the sunburnt shores of the Sinai to the rustic alleyways of Casablanca, there are increasing signs that ISIS is entrenching itself within striking distance of Europe's soft underbelly. As the West struggles to roll back three years of an errant hands-off policy in Syria and Iraq, no leader has the luxury to ignore this threat without consequence.
On September 15, a group of Algerian jihadists broke away from the al Qaeda in the Islamic Maghreb network, long known as the Godfather network of North Africa's Islamic extremists, and pledged allegiance to ISIS and its leader, Abu Bakr al-Baghdadi. The self-proclaimed "soldiers of the Caliphate in Algeria" proved their worth days later, ambushing a group of French tourists in a popular Algerian national park, kidnapping and beheading one of them. On September 23, a group with the same name formed in Egypt, threatening attacks against the country's anti-Islamist government and American interests. In Egypt's Sinai, the Ansar Bayt al-Maqdis (ABM) network, the instigator of a costly 18-month insurgency, has increasingly adopted ISIS tactics to intimidate the local population. ABM has taken to publicized beheadings and flash parades-of-force in local villages, while several of the group's members have admitted to receiving tutelage and funding from ISIS. In Tunisia, a once-struggling guerrilla campaign in the country's mountainous frontier with Algeria has received a boost from jihadists returning from Syria, developments which coincided with increasing messages of support for ISIS from groups fighting in the area.
Ironically, most of North Africa's jihadist groups were hesitant to associate themselves with ISIS until the United States commenced its intervention in Iraq and Syria. Terrorist heavyweights such as AQIM's Abdel Malek Droukdel, Ansar al-Sharia in Libya's Mohammed Zahawi, and al-Mourabitoun's Mokhtar Belmokhtar, who fought alongside Bin Laden and Ayman al-Zawahiri had refused, sometimes openly, to pledge allegiance to ISIS -- even after it captured swathes of territory in Iraq in June 2014 and declared a caliphate.
Recently however, North Africa's younger jihadist generation has become emboldened to break away from al Qaeda's flailing old guard, seeking instead to get on Baghdadi's caliphate bandwagon to suckle the benefits from its seemingly unstoppable success - primarily its wealth. Rather than deterring these groups, the U.S.-led coalition's sporadic airstrikes in Iraq and Syria seem to have afforded ISIS with even more legitimacy in the eyes of North Africa's jihadists, as shown by a disturbing increase in public pledges of support and allegiance across the region.
The only thing more worrying than the spike in grassroots support for ISIS in North Africa is the readiness of the international community to repeat the mistakes of Iraq and Syria. Nowhere is this threat more apparent than in Libya -- a country with nearly every necessary condition to enable jihadists of the most dangerous breed to form a destabilizing terror state mere kilometers from southern Italy.
As was the case in Syria, American allies Qatar and Turkey have been blindingly supporting an array of Islamist militias in Libya, many of whom are openly working with jihadist groups. In August, these militias took control of the capital Tripoli, forcing the Western-recognized parliament to the secularist haven of Tubrouk near the Egyptian border. A lose coalition of tribes and anti-Islamist revolutionaries led by a bumbling former general named Khalifa Hifter has been on the defensive nationwide. In August 2014, Hifter's forces were pushed out of their bases in Benghazi by Ansar al-Sharia, which subsequently declared the area an Islamic Emirate.
Just as Libya provided a training ground and rallying point for North African fighters heading into Syria, it will similarly serve as a base of operations against U.S. allies Tunisia, Algeria, and Egypt, when those fighters return. The al-Battar Brigade, a Libyan militia in Syria allied with ISIS has already returned and established itself in Benghazi, while local groups such as Shabaab al-Islam in the city of Derna continue to pledge allegiance to ISIS. And yet, when the UAE and Egypt were accused of attacking Islamist targets in Tripoli in September to assist anti-Islamist militias, the U.S. reaction was one of condemnation.
While there are certainly no perfect options, the West has no choice but to take sides in North Africa's jihadist fight, lest it face another terrorist behemoth fueled by ultra-fine Libyan crude and armed with hundreds of MANPADS. This effort must begin with a determined effort to ensure that anti-Islamist militias have everything they need to outgun their Islamist opponents, and bolstering the abilities of Egypt and Algeria to protect their borders. And if it wasn't clear already, the West must finally bring an end to Qatar's irresponsible support for extremist groups region-wide.
As the world comes to terms with the horrific consequences of inaction in Syria and Iraq, those who oppose extremism have no excuse for standing on the sidelines as Libya descends into even greater chaos -- threatening to drag the entire region down with it.
Popular in the Community