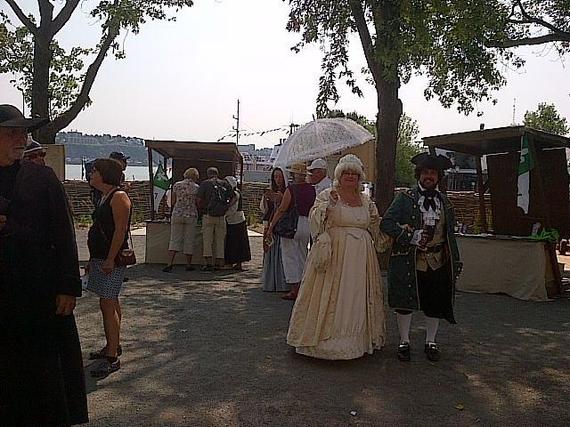 A request for your personal measurements is hardly what you'd expect along with an invitation. But a diagram requiring the specs of my height, weight, waist, hat size was included in the message inviting me to join other journalists at Quebec City's Fete de la Nouvelle-France. Once in town it didn't take long to understand the concern about my wardrobe. During the city's annual celebration of its era as a French colony (1608-1759), a preponderance of its citizens attend in period dress.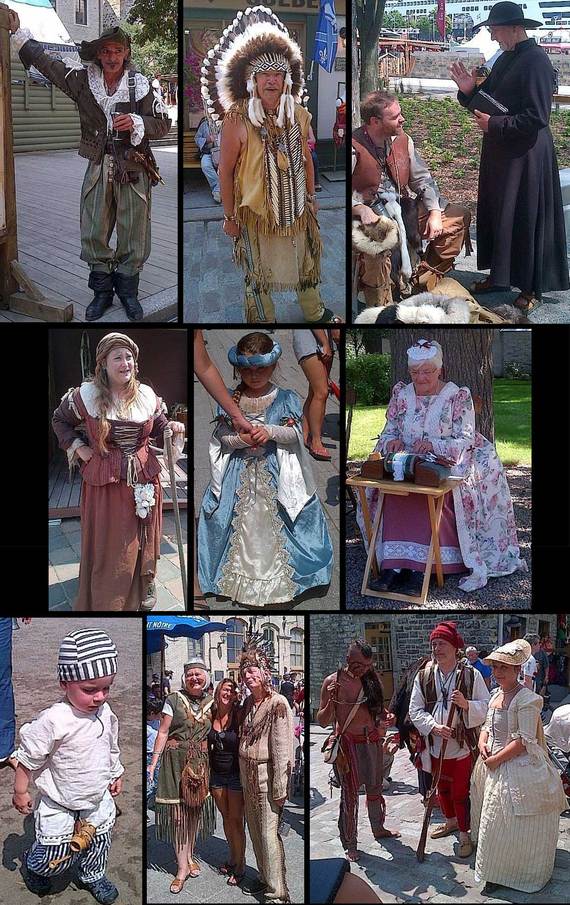 After fittings, each in our group was loaned a 17-century costume, and all weekend we attended events mingling with people (and children!) decked out as be-wigged chevaliers, grizzly fur traders, black-gowned Jesuits, servant wenches in caps and bonnets, and leather clad Native Americans.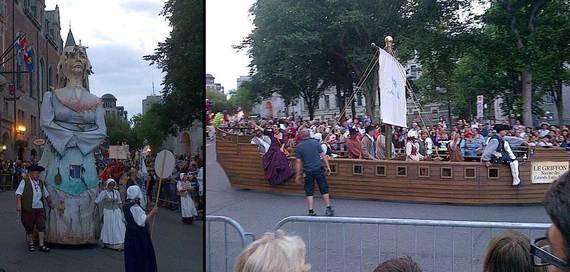 This year's Fete kicked off on Wednesday evening with a parade through the old walled city. Giant papier-mache puppets representing the pioneer founders trooped by: French nobles, naval officers and generals, Jesuits, Ursuline and Augustine nuns, Hurons. Military bands tapped out tattoos and one entire batch of marchers represented descendants of the Racine family -- a name that appropriately translates from the French as "Root."

Throughout the city, booths manned by colorfully costumed reenactors offered information on history, genealogy and tourist opportunities throughout the province. This year there were also representatives of French settlers from Michigan and from Ontario which is planning its own celebrations next year. A delegation from France attended for the symbolic wedding" of the Loire and St. Lawrence rivers held Saturday afternoon.

At various locales around town -- the Place Royale, the Quai des Pionniers, the Batterie Royale -- costumed "blacksmiths, ship builders, embroiderers, fur trappers" demonstrated their historic trades. The theme of this year's Fete was a salute to the builders of the city (Saluons Nos Batisseurs) and we heard from a character impersonating a founder of the city who made his fortune in construction. The $12 medallion required for entrance also includes admission to select museums open only during the festival. We were able to tour secluded parts of the historic Ursuline Convent and gardens -- even our guide had not been allowed to visit the sites before.

Beside an open air beer garden, one area reserved for dining offered a variety of local foods: grilled cheese, sausages, broccoli fondue, spinach pie, corn on the cob -- all to be topped off with waffles or maple toffee ice cream.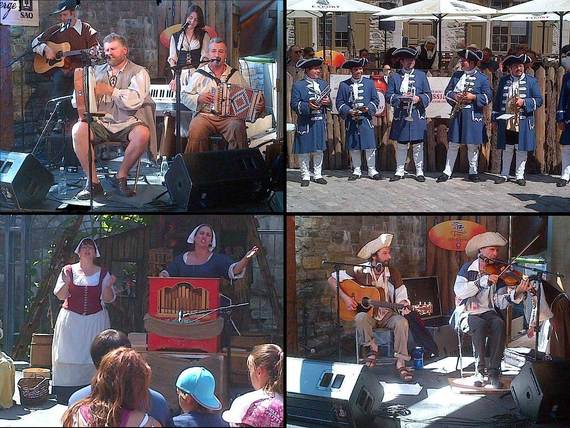 Everywhere there is music -- music groups on the main stages stamping out traditional fiddle tunes, sing-along groups in the squares, buskers playing harp or piano on the street, regimental bands marching through town to the beat of peppy snare drums.

A banquet is held at a waterfront tent each evening and period dress is mandatory for admittance. After chatting at cocktail hour, we enjoyed a five-course meal prepared by the chef of the George V Hotel, each course accompanied by local wines while dancers performing minuets and gavottes entertained during the intervals.

Felicitously this year, the Fete coincided with Plein Art, the giant crafts market with 130 stalls held in pristine white tents beside the St. Lawrence. Handbags, shawls, jewelry, cooking utensils all are made by hand and unique. Next door the daily farmers market is in full swing -- a place to pick up fresh berries and produce from nearby L'isle d'Orleans, nicknamed Quebec's garden. There are also local wines and black currant and gooseberry liqueurs, and a fine selection of cheeses from nearby Charlevoix.

The theme of next year's Fete will be a salute to the port on the mighty St. Lawrence. There will be tall ships, harborside events, actors will reenact the 1690 Seige of Quebec. I'm planning to show up dressed as a sailor -- with two rings around my neck, a string of lemons to ward off scurvy and my official Fete de la Nouvelle France 2015 medallion.