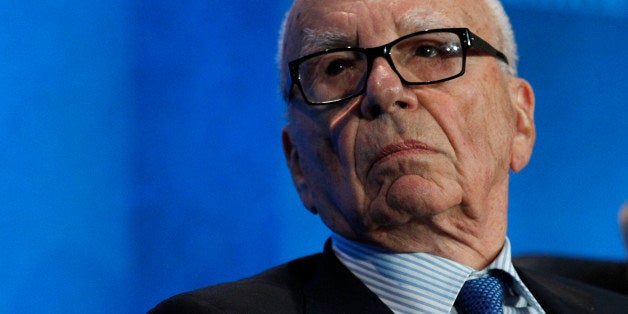 (Recasts, adding quote from Bewkes)
By Soyoung Kim and Liana B. Baker
NEW YORK, July 16 (Reuters) - Rupert Murdoch's Twenty-First Century Fox Inc made an audacious offer for Time Warner Inc that if it succeeds would transform the American media landscape and cement the 83-year-old's status as the most powerful magnate in U.S. media and entertainment.
While Time Warner, whose assets include the HBO cable channel and the Warner Bros movie studio, rejected the $80 billion bid, Murdoch is unlikely to abandon the pursuit and has the "disciplined determination" to get the deal done, people close to the situation said. Investors expect he will eventually raise the offer and increase the cash component - 40 percent - to win the prize.
Murdoch's proposal, fresh on the heels of his high-profile divorce and a damaging phone-hacking scandal that involved his British tabloids, is aggressively bold even for a media mogul whose ambitions are legendary.
A combined Fox-Time Warner would have a massive array of media and sports content and be in a very powerful negotiating position with cable and satellite distributors - some of whom have themselves announced mega-deals and newer ways of getting to consumers, such as online video distributors Netflix Inc and Amazon.com Inc.
"It's a chance to put some great programming and content assets under one umbrella," a person close to the situation said. "There are other alternatives, but none of them fit anywhere near as well as this does."
Still, Time Warner pushed back strongly against Murdoch's approach, insisting the offer undervalued the media conglomerate and raising fears about the dominating role that his family would play, another person close to the situation said on Wednesday.
In particular, the board is worried about the future value of Fox's shares, which represented 60 percent of its cash-and-stock proposal. Those fears were magnified by a lack of voting rights, the source said, as that would concentrate too much power in the hands of Murdoch and his sons.
"To do a merger of this scale and size where Time Warner shareholders have no insight into the destiny of the company is very troubling," the source, who was not authorized to speak on the record, told Reuters.
Time Warner Chief Executive Officer Jeffrey Bewkes told the conglomerate's employees in a videotaped appearance that the company's standalone strategic plan would create value "superior to any proposal" that Fox could offer.
The acquisition, if ever completed, would mark the second-largest media deal ever, when debt is included, trailing only Time Warner's disastrous takeover of AOL in 2000.
In the end, a Time Warner deal is likely to hinge on price. The source pointed out that Fox's stock has traded at the highest multiple of its peer group and Time Warner - prior to its 17 percent rally on Wednesday - was trading at the lowest. Time Warner worries that the stock - the main "currency" of the deal - may be ripe for a pullback, lowering the value that is currently on the table.
According to StarMine SmartEstimates, Fox shares trade at a multiple of about 19.5 times 12-month forward earnings, above the group median of 17.8 and now in line with Time Warner's 19.5 times - a valuation substantially above where the shares closed on Tuesday.
Shares of Fox dropped 6.2 percent to $33.
The offer, first reported by The New York Times, was worth about $80 billion, or $85 a share, when it was made in June.
Fox estimates that a combined company, which would have $60 billion in annual revenue, would save $1 billion in costs and possibly more, the people familiar with the matter said.
Detailed negotiations with Time Warner could reveal even more potential savings, they said, which may then justify sweetening the offer.

Fox said no talks were under way, and it has no desire to go hostile or to bid against itself with a higher offer, the people familiar with the matter said.
Either way, a takeover by Fox could win the blessing of many of Time Warner's shareholders, a majority of whom also own Fox's non-voting stock. In addition, Time Warner does not have a staggered board and its bylaws allow as few as 15 percent of shareholders to call a special meeting, factors that could help a takeover bid.
A number of Time Warner shareholders said Twenty-First Century Fox and Murdoch might have to raise the bid to as high as $95 per share from $85 when the bid was made in June to wrap up a merger. Murdoch also would do well to offer more cash upfront, investors said.
Time Warner has no controlling shareholder, meaning the company could easily go into play, said Ken Griffin, founder and chief executive of Citadel LLC, which owns shares in both companies. "It's going to be tough to say no," he said during a conference in New York.
Mario Gabelli, chairman and CEO of Gamco Investors, said he expects a technology company with more cash than Fox, such as Apple or Amazon, could emerge with a bid.
"It's not a dynamic I want to dismiss out of hand. They have a currency, and they understand the value of content," he said of the tech companies." Gamco's funds own about 3.6 million shares of Time Warner and about 10.5 million Fox shares.

Fox's overtures are likely to reverberate across the industry, accelerating a wave of consolidation that is already well underway.
Comcast Corp, the largest U.S. cable provider, offered in February to buy Time Warner Cable Inc for $45.2 billion in stock. Overseas, Fox's 39 percent-owned British Sky Broadcasting Group Plc is negotiating to buy Fox's Sky Italia and its Sky Deutschland subsidiary in a deal that could net Fox as much as $13 billion.
As a consequence of the Murdoch bid, "the urgency to find a dance partner will increase across the sector," said Bernstein Research analyst Todd Juenger.
U.S. media shares closed higher on the deal, with top gainers including Discovery Communications Inc, up 6.3 percent; Viacom Inc, which rose 3.3 percent; and AMC Networks Inc, ending 4.5 percent higher.
Murdoch started thinking about a potential merger with Time Warner as he was separating Twenty-First Century Fox, which mostly consists of media properties, from News Corp, focused on the Wall Street Journal and other publishing assets, people familiar with the company said.
The separation, triggered by the British phone-hacking scandal which dragged Murdoch before the British parliament, has in the end positioned Fox to become a powerful consolidator of media properties, people familiar with the matter said.
Fox has indicated it would sell Time Warner's CNN cable channel, a direct competitor of Fox News, to clear any regulatory hurdles, according to the people.
At least one antitrust expert, who was not authorized to speak publicly, said it was unlikely that any issues that arise would kill a Fox deal for Time Warner. The source pointed out that there were five major content companies in the United States, plus numerous smaller ones.
News of the Time Warner bid comes as Fox is reorganizing its television business, aiming to lift its network out of last place among the big U.S. broadcasters.
Fox is being advised by Goldman Sachs and Centerview Partners, while Time Warner is working with Citigroup, people familiar with the matter said. JPMorgan Chase & Co and Goldman Sachs would lead any financing required for the bid.
Skadden, Arps, Slate, Meagher & Flom is providing legal advice to Fox, while Cravath, Swaine & Moore is legal adviser to Time Warner. (Additional reporting by Soham Chatterjee in Bangalore, Ross Kerber in Boston Luciana Lopez in New York and Diane Bartz in Washington; Writing by Frank McGurty; Editing by Saumyadeb Chakrabarty , Lisa Von Ahn and Bernard Orr)

Popular in the Community