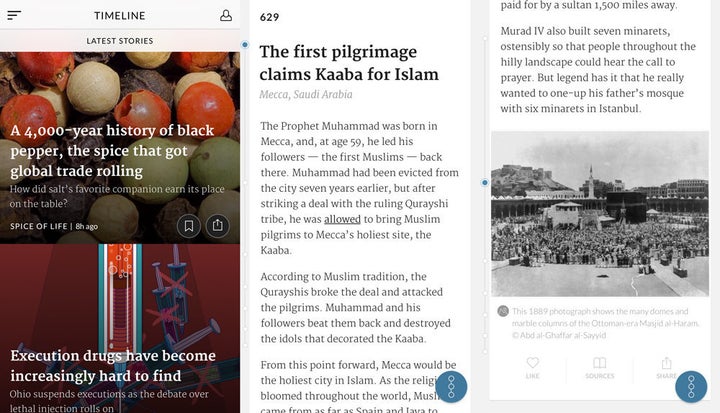 Since the Timeline app launched in January, it's been featured twice in Apple's iTunes store as the "best news app." The makers of Timeline say their goal is simple: to give context to the news, in this case by showing how current events are embedded in history. In the words of Timeline developers, "When others break the news, we break the history behind it."
Timeline's team of writers take a story dominating the headlines -- be it the rise of fantasy sports, the pope's visit to the United States or Syria's civil war -- and set it within an interactive, media-rich timeline that allows readers to see how events are connected. Timelines feature an introduction followed by dated "cards" that summarize and explain events preceding the news. The developers opted for a "mobile-first" approach to the product, but recently launched a desktop version of Timeline, accessible on the company's website.
 The Huffington Post spoke with Timeline Editor-in-Chief Michael Reilly and Jonathan Kalan, the company's vice president of business development and strategy, about the app's success and the rise of news organizations seeking to do explanatory journalism.
Tell us a bit about the thinking behind Timeline. How did you start out?
Jonathan Kalan: We have a tremendous amount of content information at our fingertips -- more so than ever before. But at the same time, we find ourselves very context poor. We needed a new paradigm to be able to extract meaning and understanding from that information, to really connect the dots and find the relationship between that information. What Timeline set out to do is really add value to the news space by saying, "Let's go deeper. Let's step back and understand the events that are happening today in the context of how we got here."
Michael Reilly: History, I think, explains a lot about why the world is the way it is today. A headline about ISIS bombing something in Western Iraq may not give you everything you need to understand why ISIS exists, where it came from, who the players are and the whole regional politics, in some cases violence, religion and all of the different aspects that play into that one news event. That's what Timeline is trying to do -- it helps explain why the world is the way it is today.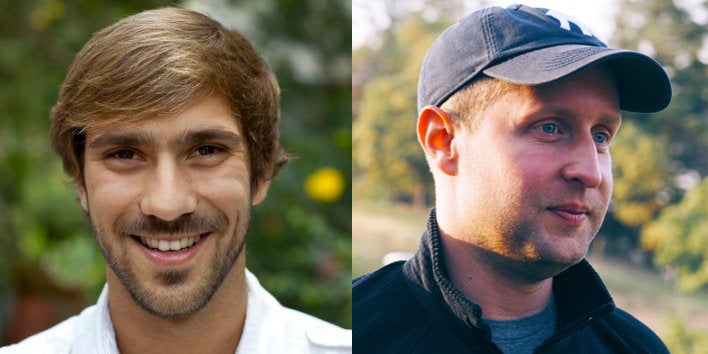 J.K.: The idea is that you land in the Timeline app and you'll find something that you've seen in the news -- whether it's sports, politics, tech, conflict, whatever is happening. And then you dive in and get a card-based format originally written by our editorial team that breaks down each event. It's not aggregated. I think that's a common misconception, that we are just simply aggregating existing articles. No, we are doing original research and in some cases, original reporting to weave together that story of how, essentially, how we got here. 
So a team of people reports these stories?
M.R.: Yeah, absolutely. We have several reporters and various other folks who do visual work for us. We have a dedicated illustrator as well. It's a team of about ten people now. 
What's the idea behind the "card" as an organizing unit? Explanatory journalism site Vox uses explainer cards.
M.R.: The card structure sets up the experience so that you kind of know what you're going to get when you arrive. You open it up. There's a very brief introduction to what this is about -- oftentimes when you go into that first card you're like, "Oh wow, fantasy sports started way back in the '60s." In other cases it goes way, all the way back to the pre-Roman era or whatever. And then you kind of cycle through it. You can do it very quickly.
J.K.: Our mission is really about, "How do we structure this information in a new way that creates meaning?" The card is a perfect format. We can reuse them. We can use them in different timelines. It's very easy to update and change, so in terms of flexibility it's a really important sort of atomic unit. It allows you to relate and surface relevant information down to the date, location -- it's really a story within a story. A card is a self-contained unit that can stand alone. I think we're opening up a new paradigm of how information is structured.
What's the response to Timeline been? How do you find it being used?
M.R.: One thing that floored me when I first came aboard is how much time people spend with us. I think our average time in the app is somewhere in the neighborhood of five minutes. People find linked stuff there that they want, they want to read, they want to ingest, they want to think about and we're hopefully stimulating their neurons. And that sort of time in the app is, I think, really compelling evidence of that, that we're doing something right.
J.K.: We've proven that there is space for context in this world; we're giving the historical context to the news. It's something people have been looking for, right? It's the same trend as explanatory journalism. I think there is sort of a new paramount of contextual journalism emerging where you don't have to cover the story itself. Let others cover that. What we do need to cover is the context that will help you understand what's behind the story.
History, I think, explains a lot about why the world is the way it is today.

Michael Reilly
What are ways you plan on improving the product?
J.K: We've responded to readers' needs in various ways for the past nine, ten months. People wanted to know where this information came from. So we added the sources button in the app. People wanted to know that this was originally written, so we elevated the author part of the page. A lot of small changes like that. 
More generally, we've been looking to diversify our content and bring a different perspective to it. Timelines are great but we've been looking for more flexibility. We've begun, for instance, producing standalone articles which can also be embedded in timelines. We've actually been expanding our video team as well. We create "today in history" videos that were actually based off of a "today in history" timeline that we used to do and we realized it actually, the "today in history" format in the app, it wasn't great. It wasn't very interesting. But when you turn that into a quick one-minute viral video, it does really well.
You also just released a desktop version of Timeline, right?
J.K.: Right. We were mobile-first so we were focused on making a high-quality app from the get-go. But we just launched the beta version of Timeline desktop. Some people like reading on their phone while others prefer a laptop or tablet. It's all about optimizing different reading experiences and trying to meet readers wherever they are.
What sort of apps are you excited about that aren't necessarily yours, that you think are doing inspiring work?
J.K.: BuzzFeed's News app is really good. I give them props -- I think it's a beautifully designed app. It really fits, I think, their news mission. I think a lot of people who have launched apps in this space are all trying to find that magic formula that really works for a news app. It's a tough space. The New York Times Now app does a great job for condensing its content in a really beautiful format. I myself am a fan of RobinHood in the non-news space -- I think they have a beautiful and really well-designed and clean UX.
M.R.: So this is going to be kind of an old-school entry and one I don't know is kosher. I always thought The Economist was one of the first to get navigation correct. It's simple -- there aren't a lot of bells and whistles -- but they take the magazine and put it into a format that I love to read. That's really it. It gets out of your way, doesn't really try to do anything too fancy.  I'm not sure this is admissible in this contest but I really love Apple News. It's become my go-to newsreader. I read it all the time now. Love the whole thing -- it's beautiful, simple, easy to navigate, gives me exactly what I want.
J.K.: And it has Timeline in it!
This interview has been edited for clarity and length.
Calling all HuffPost superfans!
Sign up for membership to become a founding member and help shape HuffPost's next chapter