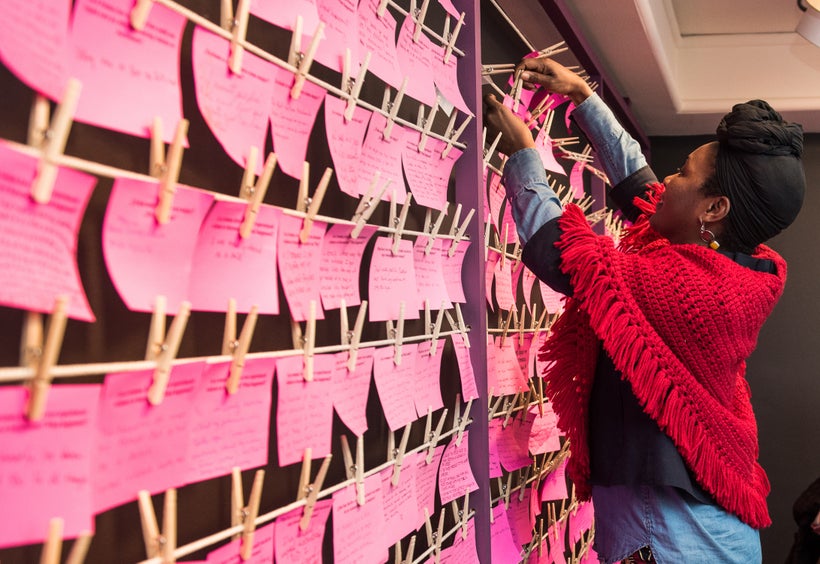 Over the last weeks, I have been moved by the thousands of women speaking out publicly about harassment and assault by men in the workplace—a topic once hidden in the shadows, that is now just beginning to truly be seen by society at large.
Gaining enormous traction, the viral #MeToo campaign originated by advocate Tarana Burke is being used by women to support one another against sexual harassment and abuse. Inspired by artist Jenny Holzer's 1980 work Abuse of Power Comes as No Surprise, an open letter with thousands of artists, curators, gallerists and journalists as signatories was circulated to expose these issues throughout the art world and shared with #NotSurprised. Continued activism via art projects, social media and blog posts can create awareness and inspire women to speak out and take action. We need to continue to highlight these issues as we work on ways to solve them.
The exhibition El Tendedero/The Clothesline Project, now on view at the National Museum of Women in the Arts, could not be more relevant as a means to create dialogue around issues of sexual assault and domestic violence. Mexico City-based artist Mónica Mayer transforms a clothesline—a traditionally feminine object—into a forum for women to air their concerns, bringing to light issues that were once in the dark.
Since 1978, women have left personal messages on pink cards pinned to Mayer's clotheslines in cities across the United States, South America and Mexico. The questions that frame the NMWA project poured out during workshops Mayer organized with D.C.-based community organizations and activists that focus on domestic violence and sexual assault. Women wanted to ask other women: Have you ever experienced violence or harassment? What happened? What have you done or what could you do to stop violence against women? As a woman, where do you feel safe? Why? How can you reclaim your joy?
Mayer then installed her project El Tendedero/The Clothesline Project, D.C. at the museum, providing cards for other women and men to write their responses and pin them to the clothesline. We didn't have to wait long to see the results. The clothesline has quickly filled up with thoughtful, candid and often quite heartbreaking responses.
Among the comments left on the clothesline so far, one woman responded that she has often been a victim of sexual harassment: "Guys grabbing my breasts on the street. Getting cornered and forced into small spaces where I had to fight my way out."
Another woman noted, "I called the police once on a man beating a woman on the street. I've taken friends to the shelter. I raise my son without violence and talk about this often."
Another participant wrote, "No place is safe. I wasn't safe at work or home as cyber tactics and other tools were used (against me)."
And finally a woman said she had to "quit her job and leave town."
In this year's watershed moment, we are witnessing how sexual harassment and assault claims are costing powerful men their careers and exposing their illegal practices. Getting the word out makes an enormous difference. Awareness is the first step to true change.
As one woman's message on the clothesline says, "Speak up! Say something! Do something!"
The following are links to resources assembled by national and D.C.-based organizations offering support services and violence prevention programs: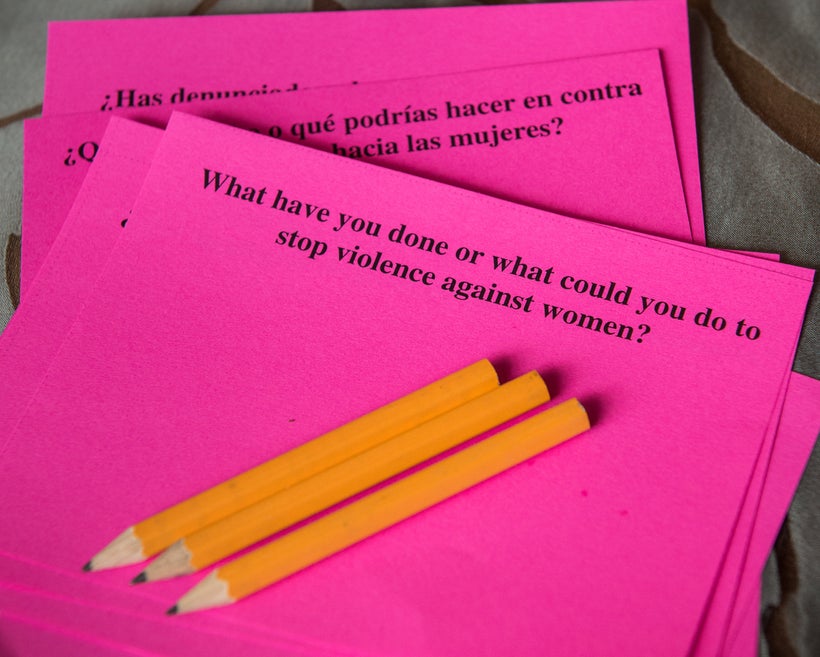 Calling all HuffPost superfans!
Sign up for membership to become a founding member and help shape HuffPost's next chapter
This post was published on the now-closed HuffPost Contributor platform. Contributors control their own work and posted freely to our site. If you need to flag this entry as abusive,
send us an email
.