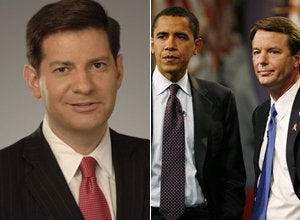 Fishbowl DC reported this morning that Time's Mark Halperin "has a filthy, dirty mouth," quoting from his interview yesterday with Sirius Radio's Bill Geddie:
BILL GEDDIE: Haven't we heard all along that [John Edwards] doesn't like [Hillary Clinton], haven't we heard this?

MARK HALPERIN: Yes, that's right. And I can tell you, he's really skeptical of her ability to be the kind of president he wants. But, he kinda thinks Obama is..he thinks Obama is kind of a pussy.He has real questions about Obama's toughness, his readiness for the office.he has real doubts about Obama, not just as a president, but as a general election candidate.
I'm sorry. In a live radio interview this week, I used a word I shouldn't have. The fact that I was conveying other people's words is no excuse for my lapse in judgment. It won't happen again. -- Mark Halperin
Related
Popular in the Community