In his cover story for the current issue of Time, journalist Joe Klein takes a long look at the therapeutic value of public service. It's an interesting piece. Unfortunately, Klein also can't resist taking a swipe at nonbelievers. While discussing the aftermath of last month's tornadoes in Oklahoma, Klein writes:
But there was an occupying army of relief workers, led by local first responders, exhausted but still humping it a week after the storm, church groups from all over the country — funny how you don't see organized groups of secular humanists giving out hot meals — and there in the middle of it all, with a purposeful military swagger, were the volunteers from Team Rubicon. They looked tough, megatatted, in camouflage pants, gray T-shirts and white hard hats. They moved with purpose and spirit and were equipped by Home Depot — which has done brilliant work locating and funding the very best veterans service groups — with an impressive array of chain saws, power tools, wheelbarrows, tarps and wood.
Emphasis mine. It's too bad Klein couldn't help but succumb to the self-centered atheist cliche, here. It's also unfortunate that he couldn't do a bit of research before doing so. Because he's wrong.
Shortly after the tornadoes, CNN's Wolf Blitzer interviewed Rebecca Vitsmun on national television. Blitzer asked Vitsmun, who had just lost her home, if she "thanked the Lord" that her family was safe. Vitsmun gracefully responded that she's an atheist, then added, "We are here, and I don't blame anyone for thanking the Lord."
After the interview, the outspoken atheist comedian Doug Stanhope started an Indiegogo campaign to help Vitsmun and her family. Stanhope hoped to raise $50,000 in 60 days. Within 72 hours, the campaign had already doubled that amount. It's currently just under $122,000, with 29 days left to go.
The American Humanist Association also kicked in $10,000 for Vitsmun, and FreeOK, a humanist group in Oklahoma, launched a fundraiser on her behalf. Vitsmun herself has since taken to raising money for other families struck by natural disasters, and wrote on her Facebook page that she'll donate all money beyond what she needs to get back to her former life . . . to the Red Cross.
But it wasn't just rallying behind Vitsmun. At the Friendly Atheist blog, Hemant Metha runs off a list of other post-tornado aid efforts from humanist organizations:
-- Foundation Beyond Belief raised over $45,000 for Operation USA and the Regional Food Bank of Oklahoma.

-- Atheists Giving Aid raised over $18,000 that will be given to local relief groups in Moore, Oklahoma and directly to families that need help.

-- Members of the FreeOK atheist group helped families who needed wreckage removed from their property.

-- Local atheist groups such as the Oklahoma Atheists, Atheist Community of Tulsa, the Lawton Area Secular Society, Norman Naturalism Group, and the Oklahoma State Secular Organization have organized volunteers, resources, and blood drives
.
-- Organizers of the FreeOK conference going on this weekend held a literacy drive yesterday to "benefit the schools affected" by the tornadoes.
FreeOK has also been active in other ways. They teamed with Panera Bread and Krispy Kreme to get breakfast to cemetery clean-up volunteers with Frontline Church in Moore, and to volunteers working through the Moore Community Center in the first week of response. They will continue to host volunteer drives in the outlying areas needing assistance in the coming weeks, like many local church organizations. The Red Dirt Party Bus, also owned by a secularist, has been used to run bulk donations around OKC and to distribution centers like the famously generous Grandad's Bar on NW 23rd in OKC and out to Shawnee and Bethel Acres.
Of course, it's also worth noting that while some nonbelievers are vocal and organize around their lack of faith, many just don't consider it to be a critical part of their identity. I do volunteer work from time to time. When I do, I don't do it as an atheist, in the name of atheism, or in an effort to convert people to atheism. My atheism doesn't really enter the picture at all. I'd imagine that this is true of other nonbelievers. Which is probably why Joe Klein didn't see a bunch of t-shirts and banners celebrating the service work of "secular humanists."
The above story from the Red Dirt Report also relays an unfortunate anecdote in which members of a religious organization called Freedom Assembly of God walked off a cleanup site after learning that the volunteers working next to them were atheists. They apparently couldn't bring themselves to work alongside nonbelievers, even to help a family whose home had just been destroyed.
Now, I don't think anyone would suggest that those particular Freedom Assembly of God volunteers are in any way representative of most Christians. It's just too bad that people like Joe Klein can't afford the same consideration to atheists.
Before You Go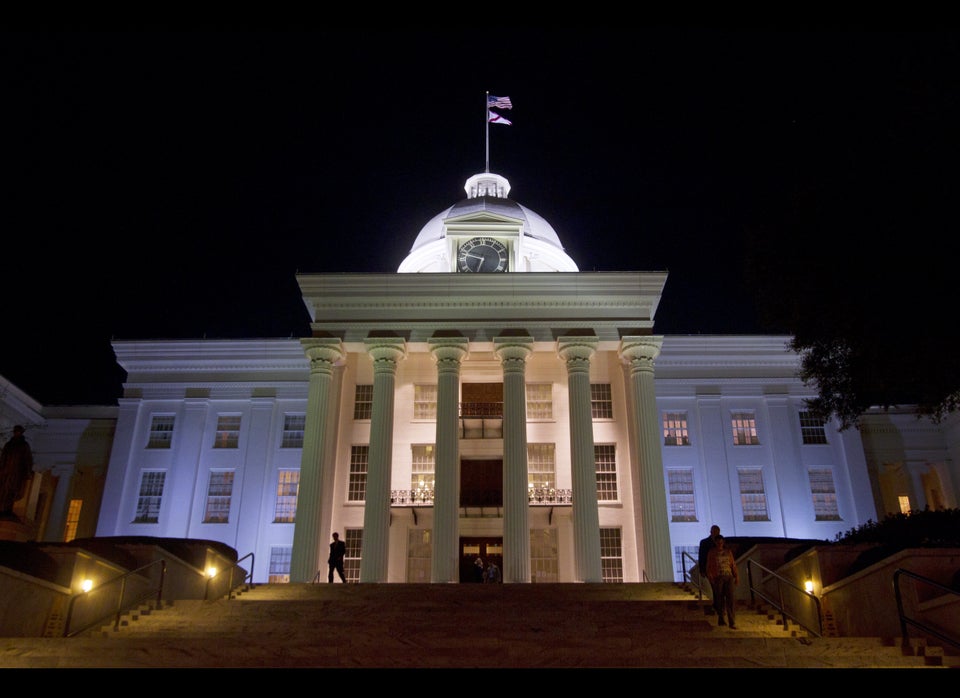 U.S. State Capitol Buildings
Popular in the Community