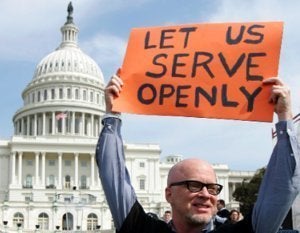 Time magazine has added a surprising new blogger to its website: an anonymous gay soldier. (h/t FishbowlDC)
The soldier, nicknamed "Officer X," will write for the magazine's Battleland military blog about the impending repeal of the "Don't Ask, Don't Tell" law. Since the law is still in effect, the soldier cannot reveal his or her identity until it is fully lifted.
I have been given the opportunity to share my firsthand experiences from the inside as I watch the fall of a policy that is undeniably discriminatory. By "not asking" and "not telling," the people repressed by this policy have been robbed of their voice to speak out. As a result, the impact of such a policy doesn't hit close to home for enough families, friends, or coworkers. By blogging here, it is my goal to share the excitement felt by every gay and lesbian service member as this burden of lies, cover stories, and double lives is lifted.
"Officer X" has also launched a Twitter account.

Related
Popular in the Community