In the aftermath of Hurricane Katrina, many Times-Picayune staffers couldn't return home. Some were separated from their families. And the future of their newspaper, published since the waning days of Andrew Jackson's presidency, was, like the city itself, in jeopardy.
Still, former managing editor Peter Kovacs recalls that rocky period nearly a decade ago as "one of the most professionally fulfilling eras."
"When you ran into people in New Orleans, they would thank you for what the Picayune did," he said. "It was like being a rock star or playing for the Saints."
That your average newspaper scribe suddenly morphed into Drew Brees is testament to the Times-Picayune's extraordinary coverage of Katrina. For a few weeks late in the summer of 2005, no publication was more essential to the New Orleans community and, arguably, the millions following the American tragedy around the world.
Much of the paper's staff, like the community it served, faced shortages of food, electricity and cell service. So reporters flocked to higher, drier ground, turning homes and hotels into makeshift news bureaus. "It was pretty hellacious," recalled then-city hall reporter Gordon Russell, who filed stories from his house using a dial-up modem before spending a couple of weeks at the Sheraton. Some staffers set up shop at The Courier, an hour's drive away in Houma, Louisiana, and cranked out the first print edition since the Times-Picayune's presses shut down three days earlier. Journalists brought copies back into New Orleans, where some residents, lacking working radios, TVs or Internet, were anxious for any bit of news.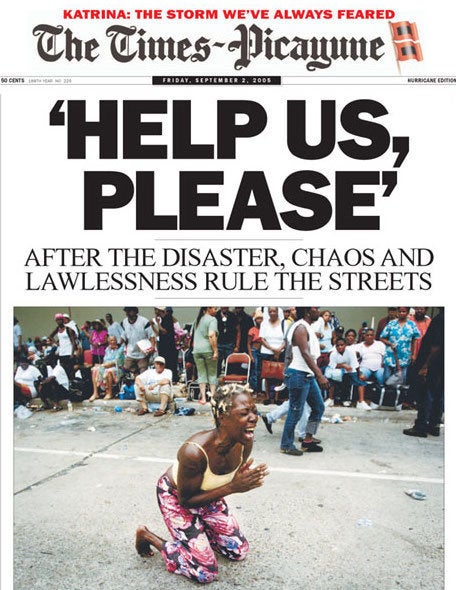 The Times-Picayune not only won two Pulitzer Prizes for such journalistic derring-do, but admiration from a community in desperate need of updates during the storm and for answers from officials in its aftermath. "The city," Russell said, "had a real bond with the paper."
That bond was broken in June 2012. Advance Publications, the Newhouse family-run company that owns the paper, laid off over 200 people, nearly a third of the staff. The frequency of the print edition dropped to three days a week and a significantly diminished newsroom now focused on a website, NOLA.com.
"The way that some careers ended in 2012 was just sort of horrible," Russell recalled. "Whatever goodwill people had toward that institution just sort of evaporated on that day … It was just handled terribly."
The decline of the Times-Picayune is, in some ways, an illustration of a changing newspaper industry as a whole. But to simply peg it as part of a larger trend would be to understate just how devastating the downfall was felt in New Orleans, where the paper was published daily since 1837. A community that relied on the Times-Picayune to explain the deep social and political divides that made the hurricane more than just a massive storm has been left without a dominant media outlet that both comprehensively covered the city and could make politicians tremble.
Could it have turned out differently?
The paper, after all, was profitable at the time it went through its massive rollbacks. Some prominent locals mounted an unsuccessful campaign to buy the Times-Picayune, but New York-based Advance wouldn't sell. Instead, the company's strategy, previously rolled out in smaller communities like Ann Arbor, Michigan, was to cut down staff and emphasize boosting web traffic to bring in digital revenue, even though that revenue stream remains a fraction of what print was bringing in. The Columbia Journalism Review noted that the company's plan appeared to many as "inexplicable, from either a journalistic or a business point of view."
There was another way. Some papers, like The New York Times, maintained a robust newsroom during rough years and adopted an online pay model as a key source of revenue. It's not a cure-all, but the Times now has more than a million digital-only paid subscribers to a product that's arguably as strong as the one produced a decade ago.
As Times-Picayune staffers prepare for the 10-year anniversary of Katrina on Aug. 29, the sword is again dangling over their heads. Management recently informed employees that more cuts are coming, as first reported by Gambit, an alternative weekly.
"There is a lot of fear" in the newsroom, one staffer, who was not authorized to speak for the company, told HuffPost. It's unclear how many layoffs there may be, the staffer said, and whether metrics like a reporter's number of published posts and online traffic will determine who gets cut.
Russell said the looming layoffs have reinforced his decision to leave the paper in May 2013 as part of a mini-exodus to the New Orleans Advocate, a daily edition of the Baton Rouge-based Advocate newspaper that was launched in response to the Times-Picayune scaling back.
"Part of me feels vindicated I came to the Advocate, but I'm sorry to see people lose their jobs," said Russell, the paper's managing editor of investigations. "I don't understand it as a strategy because, inevitably, this is going to make them worse, and they're going to lose market share to us, and I don't see where the endgame is -- beyond giving up."
Life At The Times-Picayune After The "Clean Break"
Mark Schleifstein, a Pulitzer Prize-winning environmental reporter, hasn't given up yet on the Times-Picayune.
A 31-year veteran, he doesn't sugarcoat the drastic changes, admitting that the public was rightfully upset with management. "I would have tried to play out the print edition as long as possible going seven days a week," he added. "They decided they needed to make a clean break."
Schleifstein considered leaving in 2012, as hundreds of colleagues were let go. He could surely jump to the Advocate. But Schleifstein said he stayed because he wanted his reporting on key local issues, such as coastal restoration, the levee system and hurricanes, to reach the largest possible audience in the region. And that remains the Times-Picayune and NOLA.com.
He doesn't expect the impending changes to be like the upheaval in 2012, but more like standard newsroom downsizing through attrition and sending existing staffers to different beats. Schleifstein said he believes management hasn't decided yet where to cut, and didn't want a repeat of three years ago, when staffers first learned of the paper's plight in The New York Times.
Schleifstein said the organization now is like a new media startup. The digs are swankier, with most of the staff now in a high-rise overlooking New Orleans. Schleifstein acknowledged that management is seeking different types of reporters, ones adept at multitasking across platforms and producing more frequently online.
"Now, this is a new way of doing things," he said. "It's interesting. It's, at times, as fun as it was in the old days. Unfortunately, I don't get a year and three months to do a series. But that was dead before the changes. I'm still given time to do the kind of stories that make a difference."
Jim Amoss, a New Orleans native and the top editor of Times-Picayune for 25 years, didn't respond to multiple requests for comment. But he has, in the past, invoked the paper's Katrina coverage in trying to make the case that digital journalism isn't inherently lesser than print. Times-Picayune staffers, he wrote in June 2012, kept covering Katrina online after the presses stopped. Those reports didn't make it onto newsprint, he wrote, but were "vital pieces of digital journalism."
"I didn't realize at that moment that I was witnessing the beginning of our part of the revolution that is transforming our business," Amoss wrote. "Nor, I imagine, did the reporters and editors in that dim room. We knew only that we were in an emergency; that we couldn't produce the paper in physical form; and that we were getting the news out as best and as fast as we could."
But for those who were and are part of the Times-Picayune family, the debate isn't just about digital versus print, old media versus new. It's whether the current strategy can still support sustained, quality journalism that's capable of representing the community and, when needed, holding government and powerful interests accountable. Schleifstein argued that "the community is still getting quality reporting," whether from journalists in his newsroom, the Advocate or local TV stations (which now include some prominent Times-Picayune alums). But others see a diminished influence.
Bruce Nolan, a 41-year veteran of the Times-Picayune, was among the hundreds laid off. These days, he said, the paper doesn't singularly drive the conversation in New Orleans the way it once did.
"The city now seems to be a pile of wet wood and no one has the heat intense enough to light the fire for the entire city," Nolan said. "It's not a question of, they're not doing good work. They no longer have the attention of the city they used to."
Nolan praised the Times-Picayune's reporting last year on how sexual assault victims had to pay for rape kits, along with the Advocate's recent series on film industry tax giveaways. But, he said, "neither one is the gorilla that drives the agenda in the way it was occasionally true before."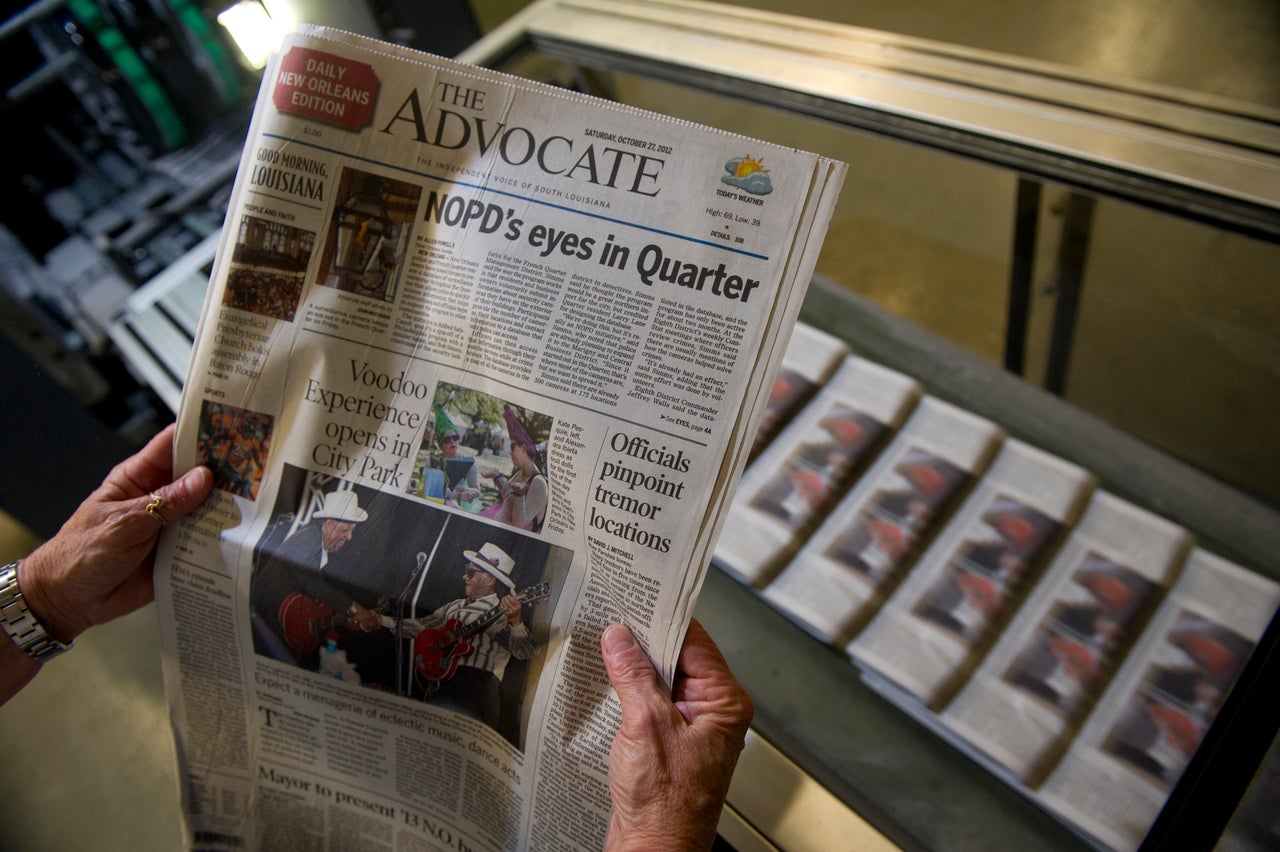 When local businessman John Georges purchased the Baton Rouge Advocate in 2013, an unlikely newspaper war broke out in the Crescent City.
Kovacs, who spent 29 years at the Times-Picayune before being laid off in 2012, took over as the Advocate's top editor in Baton Rouge and immediately began poaching staff for the growing New Orleans edition.
"I felt like I had eight of the top 10 draft choices in the NFL draft," he said. "Everybody wanted to join."
Within a week, Kovacs hired four Times-Picayune staffers, including Martha Carr, a 16-year veteran who became the Advocate's managing editor. The New Orleans Advocate's masthead is essentially the Times-Picayune-in-exile, but its way of tackling the 10th anniversary of Katrina is strikingly different.
Kovacs hasn't been impressed.
"I think the most memorable thing they've done is their coverage of Katrina tattoos," he said. "I think our aim was to have serious, detailed, across-the-waterfront coverage. We've achieved that."
The Advocate's 10th anniversary section online is more visually appealing and cohesive, with different sections featuring articles, photos, firsthand remembrances, and art created in response to Katrina. Unlike its webbier rival, the Advocate took a more traditional newspaper approach in stories commemorating the catastrophe and assessing the city's recovery a decade later.
The Advocate's staff began compiling story ideas in late winter and kicked off the 10th anniversary series on June 1, the start of hurricane season. Kovacs said he hopes the online archive of 10th anniversary coverage can serve as "the Wikipedia for the American media," just as big-time network anchors and the rest of the circus descends upon the city in the coming weeks.
"I didn't want New Orleans to be Ferguson, Baltimore or Charleston, where outsiders go on TV and tell your community what they think your tragedy proves," he said. "We wanted to tell people what our tragedy proves."
Related
Popular in the Community