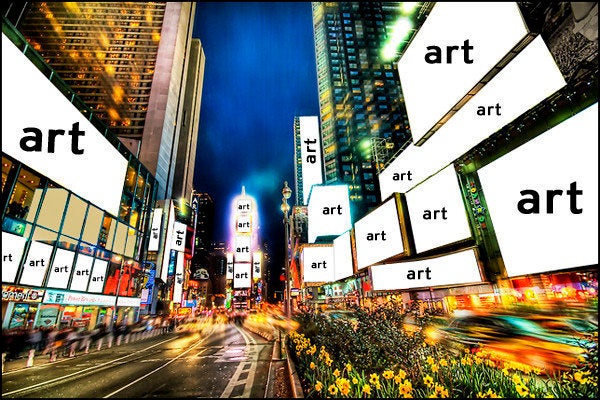 Now imagine Times Square as a living art gallery, stocked full of panoramic three-dimensional billboards, videotaped cinemagraphs, walls of living "bio art" and performance pieces on the pedestrian mall.
"I see this city as one that reinvents itself every few generations," says Angela Moschetta, self-described "wearer of many hats" and co-founder, along with designer Justus Bruns, of Times Square Art Square. In an e-mail interview with The Huffington Post, Moschetta says that the reinventions of New York City typically occur around industry and commerce, but "since 9/11, the city seems to be reinventing its sense of community."
Moschetta cites the High Line Park, Madison Square Park and Brooklyn Bridge Park as three examples of the city's current community-focused reinvention and the Low Line and + Pool as two examples of community-focused reinvention in the future perfect. But not one of these projects compares to the grand ambition and scale of Times Square Art Square, which aims to turn the famous landmark into an enormous gallery of art. Moschetta says that by doing so she and the rest of Times Square Art Square hope to remedy some of the city's current dissatisfaction with the landmark:
Over a couple of days at the beginning of the summer, we [Moschetta and Bruns] interviewed 170 people throughout the city about their thoughts on Times Square. Every single New Yorker (more than 110) interviewed expressed some level of dissatisfaction with the space. A common response was "I avoid it all costs."
But every New Yorker interviewed, says Moschetta, responded positively to the idea of introducing more public art into Times Square. For those who fear Times Square will be "quieted" if Times Square Art Square succeeds, Moschetta says the plan isn't to turn the space into a subdued, Old Masters museum. The Square, she says, isn't that kind of gallery. "The very nature of Times Square -- its dazzling technicolor displays, seductive messaging, colorful characters and melange of New Yorkers and visitors colliding each day in predictable and brilliantly unscripted moments -- is what makes the most visited public space on earth the perfect place to stage the largest public art exhibition the world has ever known," she said.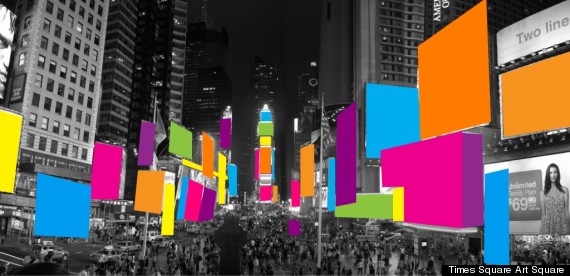 Moschetta imagines a vibrant gathering place and excitedly elaborates plans for different parts of the Square.
Digital and video art certainly lends itself best to the medium that is digital billboards. Static billboards, on the other hand, present opportunities for everything from painting to three-dimensional installations to living, bio art. The goal is to develop Art Square as an immersive experience, one that grows to involve more billboards, more ground level installations, more pop-up galleries, more performance art every year.
Proving to "naysayers" that they're serious, Moschetta and Bruns have already secured their first billboard: the topmost board on the North side of Times Square. Moschetta won't reveal which company donated the board, but research by the Huffington Post reveals that JC Decaux owns that property.
Moschetta and Bruns have also secured their first artist, Rafael Rozendaal, who creates playful digital art projects. Moschetta says Times Square Art Square will focus on commissioning cutting-edge contemporary art for the forseeable future, although she hopes eventually to ally with museums to "represent even the oldest archival collections in a thoroughly modern context."
On Sunday, December 16, 100 local artists will take over The Alley NYC, a cooperative workspace in Midtown, creating 10,000 commissioned portraits for the cause. Part of the proceeds raised in the "Pledge-a-sketch-athon" will be donated to Sandy relief efforts.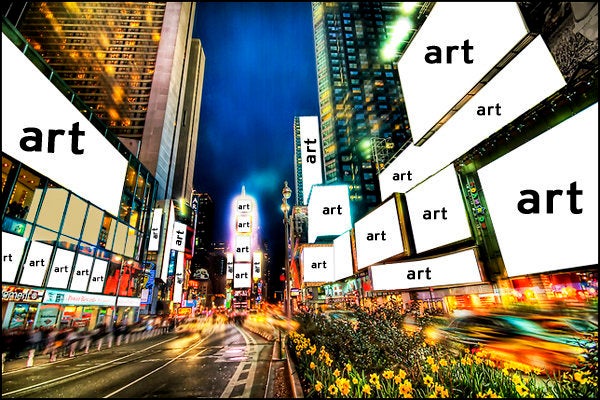 Materials From Times Square Art Square
Correction: In an earlier version of this article, we stated that 100 local artists will take over Times Square on Dec. 16. In fact, they will be at The Alley NYC. We regret the error.
Related
Popular in the Community