"I think this has gone too far," the mayor said during a press conference. "It's time to take some real steps toward regulating this new reality."
The mayor's comments come after a man dressed as Spider-Man punched an NYPD officer on Saturday.
The incident spurred the police department to crack down on the professional panhandlers, who often harass tourists for tips.
By the end of the weekend, five other characters -- including Naked Black Cowboy, Jessie from Toy Story, Captain America, and another Spider-Man -- were also arrested, most for "aggressive panhandling."
"It's not appropriate for anyone to demand a certain amount of money from a passing tourists and harass them in that manner," the mayor said Monday. "Until we have new regulation in place, we will enforce in any situation where that occurs. But I think once we have regulation, we'll be able to say very clearly to everyone who does that work, 'Play by the rules, or you won't be working here any longer.'"
This weekend's arrest spree comes after years of disturbing incidents involving the costumed characters. In January, a man dressed as "Woody" from Toy Story was arrested on sex abuse charges after forcibly touching two female passersby. Last year, a man dressed up as Cookie Monster was arrested for allegedly pushing over a two-year-old whose mother had refused to give him money. The year before, a man dressed as Elmo was arrested for going on an anti-Semitic tirade.
Last month, City Council Member Andy King said he was drafting legislation that would require the costumed characters to be licensed performers, and to undergo background checks, CBS reports. That bill, however, has stalled due to copyright complications. Most of Times Squares' costumed characters, after all, don't have permission from the characters' owners to dress up the way they do.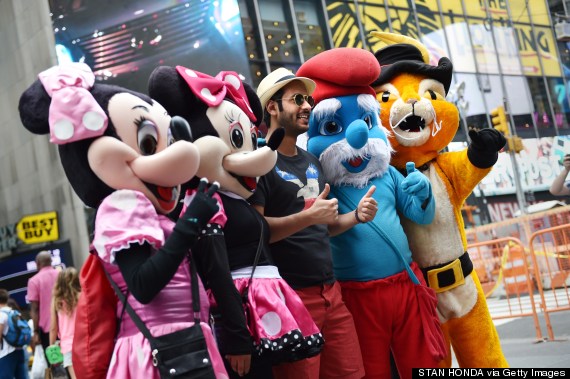 A tourist poses with a group of people dressed as cartoon figures July 28, 2014 in New York's Times Square.
Meanwhile, the man behind the Spider-Man mask during Saturday's incident, Junior Bishop, has been charged with assaulting a police officer in the second degree, resisting arrest, criminal mischief and misconduct.
Saturday's incident began when a man and a woman offered Bishop just one dollar to be photographed with him. Bishop allegedly told the two that he accepted "fives, tens, or 20s only." A cop nearby interjected that the Times Square tourists could pay whatever they like, at which point Spidey reportedly wheeled around and told the cop, "mind your own fucking business!"
The cop then asked for Bishop's identification. When Bishop said he didn't have any, the cop went in for the arrest, during which time Bishop broke free and allegedly punched the cop in the face.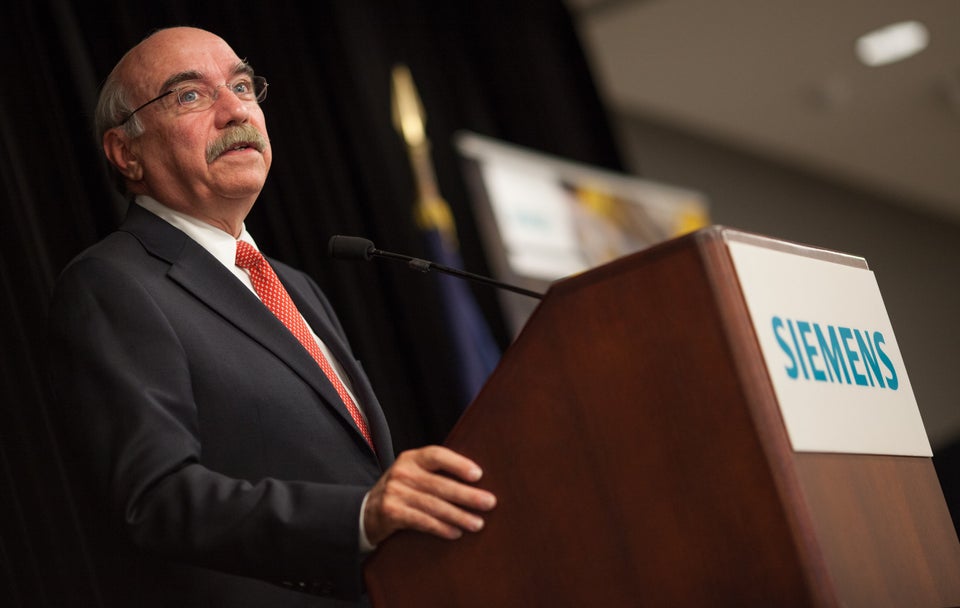 Mayors Of America's Largest Cities
Popular in the Community