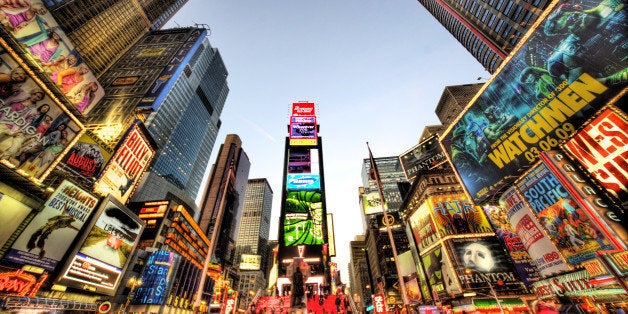 If for whatever reason you find yourself wandering through Times Square this Saturday, don't be alarmed by the lack of insanely bright lights piercing your eyes.
Buildings in New York City's shiniest intersection -- and also including, for the first time ever, the New Year's Eve ball -- will be shutting off lights from 8:30 p.m. to 9:30 p.m. in observance of Earth Hour, an annual event aimed at promoting energy conservation.
DNAinfo reports One Times Square, the building where advertisers shell out nearly $23 million a year to shine their billboards, will also be participating.
Though it's never gone dark for Earth Hour before, this isn't the first time the world-famous New Year's Eve ball has taken a green approach. Over the years, the ball has been remodeled to be more energy friendly, replacing costly halogen quills for LEDs.
For this past New Year's Eve, the Times Square Alliance also organized six Citi Bike riders to help power its famous midnight drop by pedaling.
Saturday's event could prove to be a rather bittersweet moment for New Yorkers, many of whom have never known a Times Square that isn't an assault on the senses. Here's to reducing energy consumption all day, everyday!
Popular in the Community