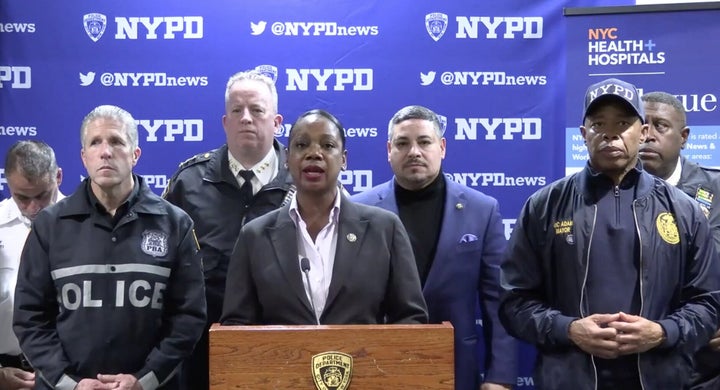 A New Year's Eve machete attack on police officers near Manhattan's Times Square is being investigated by the FBI's Joint Terrorism Task Force.
Three police officers were wounded in the attack by a 19-year-old male suspect who was shot in the shoulder and arrested, New York City Police Commissioner Keechant Sewell said at a press conference with Mayor Eric Adams. All the officers are expected to survive and return home shortly.
The man approached the first officer just after 10 p.m. Saturday and "attempted to strike him over the head with a machete," Sewell said. "The male then struck two additional officers in the head with the machete." Sewell said the attack was unprovoked.
The attacks occurred outside the security screening area set up around Times Square for the traditional New Year's Eve ball drop.
Sewell asked any witnesses to contact the NYPD.
Mike Driscoll, assistant director for the New York FBI field office, said at the press conference that agents are "working very closely" with the NYPD to "determine the nature of this attack." Driscoll declined to offer any further details.
Adams said that "there are no credible threats to New Yorkers at this time," which was reiterated by Sewell and Driscoll. "We believe this was a sole individual at this time; there's nothing to suggest otherwise," Driscoll said.
All three officers were rushed to Bellevue Hospital following the attack and were in stable condition, Adams noted.
An eight-year police veteran received a laceration to his head, and another a large laceration and concussion in the attack, said Sewell. The concussed officer had just graduated from the police academy Friday, and his first assignment was the New Year's Eve detail in Times Square, she said.
The suspect, reportedly from Maine, had no previous arrest record, but was known to federal and local law enforcement because of previous online postings, police sources told NBC and ABC News.
Relatives had reportedly contacted law enforcement in recent weeks to report their concerns that he was gravitating toward dangerous Islamist ideologies. He may have traveled to New York City specifically to target police, sources told the networks.
The NYPD released an image of a weapon that officials recovered at the scene.
Adams, Sewell and Driscoll all praised the officers who were attacked — and other officers at the scene — for how they dealt with the violence.
Popular in the Community