There are few true glimpses of the gritty Times Square still standing, and that makes Martin Scorsese's Taxi Driver a good place to start for a refresher course. Early scenes show an impossibly seedy tableau of prostitutes, pimps, drug dealers and junkies pounding the trash-covered pavement in front of neon-lit sex shops and pornographic theaters. As the images unfold, the unnerving Travis Bickle prophesizes: "Someday a real rain will come and wash all this scum off the streets."
It's thanks to rainmakers like Rudy Giuliani, the Walt Disney Company and a slew of developers, that Travis Bickle's Times Square has been rebuilt from the ground up with glittering skyscrapers, chain restaurants and megastores to serve the average of 370,000 pedestrians who visit it every day. (There's also a re-design of public spaces in the works from Norwegian firm, Snohetta). It's cleaner, safer and arguably more accessible to newcomers than ever. But it's also increasingly challenging ground for small businesses.
According to real estate broker CBRE, retail rents in the area reached $2,400 per square foot in the fourth quarter of 2012, an almost 42 percent rise from the preceding quarter. Meanwhile, corporate giants with ambitious plans and deep pockets continue to overtake the area: an $800 million, 39-story hotel and retail complex is in the works for 701 Seventh Avenue as is a $140 million renovation of the retail space under the New York Marriott Marquis Times Square.
Despite so much big business, however, a few independently owned bars, restaurants and mom-and-pop shops somehow manage to succeed, hiding in plain sight in one of most heavily trafficked (and costly) neighborhoods in the world. You may have to look down a side street or even above or below ground to find them, but these surviving gems are worth your time and money for their history, niche wares and individualized character in an area that is only becoming more homogenized. And after your shopping, sipping and dining, you can also salute Times Square's past by stopping at the Visitor Center and Museum at 1560 Broadway for a look at artifacts like the old Peep-O-Rama sign (from the last adult emporium on 42nd Street, which shuttered in 2002) and the New Year's Eve ball.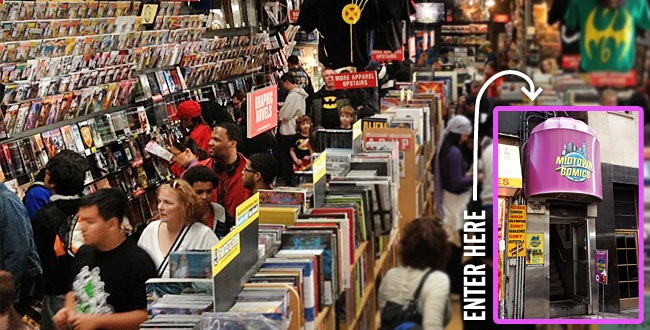 Midtown Comics (Photos: Courtesy of Midtown Comics, Mary-Louise Price Foss)
Midtown Comics
Founded in 1997 while Times Square was reinventing itself, this second-floor collector's enclave proves that the right combination of niche merchandise and an expert staff can find an audience large and passionate enough to succeed. And few audiences are as fervent as fanboys (and girls), who flock to the store for its huge selection of comic books, graphic novels, toys, collectibles and clothing. A second-story location that commands a relatively lower rent is another asset. "It gives us an advantage over a tenant on the ground floor," says CMO/CLO Gerry Gladston. "Our marketing power helps to make up for the visibility of a ground floor location." Signing and special events also keep the trade brisk until closing time at midnight (it closes at 8pm on Sunday). 200 W. 40th St., 212-302-8192, midtowncomics.com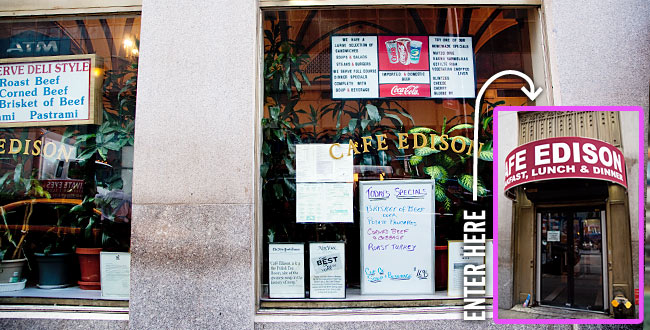 Cafe Edison (Photos: Mary-Louise Price Foss
Cafe Edison
Theater goers, performers and business folk know that there's a stately coffee shop (dubbed the Polish Tea Room) tucked inside the venerable, art deco Hotel Edison, even if it is hidden behind a nondescript entrance. In addition to the usual American diner staples, the ornate former ballroom offers up Eastern European Jewish comfort food specialties like standout soups, blintzes and matzo brei. The secrets to its success? A bustling backdrop, low prices and a killer matzoh ball soup. Don't forget to bring cash as they don't accept plastic. 228 West 47th St., 212-354-0368, no website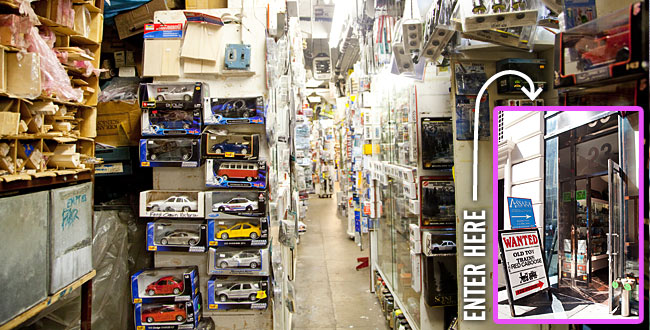 The Red Caboose (Photos: Mary-Louise Price Foss)
The Red Caboose
Follow the sound of the clanging train bell and head downstairs to this semi-secret basement hobby shop that we had to include even though it falls just outside the Times Square area (between Fifth and Sixth avenues) because it's such a rare diversion. Owner and colorful character Allan Spitz has been in business on the block for 40 years, including nearly 20 in this subterranean location, which has been home to a hobby shop since 1946. At one time, there were four model train stores on the block, but only the Red Caboose remains, with its packed quarters practically overflowing with model trains, cars, planes, kits and building supplies. Spitz credits his success to being "conservative." He jokes, "When there were good times, I hoarded money. When there were bad times, I hoarded money." And the specialized wares attract a dedicated clientele that doesn't mind paying. While prices vary dramatically, some limited edition engines can run as much as $1,600. 23 W. 45th St., 212-575-0155, theredcaboose.com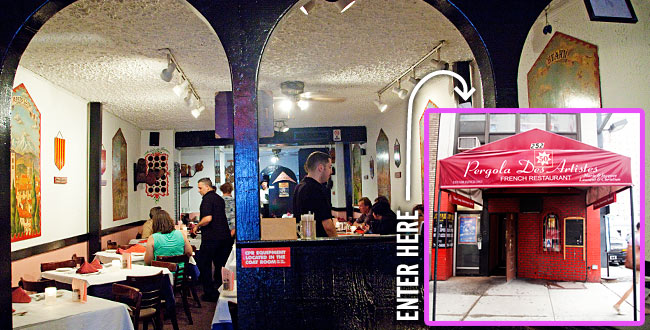 Pergola des Artistes (Photos: Mary-Louise Price Foss)
Pergola des Artistes
Founded by French immigrants Marie and Jacques Ponsolle in 1963 and now managed by their son, this cozy little bistro is the antithesis of corporatization and celebrates its 50th anniversary this year. A homey pink-and-white walled interior that hasn't changed much in half a century provides a quaint relief from the hustle and bustle outside, while French staples like beef bourguignon and coq au vin offer pre-theater sustenance at decent prices (both are $32.95). A handy location right next to the Imperial Theatre and value-driven prix fixe menus are further reasons it endures. 252 W. 46th St., 212-302-7500, pergoladesartistes.com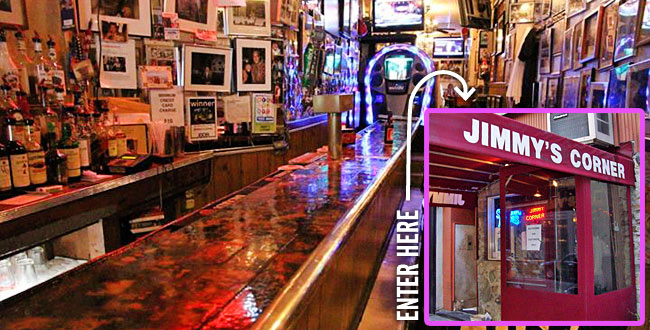 Jimmy's Corner (Photos: Courtesy of Jimmy's Corner)
Jimmy's Corner
Unless you're generous enough to count the Hard Rock Cafe or Planet Hollywood, Times Square is relatively short on easygoing watering holes. This friendly dive founded by former boxing trainer Jimmy Glenn in 1971 is an oasis of cheap calm in a land of overpriced chaos. A long, narrow bar and several back tables host a truly diverse crowd including suits, in-the-know visitors and genuine article, old New York characters whose steady custom has kept it in business for more than 40 years. Plenty of seating, a jukebox stacked with jazz and soul and $3 pints of Bud Light complete the picture. 140 W. 44th St., 212-221-9510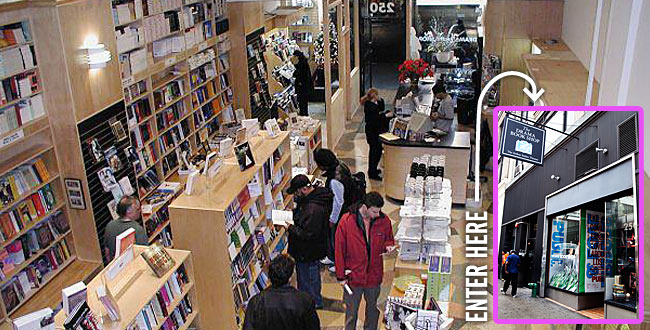 (Photos: Courtesy of the Drama Book Shop, Mary-Louise Price Foss)
Drama Book Shop
So celebrated in the New York theater community that it won an honorary Tony Award, this well-stocked bookstore is practically a museum for the dramatic arts. Though it's moved to different locations in the Theater District over the years, the business traces its history to 1917 and has been owned by the same family since 1958. Its current, modernized home includes a performance space for special events, plus a wide selection of some 8,000 plays, plus books, magazines, newspapers, agent listings and instructional DVDs and CDs devoted to the craft. An artistic staff is another reason actors, directors and dramatic denizens of all kinds keep coming here. 250 W. 40th St., 212-944-0595, dramabookshop.com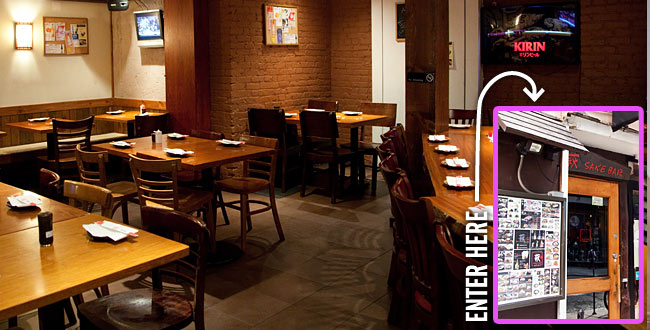 Sake Bar Hagi (Photos: Mary-Louise Price Foss)
Sake Bar Hagi
You'll feel like you're entering a Tokyo-styled speakeasy when you descend the stairs to this cozy underground izakaya, which is easy-to-miss with its hidden locale beneath another Japanese restaurant. Inside, small plates like sizzling yakitori skewers, crispy tempuras and noodles come cheap enough that you'll want to order multiple rounds to sample and share. There are also more adventurous choices like chicken gizzard and octopus balls, which seem like a better idea after a couple of $12 pitchers of Sapporo. It's easy to see why this place endures -- it's packed night after night. You'll have to write your name on a list as you enter and wait for a call when your table's ready. It's a good chance to enjoy the Times Square scenery, just don't wander too far -- they ask you to return within five minutes. 152 W. 49th St., 212-764-8549, sakebarhagi.com
SEE MORE FROM NEWYORK.COM