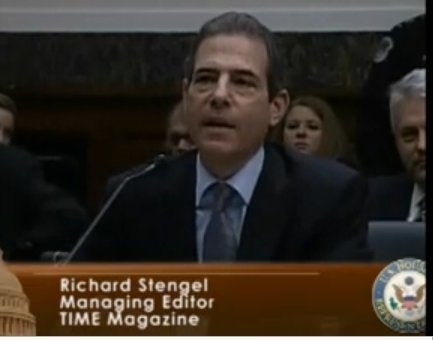 A day after President Obama called on the nation to embrace a spirit of service, Rep. George Miller (D-Calif.), Chairman of the Education and Labor Committee, convened a hearing to chart a specific course forward.
Time magazine managing editor Richard Stengel was called to testify, having authored a recent cover story on national service. He traced volunteerism from Benjamin Franklin's famous exhortation that the Congress had given the people a republic, if we could keep it, through Alexis de Toqueville's observations on 19th century America, and up to today.
"America basically invented democratic volunteerism and national service. Service is in
our DNA as a nation and as a people," he offered. Yet, he continued, "These days, the two central acts of democratic citizenship are voting and paying taxes."
The time may have come to add to that list, said Stengel. First, though, Stengel laid down some wonk. "Let's look at the landscape now," he said. "Nearly 61 million Americans volunteered in their communities in 2007, giving more than 8 billion hours of service worth more than $158 billion to America's communities. More than a quarter of Americans over the age of 16 volunteered in some way. There were one million more volunteers in 2007 than in 2002. More than a third of volunteers served through religious organizations. Seventy-five thousand Americans are serving through AmeriCorps this year, and more than 540,000 have served in AmeriCorps programs since 1994. A cost-benefit analysis of AmeriCorps programs has concluded that every $1 in investment results in $1.50 to $3.90 of direct measurable benefits to the community: children tutored, playgrounds built, homeless people fed. AmeriCorp volunteers mentored more than 210,000 children and youth last year."
The Huffington Post caught up with Stengel after the hearing was gaveled.
"I think there's a moment now where a desire meets need, in the sense that people feel like service is important, in part because of the president's leadership, and because it was never fulfilled after 9/11 and because now there's an actual economic need," he said.
Stengel hopes that the president's speech, and his specific call for action on a bill by Senators Ted Kennedy (D-Mass.) and Orrin Hatch (R-Utah), that would incentivize national service, will move the legislation into law.
"I think this is the time," he said.
He added that he sees the Huffington Post fitting into the new service model of citizen activism. "One of the things about the Huffington Post is that it's so grassroots and so granular," he said. "I think the next wave is from the bottom-up, from the most individual efforts in the most local communities. The Web, just like we saw with Meetup.org and other things, is a great organizing tool for everything and I think it could particularly work well for service."
The benefit of the Web, said Stengel, is that it can bring distant people together quickly. "You had examples from Hurricane Katrina where local groups got together online and said, 'Somebody's meeting at such-and-such street corner at such-and-such time. Part of the barriers to this have been organization, but I think with BlackBerries and cell phones and high speed internet access, you can actually get a quorum together."
REAL LIFE. REAL NEWS. REAL VOICES.
Help us tell more of the stories that matter from voices that too often remain unheard.