Note: In recent weeks, I've been blown away by three new recordings. Two are by alumni of New England Conservatory, the third is by an old colleague and friend, a great orchestral conductor who shares with listeners his extracurricular passion for jazz.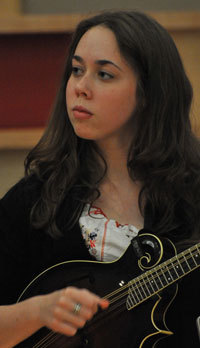 The first time I heard the singer/songwriter Sarah Jarosz '13 perform back in 2008, the circumstances were a bit strange. We had invited her to a Board meeting at NEC to perform during that section of the agenda where we remind ourselves why we do what we do.

So after approving the minutes and engaging in discussion on finance, strategic planning, and marketing, in walks Sarah with a small group of singers and instrumentalists from our Contemporary Improvisation department. Smiling broadly and speaking with that charming Southern twang of hers, she began to sing and play. The effect on the Board was immediate and transformational. The beauty and expressivity of her unique voice became the reason for us all coming together that morning. It demonstrated the power of music to change the atmosphere, to elevate the discourse when you least expect it.

From that moment on, I took a great deal of interest in her development and performances. When she first came to NEC, she had already been nominated for a Grammy for her first CD, Song Up in Her Head, released at the age of 18. That CD was a wonderful reflection of her art and an augury of things to come. Her second CD, Follow Me Down, a couple of years later, was also terrific, but for some reason she was surrounded by all these super celebrities like Bela Fleck and Edgar Meyer, as though the recording company didn't quite trust her talent to go solo. But her latest album, Build Me Up from Bones, is just Sarah and her band. And she is in exceptional form as performer and as songwriter, with the album also being nominated for a Grammy.

The album is a showcase for a talent that has found its groove. The voice is one that you can only fall in love with and her songwriting is authentic, original and moving and fills nearly the whole album. Particular tracks that made a great impression on me are "Build Me Up from Bones" (the title track) and "Rearrange the Art," but there are also two arrangements that also have the effect of stopping time: Bob Dylan's "Gone too Soon," which Sarah reduces to just voice and solo cello played pizzicato, in a performance of exquisite beauty and simplicity. And "The Book of Right-On" which I have heard her sing many times live with the Sail Away Ladies, an ensemble founded at NEC. I miss the group's vocalizing but this performance is still wonderful.

The Grammy nomination for the album was richly deserved.
****************************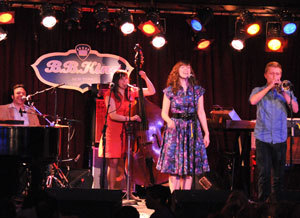 Lake Street Dive is destined for great things. With the YouTube video of their version of the Jackson 5's "I Want You Back", which has gone viral with 1.4 million views to date, their recent performances on the The Colbert Report and The Letterman Show, their recent sold-out performances, and their new album, Bad Self Portraits praised by Rolling Stone Magazine, this group is hot. Check out this excerpt.
Over the 10 years since their formation at NEC, the band retains the same line-up: drummer Mike Calabrase '07, trumpeter and guitarist Mike Olson '05, singer Rachael Price '07, and bassist Bridget Kearney '08. When I first saw them in 2010 as part of NEC's Jazz40th celebration at Scullers in Boston, they performed mostly their own songs which so impressed me with their original lyrics and music. This was jazz with a twist, witty, sensuous, and committed.
The group's main writers are Kearney and Olson, and they have a way with words and infectious rhythms that is irresistible. They are the featured writers for this new album.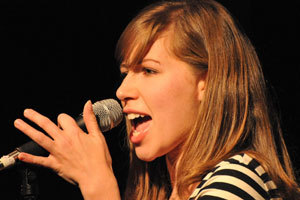 Then, there is their stunning lead singer Rachael Price. For years I carried as a ringtone on my iPhone the beginning of one of my favorites, "Dupont." This gave me just a moment every time my phone rang to catch Rachael's inimitable turn of phrase.

LSD has really hit its stride and the audience and media have caught on, albeit somewhat belatedly. Their style these days is almost retro, but in the sense of drawing some of the best from the past in a completely contemporary alchemy. Sometimes I am reminded of the 60's and 70's and Rachael's voice has developed that beautiful dark rich tone that brings to mind Dusty Springfield. The group has become a musical force to be reckoned with.
**************************************
I have known the outstanding American conductor, Andrew Litton, for many years. We first worked together when he was Artistic Director of the Bournemouth Symphony in the U.K., an orchestra he developed into a world class ensemble, and he has come to NEC to conduct our Philharmonia. Andrew is a great deal of fun and his passion for the whole gamut of music knows no bounds, particularly with jazz.
I remember very well his performances, playing the piano solo and conducting Gershwin's Rhapsody in Blue, and also the Gershwin Song Book, where he performed Gershwin's written improvisations with orchestra. It was all done with intuitive panache, style and love for the music.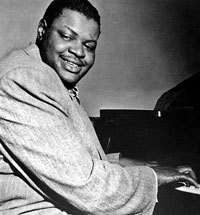 Andrew has also had a tremendous passion for another jazz pianist, Oscar Peterson, whose recordings, he has played to me for years. He even brought Peterson to Sommerfest in Minneapolis for a concert where Andrew personally introduced his idol.

It comes as no surprise then to see that Litton the pianist has devoted himself to an album of Oscar Peterson transcriptions. Peterson was perhaps the greatest jazz piano virtuoso of all time, and attempting to play, let alone emulate, his music, improvisations, and style, is a considerable undertaking.
How best to describe Andrew's Peterson recording? It is not just a tribute. Certainly not an unthinking facsimile of Peterson. It is very simply the most sincere act of love for a great artist I have heard.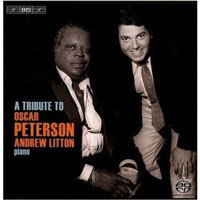 Litton's playing lives through every note, every technical challenge, to procure a stunning and true image of Peterson's style, his improvisational inspiration, harmonic colors and risks that we seem to take so much for granted in his recordings. It's a little bit like looking at a great masterpiece in a mirror. Everything is there, but it allows us pause and see it all again with fresh eyes. Litton's scope and strength of purpose are sincere and quite simply breathtaking. When you listen, are you hearing Peterson? No. What you are hearing is a great artist laying a beautiful bouquet at the feet of a master, and thrilling us with his passion and commitment. Click here to preview the album on iTunes.
Calling all HuffPost superfans!
Sign up for membership to become a founding member and help shape HuffPost's next chapter