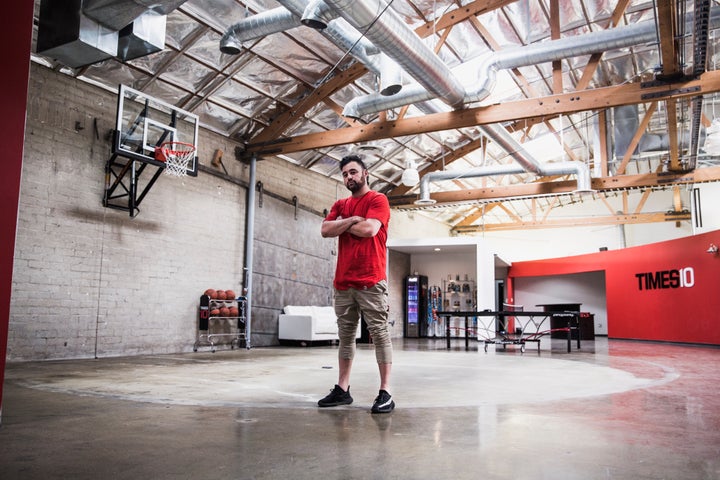 If you saw AMC's Mad Men before the long running hit series shut it down a few years back, you know they did a great job portraying a 1960's big city marketing agency. Smoke-filled rooms. Small offices. Lots of martinis. Thin ties. Secretaries wearing skirts. Junior partners trying to climb the corporate ladder.
If my recent visit to Times10, a highly successful LA/Burbank branding, content and social media agency, is any indication, things have changed drastically since those John F. Kennedy years. What I found was blaring background music. An indoor basketball half court. A cooler full of energy drinks. Young men and women wearing whatever works for them. Ear buds and oversized smartphones. Indian food and oversized burritos being delivered for lunch. Hardly Madison Avenue in 1965.
I discovered a creative agency led by its founder and CEO, Ben Ricciardi, a young branding and social media maverick, who can't remember the last time his creative team was asked to design a newspaper ad or produce a traditional radio spot. But, this talented Massachusetts kid, who has spent virtually all of his adult life in Los Angeles, clearly knows a lot about a lot. Branding. Image. Social influencers. Video. Instagram. Content. Blogs. Twitter. Copy. Boosts. Retargeting. Celebrity. Music. Apps. This knowledge is also apparent to his incredibly diverse team who hail from all over the country, and beyond. Once I met Ben, I knew immediately why his agency is on fire. He's got relentless energy. A super creative mind. A paradigm shifter. The ability to identify and hire talent. A willingness to listen. And he tells me Times10 only works with clients whose products and services he respects. Sounds like a winning formula.
In talking with him, it quickly becomes obvious that Ben has built Times10 by following his heart, instincts and vision as well as the lessons he's learned, good and bad, since deciding that building a business from the ground up was his lot in life. After all, when your Dad and your older brother, Blake Ricciardi, are successful entrepreneurs, your Mom's an award-winning author and your star creative director and partner, Michael Adrian, hails from NYC, you learn sitting and waiting won't get it done. No one is sitting at Times10. More likely, they are on the move inside an awesome 7,000 square foot warehouse office. This space is home to a collective group of brilliant & diverse minds, all handpicked by Ben. For Ben Ricciardi, it's all about assembling a talented team that shares your energy and loves what they do every single day. Ben lights up when talking about them.
Touring their super welcoming space, I was comfortable from the start. I quickly discovered that their ping-pong table, video games and indoor basketball court were outdone by a 21-seat theater. Why a theater? Ben explains that it's because advertising, promotion and marketing haven't just evolved over the last 2 decades, they've exploded. The content - video and photographic, is now the lead dog. Ben lets me know that Times10 does nothing from the back of the pack. Ever.
My guess is you don't get asked to pull off all the social media for the gigantic James Harden shoe release last fall unless you and your team are highly capable. Nor does adidas ask your agency to market a new shoe. In conversation, Ben speaks freely about Jay. Turns out that he is referring to Jay Williams of Duke, NBA and ESPN fame and the most recent member of the college hoops Hall of Fame. I'm impressed that Jay has entrusted his personal brand to Ben. Ben talks freely about how important it is that trust exists between him, his team and their All-Star list of clients. Ben's clients trust Times10 because they trust Ben. In reviewing their work, you can see why. I'm pretty confident that after one visit to the Times10 office, you'd trust Ben and his team too.
Some things don't seem to have changed at all since 'Mad Men' ruled the marketing world. Yeah, social media has knocked traditional media off the map. Sure, video is the new king. Music seems to matter more than ever and today's copy obviously must be short and to the point. But, committed leadership, crazy ass creativity, a super talented team of men and women willing to work like 'mad' and an unwillingness to fail is still the winning formula...for Ben Ricciardi and Times10.
Disclosure: I was not financially compensated for this post, and I am not affiliated with Times10/any of companies mentioned in this post.
Support HuffPost
The Stakes Have Never Been Higher
Related
Popular in the Community