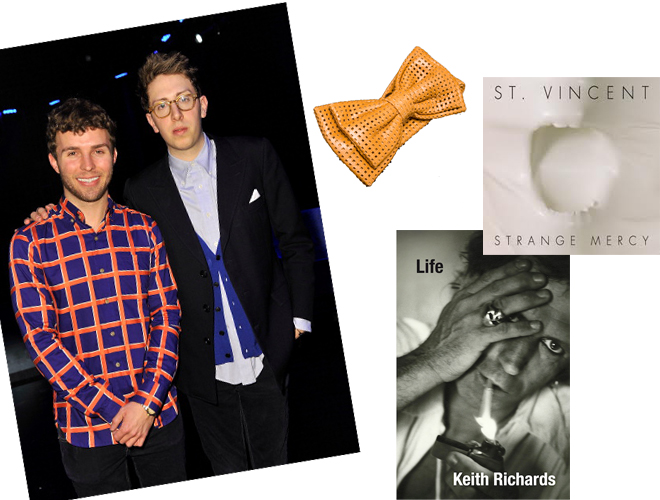 Getty
Design duo Timo Weiland and Alan Eckstein launched their first neckwear collection in 2009, and shortly after expanded to men's and women's wear. (Check out their fall 2011 collection, which according to Style.com was inspired by a fictional trip that Gloria Vanderbilt and Keith Richards took to India in the '60s.) They were recently selected for the CFDA's Fashion Incubator program, alongside other emerging talents like Christian Cota and Reece Solomon, and are gearing up for their first runway show -- rather than presentation -- at New York Fashion Week. We checked in with the pair to find out what's on their style radar.
What's the last song you downloaded?
Alan: St. Vincent, "Surgeon"
What's the last thing you bought that you loved?
Timo: An elaborate, dark wood antique mirror frame that I began using for mounting unfinished paintings
What was your first designer purchase?
Alan: A YSL motocycle jacket
What's on your nightstand?
Alan: Life by Keith Richards, retired bow ties
Facebook or Twitter?
Timo: Both, all the time for work and play.
What are three adjectives to describe your style?
Alan: Quirky, tailored, effortless
If you could have one superpower what would it be?
Timo: To fly and to be invisible (almost a tie)
What's your rule to dress by?
Timo: Always dress in a way that can easily and seamlessly go from the city to the beach
What trend do you hope dies?
Alan: Sandals with socks for men
What item do you wear every day?
Alan: My Gram 383g shoes -- mostly everyday
If you had to wear clothes from one decade only, what would it be?
Timo: 1960s. Slim, lightweight 3-piece suit and open collar a la Keith Richards, or "Endless Summer" swim trunks!
What was your first job/internship?
Alan: At Jesse Halpern Tennis and Skate Shop in Great Neck NY at 13, then interned at Steven Scott Music (Bar Mitzvah dance company).
Kindle or book?
Timo: Books for the home, kindle for the beach, iPad for the subway
What's on your current reading list?
Alan: Noah Forrest's "The Last Will and Testament of Bowie Watson"
What's on your wish list for fall?
Timo: A leather and canvas briefcase from Want Les Essentials de la Vie
Ideal summer travel destination?
Timo: Tamarindo, Costa Rica