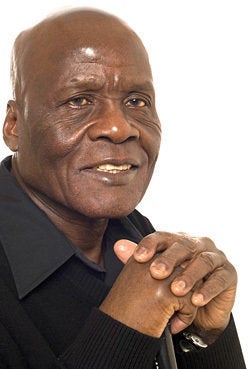 "I don't give up easily and I was determined. If you are determined, nothing is impossible."
--Timon Bondo, Founder The Rabondo Community Project USA
Timon Bondo is hard to miss with his bigger-than-life smile, hearty laugh and effervescent spirit. Though lighthearted in most aspects of his life, Timon is serious about helping the children of Rabondo, Kenya, a small subsistence farming community where he grew up. Fraught with AIDS, poverty and a sense of hopelessness for the past decade, Rabondo is experiencing dramatic change because Timon is taking action.
Timon may not be whom you picture when you think of a hero. While his story carries a legacy of heroic proportions, Timon himself is an unlikely superman. Unsure of his actual age due to a lack of accurate birth records, Timon estimates that he is somewhere between 65 and 85 years old. His youth is not the only thing slipping away; he has been losing his eyesight for the past 10 years and now is almost totally blind. So how, then, did an aging and ailing man almost single-handedly restore a sense of hope to a village that is nearly 8,000 miles from where he sits today? Admittedly, Timon acknowledges that he is neither a genius nor a millionaire. Determination, patience and a vision of education were the guiding and abiding lights of Timon's efforts as his programs continue to strengthen and save Rabondo's children and community.
It was a visit to Kenya in 1996 that shifted the focus of Timon's life from Minnesota, where he lives today, back to Rabondo. According to Timon, this visit showed him a Rabondo that he never knew existed. HIV and AIDS had infected many people and they lacked access to basic health care, medication or information about the disease. "When I went back in 1996 it was dramatically different. [Because of AIDS] I saw a lot of orphans and widows, and there were people of productive age dying of disease." Without parents, many children were forced to fend for themselves: finding shelter and food where and when they could. This community existed without sanitary facilities, safe water, electricity, motorized vehicles or businesses. To make matters worse, the only existing school in Rabondo was crumbling to the ground and scheduled for closure by the government.
Timon was then left with the dilemma of how to repair a community and school system already on a path to destruction--all as a one-person army. Without a background in community organizing, non-profits or development, Timon had quite an undertaking ahead of him.
Growing up in Rabondo for Timon was not the complicated and hopeless way of life that he witnessed in 1996. As a child he had dreams of becoming a doctor or engineer, always knowing that he wanted to help others in some way. The hardship of losing his father when he was in third grade required Timon to help support his mother and family through farm work. That experience caused him to learn the importance of responsibility, hard work and to care for others.
"The life of people at that time was governed by ignorance, poverty, illiteracy and sickness," Timon recounts. "Many people did not know why they were dying, and prayer was the only thing that they thought would save them." The circumstance of the land itself even looked bleak. There was less land to farm because of over-population and infertile conditions. "Not only did people not have food to sell, they did not have enough to eat," Timon explains. "I knew that I had to do something to help. I felt a responsibility that I could not run away from."
Timon focused on efforts to provide education to the children of Rabondo as a way to encourage the young and empower the community as a whole. Timon believed education would help prevent HIV infections because students would be taught how the disease is transmitted, how to respect themselves and how to plan for their future.
"Education is the only weapon that you have in a Third World country," Timon says. With so many problems in Rabondo it was hard for Timon to focus on efforts to improve just one, but he decided to start with building a primary school. This way children could attend classes in an actual classroom as opposed to the outdoor sessions they had been having for quite some time. It would offer a place to focus on studies and help children get into the mind-set of being students.
In Kenya, all secondary schools are boarding schools and often are too expensive for students who come from communities like Rabondo to attend. Though the government does not provide school buildings and furnishings, they will provide teachers if the community builds a school. Alone, Timon knew that he did not have the financial means to start building a school structure, "I had to find a way to energize and mobilize some resources, and I found that to do things effectively you have to form a non-profit organization." In 1998 he formed The Rabondo Community Project USA (The Project), a non-profit organization aimed at improving the quality of life in Rabondo through education and community involvement.
After forming the non-profit organization and solidifying his vision for how to best help Rabondo, Timon was then left to raise funds for all the projects. He first approached social service clubs, churches and small businesses in the Twin Cities area of Minnesota for donations. To supplement, he also made cold-calls to individuals in the area explaining who he was and what he wanted to do in Rabondo. "It looked huge; people thought I would need $500,000," he said. "If I had $100,000 to start, I could work miracles." Timon met reluctance in the initial donation process because everyone wanted to see something already completed, "It's a catch-22; you don't have money, but people want to see what you have done." The small donations that he did receive were immediately put toward the construction of a primary school because it would serve as a catalyst and be something to show potential donors. In 1999 the primary school was completed, leaving Timon to continue fundraising for the provision of uniforms, desks, a food program and for the construction of a secondary school, health clinic and science laboratory.
The community continues to be abuzz with excitement surrounding the recent and pending construction projects. Committees focusing on education, health care, water and electricity were organized in Rabondo to monitor the progress of and discuss ideas about certain changes in the area. The committees helped the people become involved and fostered a community-wide sense of ownership. According to Timon, the work of The Project and the ownership of their future that the community now possessed, changed them for the better. "The character of the community has changed; people feel proud to be from Rabondo," Timon said.

The school system provides equal access to education for any student who wants to attend. Regardless of gender, ability or disability, all children can attend school. If they do not have enough money to pay for school fees or uniforms, The Project takes care of it for them by setting up scholarship funds. The Project also has encouraged girls to attend school, even though historically many adults in the community have not seen the value of a girl's education.
While still guided by a vision of education, The Project is switching its focus from strictly school provisions to an effort focusing on human beings. The implementation of a food program, for example, and the construction of a health clinic and student dormitory are all efforts to help support students.
When asked what the legacy of his story is, Timon reacts modestly. He's proud of the accomplishments that The Project has made so far, but he does not measure success through buildings and books. Instead he would be satisfied to see that all the children in Rabondo are taken care of, if only in small ways. "When the children have a little clean water, one meal a day and a place to go after school, then we have succeeded," he said. Many setbacks and problems still face Rabondo despite all of Timon's efforts; however, he is confident that The Project's successes will have longevity because the citizens are empowered. "People [in Rabondo] feel good; they have life in their face" he says. "There were days that they felt they had no future; it's a big change in their outlook." Possessing the ever-so-envied virtue of patience, Timon remarks at how he never felt rushed to get what he needed. He always felt that positive events would transpire if he worked hard enough to achieve them. "I don't give up easily and I was determined. If you are determined, nothing is impossible."