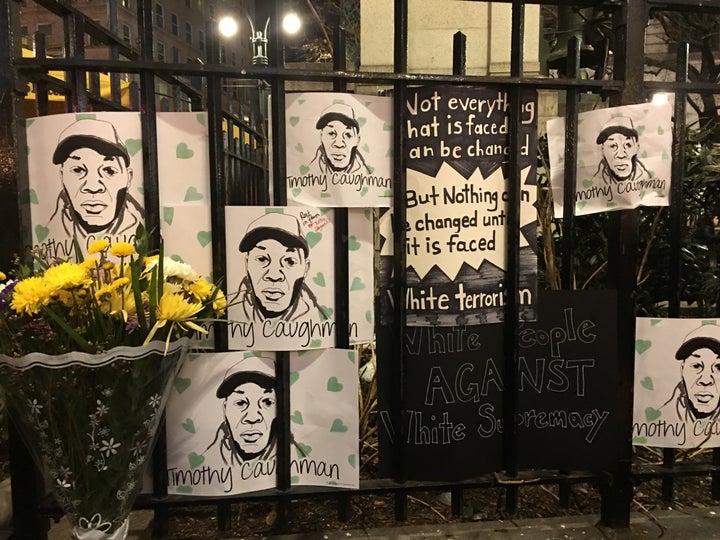 NEW YORK ― Nelini Stamp wants America to say Timothy Caughman's name ― not the name of the man who killed him. 
"Timothy was killed by a white supremacist, by a white terrorist," Stamp told a crowd of about 300 protesters Friday evening in Manhattan's Union Square.
This man, she said, "came from Baltimore to New York City ― our city ― to kill black people. He killed Timothy. We will not say this man's name because he wants to be known. Instead we will say Timothy's name to make sure no one ever forgets Timothy." 
Stamp, of the progressive social justice group Resist Here, then led the protesters on a solemn, 22-block march north. 
"All across NYC!" they chanted. "Resist white supremacy!" 
"Say his name!" they yelled. "Timothy Caughman!" 
Stamp led them in song, too: 
And sometimes they marched in silence. 
The attacker spotted Caughman on Monday evening on 9th Avenue near 36th Street in Manhattan. Caughman, who lived in a nearby apartment, was digging through trash for cans and bottles, as he did most days, to redeem the recyclables for money. 
The man stabbed Caughman with an 18-inch-blade sword.
"Why are you doing this?" Caughman screamed, according to a witness. "What are you doing?"
Caughman managed to walk two blocks to a police precinct. An ambulance arrived, but he was later pronounced dead at the hospital. 
Surveillance footage showed what appeared to be the same man who fatally stabbed Caughman following another black man around Manhattan that night, but he didn't end up attacking him. 
James Harris Jackson turned himself in to police. He faces charges of second-degree murder as a hate crime. 
"He told the cops, 'I've hated black men since I was a kid," a law enforcement official familiar with his processing told The New York Times. "I've had these feelings since I was a young person. I hate black men.'" 
One of the speakers Friday night, Jason Walker, an activist with the group Vocal New York, said he believed that Caughman's killer came to New York in part because President Donald Trump had "set a tone of white supremacy and nationalism" in America. His words echoed the connection to the president many others at the march drew, including other speakers.
"White folks now have felt encouraged and emboldened to take steps to target folks that look like me," Walker said. "Our American system is to blame. It's not just the person that plunged that knife into his black body."
The Southern Poverty Law Center tracked more than 1,000 hate-related incidents in the month after Trump's Nov. 8 election victory, a surge they attributed to his hateful campaign rhetoric. The perpetrators in about 37 percent of those incidents either directly referenced Trump, his campaign slogan or his comments about sexually assaulting women, the SPLC said. 
The New York Police Department tracked 56 hate crimes from the beginning of 2017 to Feb. 12, a 45 percent increase over the same period in 2016. 
After Caughman was killed, the New York Post and New York Daily News needlessly published information about his criminal history.
"Not only was he murdered on the streets, but he was murdered again in the media," Walker said.
On Election Day, Caughman tweeted: "Standing on line waiting to vote I love america." 
Linda Sarsour, an organizer of the massive Women's March on Washington, reminded the crowd that Caughman had joy in his life. 
"My son is 17 years old, and his name is Tamir," Sarsour said. "My son is an autograph collector." 
"Timothy Caughman was an autograph collector," she said, who loved celebrities. "He was a human being. He had joy. And that's something that gave him joy. He was somebody's son. He was somebody's friend, and he was killed here, in our city, in the most progressive, liberal city in the world." 
The protesters Friday finished their march in Herald Square, just blocks from where Caughman was stabbed. 
They knelt, raised fists, had a moment of silence, said prayers and laid flowers. 
At one point, Stamp asked the black protesters in the crowd to repeat after her, and for the white protesters to respectfully stay silent. 
"I am," she said, "somebody, and I deserve full equality, right here, right now." 
She and the other black protesters repeated the sentence 11 times, each time growing louder. By the end, they were yelling it, and tears welled up in Stamp's eyes. 
CORRECTION: A previous version of this article misidentified Jason Walker as Jason Walters. 
America does not do a good job of tracking incidents of hate and bias. We need your help to create a database of such incidents across the country, so we all know what's going on. Tell us your story.
Calling all HuffPost superfans!
Sign up for membership to become a founding member and help shape HuffPost's next chapter