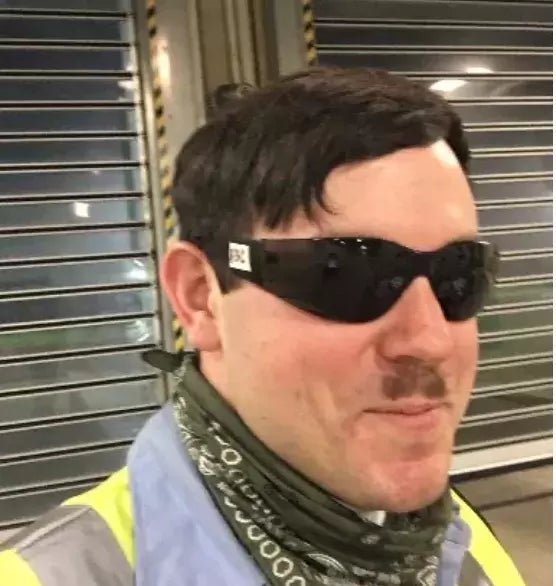 Of all people to highlight at his weekend Pennsylvania rally, former President Donald Trump gave stage time for a single Jan. 6 rioter from New Jersey who dressed like Adolf Hitler and told co-workers that the führer "should have finished the job," according to investigators.
Convicted insurrectionist Timothy Hale-Cusanelli's aunt pleaded for sympathy for her nephew from the stage at Trump's rally Saturday in Wilkes-Barre.
"Tim went to the nation's capitol to hear his president speak" last year, Cynthia Hughes told the crowd.
"He dressed in a suit and tie and his favorite hat. Tim wanted to take part in what he thought was going to be a historical event. Instead, he witnessed a horror show," she added.
But she omitted a few salient points about Hale-Cusanelli, who was found guilty in May of multiple charges in the riot, including civil disorder and obstruction of an official proceeding.
When working as a security contractor at Naval Weapons Station Earle in New Jersey before his arrest, Cusanelli often made white supremacist and anti-Semitic comments to co-workers, according to a federal court filing against him last year.
He also showed up for work sporting a "Hitler mustache" and styled his short black hair to look like Hitler's, according to the motion.
Thirty-four co-workers interviewed by Navy investigators as part of an internal probe said Hale-Cusanelli held "extremist or radical views pertaining to the Jewish people, minorities and women." Some said they were "afraid" of him.
"Being a supporter of Adolf Hitler does put you in the fascist category. There is no 'semi' about it," Rep. Zoe Lofgren (D-Calif.) told CNN's Jim Acosta Sunday, referring to President Joe Biden last week referring to MAGA extremism as "semi-fascism."
Hale-Cusanelli told federal investigators that he stormed the Capitol to disrupt the certification of electoral votes for President Joe Biden, and was merely "following the entreaties of then-commander in chief" Donald Trump, prosecutors recounted in the court filing.
The federal motion successfully sought to block Hale-Cusanelli's pretrial release due to his "fantasy of participating in another Civil War," the court document stated. He remains behind bars while he awaits sentencing.
Hughes characterized her nephew as "sort of a poster child for Jan. 6th-related injustice," CNN's national security correspondent Zachary Cohen told Acosta Sunday.
Yet the judge — in this case, a Trump appointee — was "so concerned that his violent neo-Nazi rhetoric would turn from words into violence [that he] decided to keep him in jail while his court process played out," Cohen noted.
There are a "ton of Jan. 6 defendants that the former president could have chosen from in terms of featuring them to defend or at least try to draw sympathy for people who were at the Capitol on Jan. 6," said Cohen. Yet "this was the case that ultimately took center stage."
Support HuffPost
The Stakes Have Never Been Higher
Popular in the Community