WASHINGTON -- Treasury Secretary Timothy Geithner said Wednesday that President Barack Obama's administration is "absolutely" willing to go off the so-called fiscal cliff if Republicans refuse to increase taxes on the nation's top earners.
During an interview with CNBC, Geithner was asked if the White House was willing to dive off the cliff if Republicans don't accept a deal that raises tax rates for those making more than $250,000.
"Oh, absolutely," he responded. "Again, there's no prospect in an agreement that doesn't involve the rates going up on the top 2 percent of the wealthiest."
Geithner's comments offer the strongest indication that Obama would accept the automatic spending cuts and tax rate increases that kick in if an agreement is not reached before the Dec. 31 deadline.
"What we're trying to do is put in place a comprehensive, balanced set of fiscal reforms that put us back on the path of living within our means and create room for investing to make the economy stronger, make sure we're protecting Medicare for future generations, and forcing the government to use the taxpayers' resources more wisely," Geithner said, when pressed to explain why standing firm on tax rates increasing for the top 2 percent would be worth going over the cliff.
"In that context, you have to have a significant amount of revenues. We don't see a way of doing it that makes any sense or has any political viability without rates going up as part of that deal," Geithner said. "Again, the size of the problem in some sense is so large it can't be solved without rates going up. I think there's a broad recognition of that reality now."
Geithner has previously used similar language, most recently during an appearance on NBC's "Meet The Press."
"To-- to go over this fiscal cliff, and because Republicans won't raise taxes, tax rates on the wealthiest two percent of Americans, would subject the average American to big tax increase and enormous damage from the other cuts that would happen in that context," Geithner said Sunday.
The treasury secretary, who has played the role of leading negotiator on behalf of the White House in fiscal cliff talks with Congress, also noted that businesses and investors are opening up to the idea of tax rates rising -- a shift reflected in comments made by several top executives earlier this week.
FedEx Chairman and CEO Fred Smith, an adviser to Sen. John McCain's 2008 presidential campaign, on Tuesday referred to the notion that tax hikes on the richest Americans would kill jobs as "mythology." And on Monday, a group of the nation's top defense executives took a surprising turn, endorsing tax rate increases on the wealthy.
"I think there's broad recognition that rates are going to go up as part of a deal," Geithner said. "I think that's a welcome change."
House Republican leaders presented a counteroffer to the White House on Monday, which included an extension of all Bush-era tax cuts, considerable changes to Medicare and large cuts to mandatory and discretionary spending. The White House immediately rejected the proposal as a GOP wishlist -- a sentiment Geithner continued to carry forward during his interview on Wednesday.
"We don't actually know what the Republicans think they can do in that context yet, because they haven't told us," he said of the proposal laid out by House Speaker John Boehner. "We don't know whose taxes would go up. We don't know the mixes of rates and limitations and deductions and loopholes that they would support."
The Budget Control Act, passed by Congress last year, would require the start of steep budget cuts in January. That, with the expiration of Bush-era tax cuts, is the fiscal cliff, which some economists have warned could tip the nation's economy back into recession.
This post was updated to reflect Geithner's earlier comments.
Related
Before You Go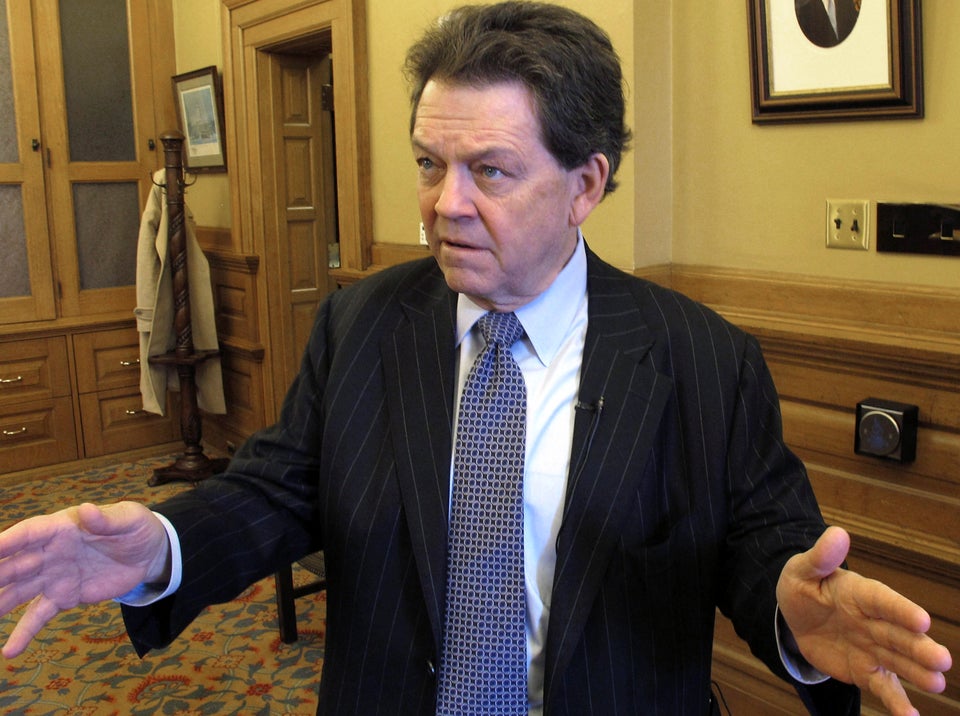 People Who Led Us To The 'Fiscal Cliff'
Popular in the Community